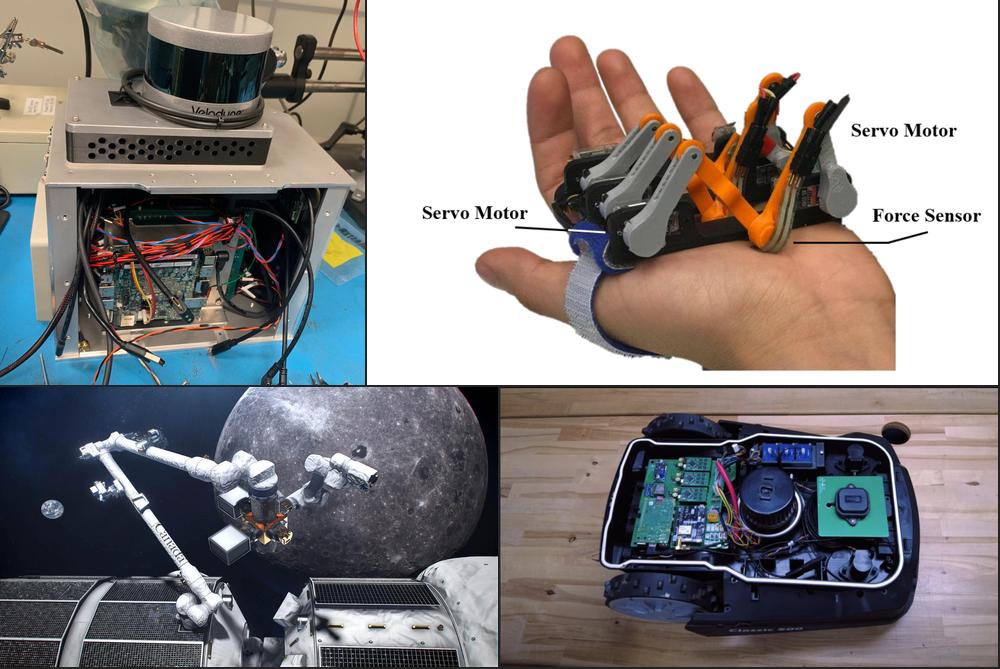 Lately, I was listening to a podcast, where the host claimed that China is very secretive about their space programme and while researching material for this week's issue I was dumbfounded when I came across the apparent de-orbit mission they carried out (you will find more information about this event in today's issue). I don't think we will learn the specifics of the mission, but knowing that as humans we have demonstrated we can clean up the orbits is reassuring. As usual, the publication of the week section is manned by Rodrigo. The most clicked link last week was Boston Dynamics selling their Stretch robots with 9.7% opens.
Sponsored
Weekly Robotics is being developed thanks to the Patreon supporters and the following business sponsors:
---
Perception Resources For Roboticists
tangramvision.com
Tangram Vision's resource center has free tools to accelerate perception development for your robot or AV. An interactive depth sensor visualizer lets you compare 30 unique depth sensors' specs. The datasheet library has 150+ datasheets for LiDAR, IMU, cameras, and more. Download and print calibration targets from the marker collection.
Meet the Lunar Gateway's Robot Caretakers
Very interesting article on the future of the Lunar Gateway, which will require lots of robotics systems, given that it will be unmanned for 11 months of the year. To make the station as autonomous as possible, NASA is developing a vehicle system manager (VSM), that will control the functionality of the whole Gateway. Another piece of interesting information from the article is that the project is being designed with the intravehicular robots (IVRs) in mind, hopefully making future robots lives as easy as possible. Finally, Canadarm3, a duo of robot arms that will be mounted on the exterior of the station will be launched in 2027.
---
China's SJ-21 'tugs' dead satellite out of GEO belt: Trackers
Apparently, China had performed a very quiet satellite de-orbit mission. Unfortunately, we probably won't know the technical details of what happened anytime soon but this video from ExoAnalytic Solutions describes how they spotted a satellite missing from its orbit. This paper from ESA's e.Deorbit mission shows studies performed by ESA members with various approaches for de-orbiting satellites.
---
OpenMower: Open Source Robotic Lawn Mower With RTK GPS
Clemens Elflein had built an open-source mower based on an off-the-shelf cheap differential-drive mower. The unit is powered by a Raspberry Pi 4 and a Pico. ArduSimple RTK GPS is used for localization and the xESC motor controllers built by the author also seem very interesting and robotics-friendly. The software stack is built using ROS and are using lots of custom packages, such as the coverage planner that is based on a 3D slicer. For more information about OpenMower check out the project's GitHub repository.
---
BehaviorTree.CPP Workshop Recording
Davide Faconti had published a recording of his Behavior Tree workshop. The workshop was very insightful, sprinkled with some very interesting information on using BTs in robotics applications. I highly recommend watching the recording if this topic is of interest to you because I've learned a tonne!
---
Sensor Payload – Hands On Ground Robot Design
David Kohanbash has a new, very informative, blog post in his Hands on Ground Robot Design series. This time David is covering creating a neat package of sensors for a robot taking part in a SubT challenge.
---
DALL·E 2
Not really robotics related, but OpenAI has announced a new AI system that creates realistic images and art from a text description. The results presented on the linked page are very cool but you know what would be way cooler? AI-generated art related to robotics as header images for a certain robotics newsletter. We joined the waitlist earlier today, hoping for the best!
---
Publication of the Week - DeepXPalm: Tilt and Position Rendering using Palm-worn Haptic Display and CNN-based Tactile Pattern Recognition (2022)
In the issue #186, the SmartKnob View was a haptic knob that could provide feedback to almost any application. With the same idea, this paper presents a Palm-worn haptic device that transmits the position and angle of any object at the fingers of a robot arm gripper. Each finger has an array of sensors that serve as inputs for a CNN that compute twelve patterns for four different angles and three unique positions. Each combination is transmitted to the Palm-worn device and generates pressure in the hand's palm, providing feedback for the user, as this video shows.