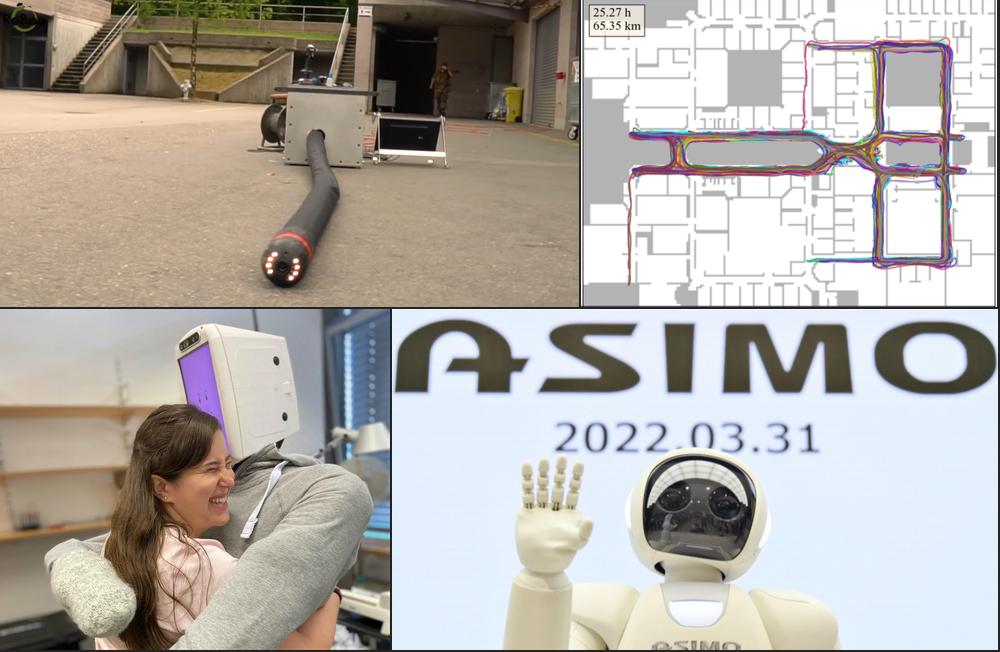 In the past week or so, I've seen many pre-prints referencing IMU-based navigation. I'm quite excited to see 'magnetic maps' being used for localization and I wonder if the approaches using magnetometers for localisation will ever see wider adoption given the constraints on room reconfiguration and the size of the environment. Due to my excitement in the topic, we will kick off with a brief overview of recent pre-preprints that I came across. On a very different note, my post on LinkedIn where I asked about tips for fresh cement detection for autonomous robots turned into an interesting brainstorm with lots of creative ideas. As usual, the publication of the week section is manned by Rodrigo. The most clicked link last week was ElectronBot: A Sweet Mini Desktop Robot That Ticks All The Boxes with 22.2% opens.
Sponsored
Weekly Robotics is being developed thanks to the Patreon supporters and the following business sponsors:
---
Perception Resources For Roboticists
tangramvision.com
Tangram Vision's resource center has free tools to accelerate perception development for your robot or AV. An interactive depth sensor visualizer lets you compare 30 unique depth sensors' specs. The datasheet library has 150+ datasheets for LiDAR, IMU, cameras, and more. Download and print calibration targets from the marker collection.
IMU-Based Localization
NILoc (Neural Inertial Localization) (warning: the pdf link featured on arXiv page is 115Mb) proposes using acceleration and angular velocity and a neural network to create a sequence of velocity vectors. The system can use other information sources (e.g. WiFi) for re-localization. The paper compares the results against a Particle Filter (PF) and Conditional Random Fields (CRF) that is using map information together with the IMU. The paper comes with a dataset with 53 hours of inertial data and a VSLAM ground truth. Check out the project page for more information about NILoc.
Indoor SLAM Using a Foot-mounted IMU and the local Magnetic Field also presents a human tracking using an IMU by performing SLAM. The algorithm is using two maps: a motion map and a map of magnetic field anomalies. Two experiments were performed in this research, both using an IMU mounted on a shoe, one was performed with a motion capture system as ground truth, and the second, a larger-scale experiment, was tested without a ground truth and just observed the end pose of the pedestrian. Where a mocap system was available the total RMSE of translation was 0.41m and around 0.13 radians for both roll and yaw angular position.
Feasibility Study of Magnetism-based Indoor Positioning Methods in an Incineration Plant plans to track workers in incineration plants. In the case of this research, the environment is an advantage, as it contains lots of ferrous metals and even magnets in some equipment that should provide good fingerprinting data. The paper presents three approaches for feature matching: Point Matching, Path Matching, and Dynamic Time Warping (DTW) Matching resulting in mean estimation distance errors of 6.89. 0.05 and 0.06m respectively. The data processing was done offline, and based on processing time it looks like DTW Matching might not be suitable for real-time tracking.
---
Honda's ASIMO Robot Retires after 20-Year Career Wowing Public
ASIMO, a state of the art humanoid is retiring. Created in the year 2000 it received a range of updates over the years, with the last update in 2011. The Robot Report published a piece showing the most memorable moments of Honda's biped. Looking forward to seeing what Honda will create next!
---
The 11 Commandments of Hugging Robots
A research team from the Max Planck Institute for Intelligent Systems in Stuttgart, Germany is researching hugging robots. The latest design, HuggieBot 3.0, is built around two Kinova JACO arms with mittens on end-effectors, air-filled chambers for pressure sensing, and heating pads for making the robot warm. Through their work, researchers have come up with 11 commandments that any hugging robot should probably follow.
---
Mercedes Drive Pilot Beats Tesla Autopilot By Taking Legal Responsibility
That's one way to put your money where your mouth is - Mercedes will be taking legal responsibility for their autonomous driving systems currently in beta. Even though the system will be first available in some selected sections of German highways, hopefully, more companies will take notice and put full trust in their products. Another interesting bit of information from the article is that the autonomous system will provide a ten-second warning before giving back control to the driver.
---
Servo Surgery Teaches Us DIY Encoder Implants
Very cool work by Adam Bäckström, who is adding encoders to servos for increased accuracy (reportedly seeing up to 36 fold increase in accuracy). If you watch the video featured on the Hackaday page, I recommend doing so in 1080p to see the plots well. The video is a step-by-step guide on how to modify these servos to obtain results similar to Adam.
---
Enter The 2022 Hackaday Prize And Help Save The World
I'm always looking forward to the Hackaday Prize submissions. This year's category challenges are all about sustainability, resiliency and circular economy. This year's top prize is $50k and a residency at Supplyframe DesignLab.
---
Publication of the Week - RoBoa: Construction and Evaluation of a Steerable Vine Robot for Search and Rescue Applications (2022)
Search and rescue have been widely explored and tested with robotics. This paper presents an uncommon robot format that follows the principle of the called vine robot. One of the unique advantages of the RoBoa format is its capability to go deeper into the debris. Also, since this mechanism grows from the inside out, the outside friction becomes irrelevant to the robot's expansion. Pneumatic actuators control the head steering, giving the robot more flexibility and range. RoBoa was tested at the Swiss Rescue Troop's training site as you can see in this video.
---
Business
Boston Dynamics' Logistics Robot Is Available for Purchase
Stretch, a mobile base with a gripper is available for purchase now. The system is sold-out for 2022, but reservations for 2023 and 2024 are possible.
---
Sarcos Buying Fellow Robotics Firm RE2 in $100M Deal
"Sarcos this morning announced plans to acquire fellow robotics firm RE2. The deal, valued at $100 million, includes $30 million in cash and $70 million in Sarcos stock".