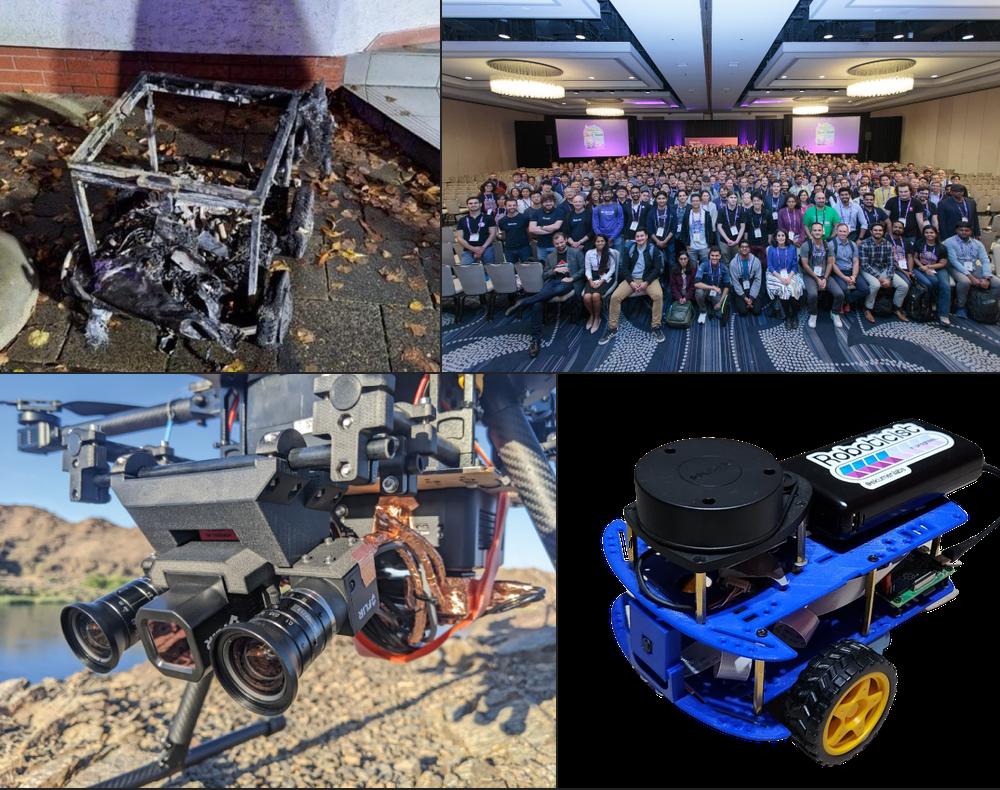 As usual, the publication of the week section is manned by Rodrigo.
Sponsored
Weekly Robotics is being developed thanks to the Patreon supporters and the following business sponsors:
Thoughts on ROSCon 2023
I created a short write-up on my experience taking part in ROSCon 2023 and attending some presentations and two workshops (Reachability analysis and ros2_control). I'm not the only one who summed up my experience. Michael Ferguson also wrote about his experience and has some excellent advice. I highly recommend his piece!
---
Open-source diff drive robot ROS 2 compatible
"Andino is a fully open-source diff drive robot designed for educational purposes and low-cost applications. It is fully integrated with ROS 2 and it is a great base platform to improve skills over the robotics field. With its open-source design, anyone can modify and customize the robot to suit their specific needs".
---
Cruise Suspends Robotaxi Operations, What They Must Do To Fix It
Recently, Cruise was ordered to suspend customer operations by the California DMV. This article by Brad Templeton is a great analysis of the situation that compares it to various other manufacturers of self-driving vehicles and includes a list of things Cruise will have to do to fix their operation.
---
Autonomous Vehicles 2023, Part I
Since we are on the topic of autonomous cars and Cruise, Rodney Brooks started a series of blog posts discussing this technology. In the second part, the author discusses what he thought was a close call while being a passenger in a self-driving car.
---
A Delivery Robot burned down a restaurant in Poland
leszno-naszemiasto-pl.translate
Here is a not-so-fun story from Poland - a delivery robot worth approximately $10,000 has caught fire and burned down a restaurant, causing significant damage. If I hear more about the root cause of the incident, I'll let you know my bet would be on LiPos or motor controllers, but I'm happy to be proven otherwise.
---
State of the art in LLMs + Robotics - 2023
Keith Chester, a reader of this newsletter, published an excellent write-up on the current state of the Large Language Models in robotics. The article contains lots of background information and a description of some interesting papers.
---
Roombas at the Edge of the Earth
I really enjoyed this story of some Roombas who are employed at the South Pole. There are dramas, thrills, and a story of "star-crossed lovers, forever separated by the impenetrable barrier of the staircase". I found this story strangely enjoyable, and I highly recommend it!
---
2023 ROS 2 Technical Steering Committee Community Representative Election Results
The results for the ROS 2 Technical Steering Committee are in! We will have some solid representatives.
---
Publication of the Week - Online Self-Supervised Thermal Water Segmentation for Aerial Vehicles
As one of the Agri-Robotics IROS Best Papers, this article presents a method for water segmentation using a thermal camera in an online self-supervised manner. Most water segmentation works with RGB cameras that don't work well at night. The model uses information from three sources: an RGB-pretrained CNN model, texture and motion differences between land and water, and an IMU-based horizon line. These factors combined to create a consistent algorithm, which you can access within this GitHub repository.