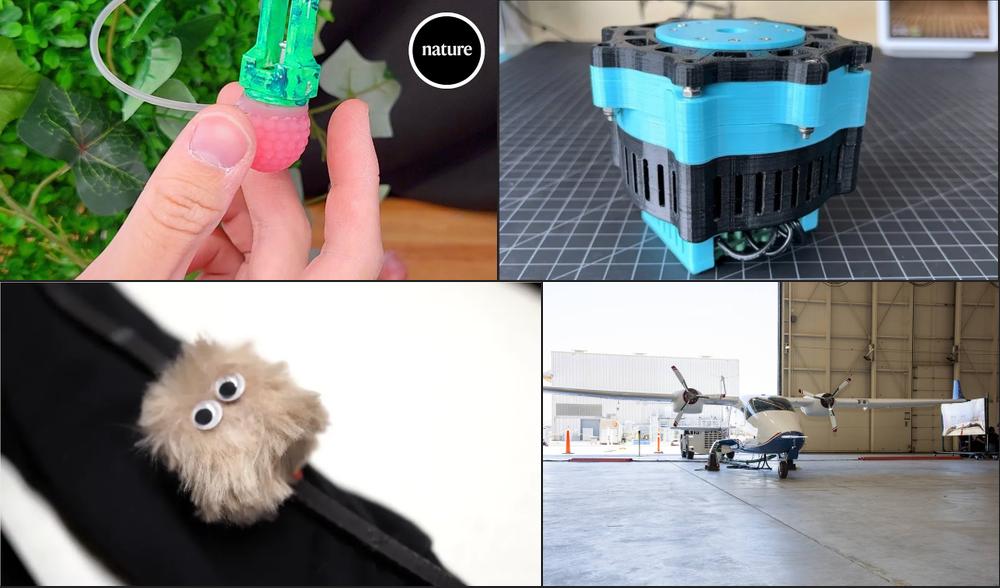 Being busy with life events, I slept through Weekly Robotics reaching 10,000 e-mail and LinkedIn subscribers. I also missed the 11,000 milestone, apparently. If you find my work useful and know someone who could be interested in following Weekly Robotics, I would hugely appreciate it if you could share it with them. Recently, there was an explosion of exciting robotics news and projects that I could not contain in this issue, so the next issue should be meaty too! As usual, the publication of the week section is manned by Rodrigo. Last week's most clicked link was UM Robotics 311 course, with 23.2% opens.
Sponsored
Weekly Robotics is being developed thanks to the Patreon supporters and the following business sponsors:
---
Advertise in Weekly Robotics
Would you like to showcase your robotics-related products to a highly-technical audience of over 11,000 across two channels? Check out the sponsor kit for more details, and please feel free to contact me in case of any questions. Your support will help me improve the newsletter and produce original robotics content.
---
A Wearable Robotic Assistant That's All Over You
Yours truly had recently contributed an article to IEE Spectrum. In the article, I'm covering Calico, an interesting wearable robot that moves over your body through sewn-in tracks. The robot was developed by researchers from the Small Artifacts Lab. The robot can be used to check on your vitals by a doctor, physically show your progress on tasks throughout the day, and even teach you dance moves.
---
Heaps of news from the electric aircraft space
Recently, a news dropped that Lilium Jet became the first eVTOL with "EASA and FAA Certification Basis". In April, John Lou, a German-based aircraft engineer released a close to two-hour video analyzing the aircraft and how the company estimates may be way off from the actual performance (for example one resource claims the VTOL will have a range of about 18.2 km, about 7% of advertised 300 km).
In other news, Alef, a company creating a flying car* (*the vehicle is certified to go up to 25 mph or 40 km/h on some US roads), had received a limited Special Airworthiness Certification from the FAA. The company says the car range is 200 miles (322 km) on the road or 110 miles (177 km) when flying. In a similar vein, Joby, a company that creates a tiltrotor VTOL, was also cleared to begin flight tests with an airworthiness certificate. According to the linked article, Joby's S4 range is upwards of 150 miles (240 km) at speeds of over 200 mph (322 km/h).
On a very different note, two weeks ago, NASA announced the X-57 electric airplane project would shut down without performing any test flights: "The project encountered several challenges to safe flight, including mechanical issues late into its lifecycle and a lack of availability of critical components required to develop experimental hardware. Given the approaching planned end of aircraft operations, the timeline would not allow the team to reach acceptable flight conditions".
---
A robotic raspberry teaches machines how to pick fruit
Researchers at EPFL had created a physical twin of a raspberry to train robots to pick the fruit with some great results. You can learn more about this work through this paper. Huge thanks to Kai for sharing his work!
---
Takeaways from DeepMind's RoboCat Paper
Recently, DeepMind announced RoboCat, a self-improving agent for robotics. Eric Jang read through the 50-page paper producing this summary. Many thanks, Eric!
---
DIY Robotic Actuator Built For Walking Robots
Aaed Musa created a robotic actuator that is perfect for legged robots. Aed uses an off-the-shelf BLDC motor, an ODrive in his design, and a 3D-printed motor chassis and gears. The design is open-source, and you can learn more about it on Aed's website.
---
Publication of the Week - One-2-3-45: Any Single Image to 3D Mesh in 45 Seconds without Per-Shape Optimization (2023)
Imagine reconstructing the 3D structure of an object solely from a 2D image. This paper not only presents such a method but also executes it in just 45 seconds. The method generates multiple views from the original image using a 2D diffusion model called Zero123. The authors use these images as input for SparseNeuS to create 3D meshes. Results are impressive because the method can even extrapolate the object's geometry beyond what is visible in the initial image. Their website contains examples and videos.
---
Business
Realtime Robotics brings in another $9.5M for RapidPlan
"Realtime Robotics, a producer of collision-free autonomous motion planning for industrial robots, has brought in $9.5 million in funding to meet increased demand for its RapidPlan technology, less than a year after bringing in $14.4 million in funding".