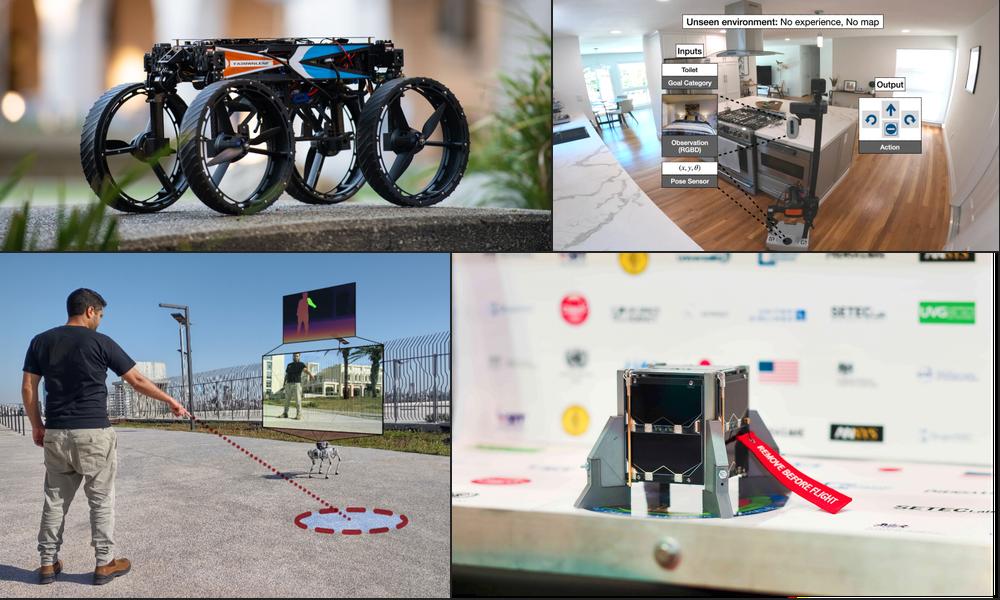 On Friday, UN had a panel with robots where journalist could ask humanoid robots some questions. We don't know how scripted the event was, but the headline you will often see from this event is: "Robots say they could be more efficient leaders than humans". We slowly have to start accepting that these robots with human appearance will be the representatives of our industry, even though all work today has been done by completely different platforms. As usual, the publication of the week section is manned by Rodrigo. Last week's most clicked link was the video showing a robotic raspberry, with 10.5% opens.
Sponsored
Weekly Robotics is being developed thanks to the Patreon supporters and the following business sponsors:
---
This Robot Has All the Moves—Eight, to be Precise
Researchers from Caltech and Northeastern University created a Multi-Modal Mobility Morphobot or M4 robot. The robot is a 'transformer' and has multiple options for locomotion: driving, walking, and flying. The article showcasing this build is open-access and can be found in Nature. I highly recommend checking it out. It has some nicely thought-out mechanics and architecture.
---
The Questionable Engineering of Oceangate
Suppose you spent little time researching Oceangate after their recent submarine failure. In that case, I recommend this video, where the author focuses a lot on material science and what led to the catastrophe.
---
Online courses in Aerial Robotics
Kimberly from Bitcraze compiled a list of courses relevant for anyone exploring aerial robotics. Good stuff!
---
If you have a complex project, follow "Gall's law" — or it will fail
In 2013 a rollout of a healthcare.gov in the US was regarded as disastrous, mainly due to the project complexity and the large number of edge cases handled. Gall's law states: "A complex system designed from scratch never works and cannot be patched up to make it work. You have to start over with a working simple system". The statement is quite extreme, especially in the robotics context, but I love these cautionary tales.
---
Open Sourcing the Design for the Quetzal-1 CubeSat
Quetzal-1 Team from Guatemala, whose cubesat had spent 211 days in orbit in 2020, had open-sourced their designs. You can find a treasure trove of information about the project on their GitHub. You will discover design documents, software, and all captured telemetry from the flight there.
---
Visual navigation to objects in real homes
"We present a large-scale empirical study of semantic visual navigation methods comparing representative methods from classical, modular, and end-to-end learning approaches across six homes with no prior experience, maps, or instrumentation. We find that modular learning works well in the real world, attaining a 90% success rate. In contrast, end-to-end learning does not, dropping from 77% simulation to 23% real-world success rate due to a large image domain gap between simulation and reality".
---
Publication of the Week - Recognition and Estimation of Human Finger Pointing with an RGB Camera for Robot Directive (2023)
While telekinesis is not possible yet, this paper presents a method for giving robot directives by finger-pointing. To identify the finger-pointing target, the authors created PointingNet, a model capable of segmenting the arm, recognizing the pointing action, and estimating the position and direction of the index finger using a single RGB camera. The model's accuracy of under 2° is impressive compared to actual models with an accuracy of 28°. A Unitree Go1 and a Clearpath Husky put the method to the test. The quadrupedal robot had a higher success rate and precision when reaching the pointed location.
---
Business
B Garage Raises $20M for Warehouse Inventory Drones
"B Garage, a San Jose-based startup building autonomous drones along with software to track warehouse inventory, said today that it has picked up $20 million in a Series A round of funding".