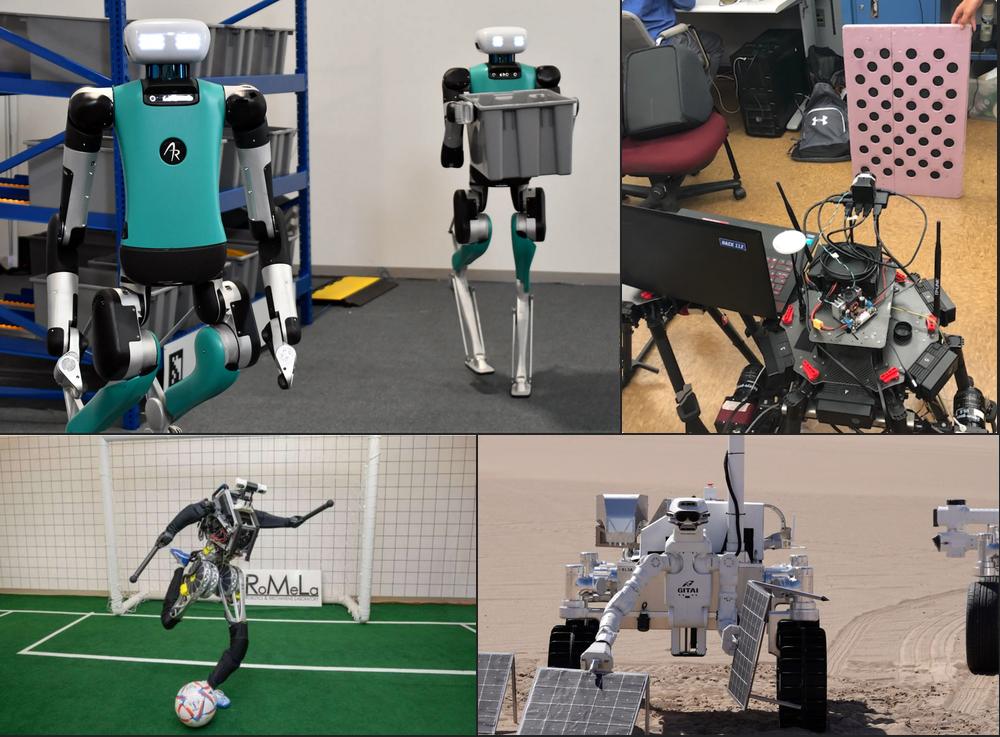 If you had asked me what robotics advancement I'm looking forward to the most, the party shark project on Upwork is at the top of the list as of two days ago. The client wants to build a humanoid hammerhead shark with real-life shark skin. The shark will be walking around and serve as a Bluetooth speaker, among other things. If this project ever sees the light of day, I want to be there to see it. As usual, the publication of the week section is manned by Rodrigo. Last week's most clicked link was the ROS MOOC for beginners, with 9.0% opens.
Sponsored
Weekly Robotics is being developed thanks to the Patreon supporters and the following business sponsors:
---
Sci-Fi Robotics
While working on this issue, I fell into a rabbit hole of robotics and ideas bordering on science fiction, and I thought, why not share all of this to escape the picture of shark humanoids?
Autonomous Restructuring of Asteroids into Rotating Space Stations is an intense research into using self-replicating robots to create habitats on Asteroids, a concept you might have come across in Seveneves by Neal Stephenson. The robotic part of the analysis assumes a couple of modern-day robots building 17-18th century tools (helpers) and operating them. These helpers would be powered with Stirling engines and clock springs and have interfaces allowing the more complex robots to control and actuate them.
Multi-robot cooperation for lunar In-Situ resource utilization describes a team effort that leads the contributors to get a sixth place in the Space Robotics Challenge Phase 2 competition. In the contest, the teams were tasked with programming lunar rovers to navigate and explore a simulated lunar environment, excavating and transporting the elements of interest to plants. The project used ROS to develop their solution and state machines to coordinate work between all rover types.
Built On-orbit Robotically assembled Gigatruss (BORG): A mixed assembly architecture trade study what is a better name for your Gigatruss project than BORG? The truss in this study would be built from unit truss cubes with a side length of 3m that can be folded for transportation. This design should allow for building a minimum 3x3x3 closed structure that can, in theory, grow to infinity. The truss would be assembled by robot arms, proof of concept of which is included in the paper's Discussion section.
6D Object Pose Estimation from Approximate 3D Models for Orbital Robotics looks into, well, estimating a space object's pose based on the SPEED+ dataset. If you look into the paper, you will notice that the proposed EagerNet can estimate the object's pose even in high illumination from the sun.
GITAI getting ready for the Moon. Lastly, let's take a look at the latest work from GITAI. Three days ago, they published a video of their demonstrator showing two mobile robots and a manipulator performing various tasks such as excavation, constructing a lunar base, and maintenance. Exciting!
---
Programming Robots: Keeping the Code Clean
Benjie Holson, featured in this newsletter multiple times, has another great piece focusing on clean code for robot development.
---
Methods of thermal camera calibration
In this blog post from 2018, Henry Zhang shows some ways to perform extrinsic calibration between the thermal and RGB cameras.
---
A humanoid robot gets ready for action
ARTEMIS (Advanced Robotic Technology for Enhanced Mobility and Improved Stability) is a humanoid robot developed by Researchers from the Robotics and Mechanisms Laboratory at UCLA. You can see the video of the robot performing various tasks on YouTube. The humanoid is 1.47m tall, weighs 37kg, and can walk at up to 2.1 m/s
---
Advanced 3D Printing Tips
The video in this article contains some interesting 3D printing tips I was unaware of before.
---
Agility's Latest Digit Robot Prepares for Its First Job
Digit has a head now! And some new hands! The new hands were designed with moving totes between shelves and conveyor belts. I'm looking forward to what applications come next.
---
Publication of the Week - SUAVE: An Exemplar for Self-Adaptive Underwater Vehicles (2023)
It's clear that underwater robots are challenging and require a certain autonomy level to operate without supervision. As per the title, this paper presents an exemplar for self-adaptive underwater vehicles (AUV) based on ROS2. The exemplar serves as the basis for future implementations of other self-adaptation strategies and works both on simulation and real robots. A self-adaptation method can account for different uncertainties, such as thruster failures, changes in visibility, and many more. Their GitHub page is rich with information and has an example of a pipe inspection using the AUV with a series of environmental disturbances.
---
Business
1X Raises $23.5M in Series A2 Funding led by OpenAI
"1X, previously named Halodi Robotics, a manufacturer and inventor of androids, announced today the successful close of its Series A2 funding round, raising $23.5 million. This round was led by the OpenAI Startup Fund, with participation from Tiger Global and a consortium of Norway-based investors, including Sandwater, Alliance Ventures, and Skagerak Capital".
---
Verity Raises $32M as IKEA Deploys its Inventory Drones
"Verity AG (Verity), creators of the first commercially successful inventory tracking solution powered by fully autonomous indoor drones, today announced completion of a 30M CHF ($32M USD) Series B funding round".