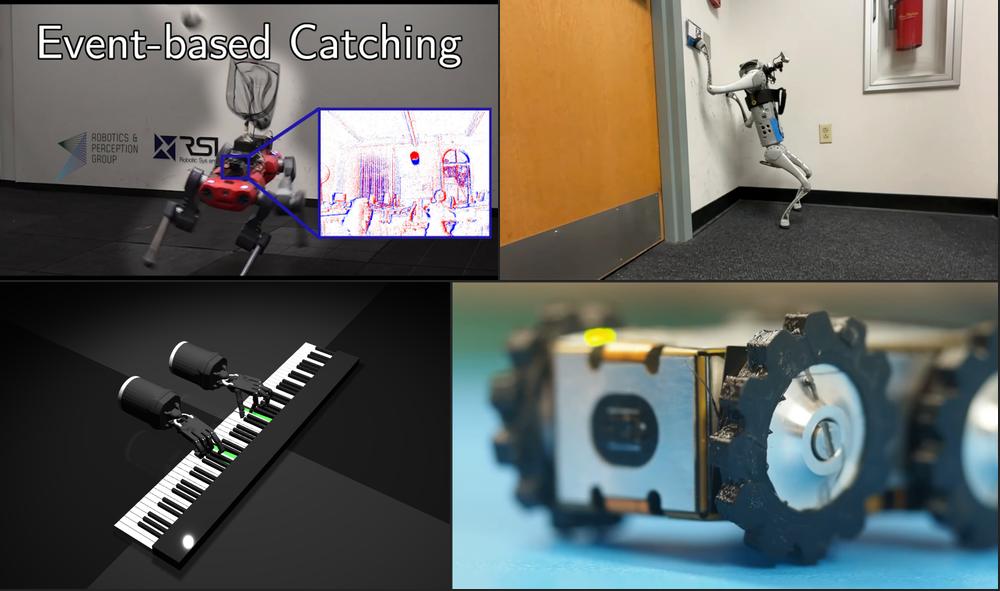 Something I have loved recently (apart from the idea of humanoid robot sharks, of course) is when the universe throws at me projects that I can bundle into a single feature. Last week it was space robots. This week, these are quadrupeds doing what quadrupeds do. As usual, the publication of the week section is manned by Rodrigo. Last week's most clicked link was General Robot's article on programming, with 21.2% opens.
Sponsored
Weekly Robotics is being developed thanks to the Patreon supporters and the following business sponsors:
---
Quadruped robots showing some interesting manipulation skills
Robots Using Legs as Arms to Climb and Push Buttons - this IEE Spectrum article showcases the work done by researchers from Carnegie Mellon University and the University of California, Berkeley. The teams are training a quadruped robot (Unitree Go1) to lean on the wall and press a button to open a door. You can find the video presenting this research on YouTube and even more information on the project website.
Event-based Agile Object Catching with a Quadrupedal Robot - the team from ETH Zurich and the University of Zurich equipped an ANYbotics ANYmal C robot with a small net mounted on the back of the robot and a VGA Event Camera that allows the perception pipeline to detect moving object and the robot to get in position to catch it. The researchers showed that with the algorithm running at 100Hz, the solution achieved an 83% success rate with objects traveling up to 15 m/s from a distance of four meters. For more information about the project, check out this paper or the open-source project repository.
Looking forward to seeing what real-life animal behaviors the people working on quadruped robots will come up with next.
---
What ever happened to Truckla?
At one point, Simone Giertz converted had Tesla Model 3 into a pickup truck. In this video, she is doing an upgrade and working with folks from VIAM to build a mobile robot that will locate a charging port and start charging the car.
---
Single Flex PCB Folds Into A Four-Wheel Rover, Complete With Motors
Carl Bugeja created an interesting mini rover controlled by an ESP32 and features motors with stators embedded into the PCB, which is also the chassis. Nice!
---
Robo Pianist
"We introduce a new benchmarking suite for high-dimensional control, targeted at testing high spatial and temporal precision, coordination, and planning, all with an underactuated system frequently making-and-breaking contacts. The proposed challenge is mastering the piano through bi-manual dexterity, using a pair of simulated anthropomorphic robot hands. We call it RoboPianist, and the initial version covers a broad set of 150 variable-difficulty songs".
You can see the interactive demo of this project here.
---
Grain Weevil Update
Back in issue #140, we featured Grain Weevil, a mobile robot for 'shuffling' material in grain silos, a hugely dangerous task that can often result in entrapment and death. The linked video presents the robot during the first commercial trials. You can appreciate how it operates in a complex and dusty environment.
---
Nailing the Demo
Since you are reading this newsletter, chances are, you've already experienced the joyful process of demoing your robots and what some call the 'demo effect'. In this article, Benjie Holson provides solid advice on having a checklist and handling the demo.
---
Publication of the Week - RI Seminar: Luca Carlone: Next-Generation Robot Perception (2023)
This recent seminar from the robotics institute at CMU, presented by Luca Carlone, associate professor at MIT, shows the next generation of robot perception. This new gen involves three goals: scalability, robustness, and self-supervision. Luca demonstrates how a hierarchical representation of a map has some benefits over flat metric-semantic maps in this part of the video, and even if you're not familiar with these concepts, his slides are very didactic. Later, he explains more about the challenges of certifiable estimations algorithms and how they are helpful when combined with self-supervision.
---
Business
February 2023 Robotics Investments Total $620 Million
"36 robotics investments accounted for US $620M, with funding for firms providing drone enabled data and analytics services particularly strong".
---
Ocado wins UK patent lawsuit over AutoStore
"Yesterday, the UK High Court ruled that AutoStore's patents, which have been the subject of a patent infringement case against Ocado, were invalid, and that Ocado did not infringe upon them. Both AutoStore and Ocado operate automated storage and retrieval systems (ASRS) that operate on similar principles.
AutoStore filed the lawsuit in October 2020, when it asserted that Ocado infringed upon six of its patents. The European Patent Office invalidated two of these patents before judgment was made on the case, and two other patents were withdrawn by AutoStore before the hearing started".
---
Berkshire Grey to join Softbank Group
"Berkshire Grey, Inc. said that it has reached a final agreement to merge with SoftBank Group Corp. and its affiliate, which are both known as "SoftBank." Under the terms of the agreement, SoftBank will buy all of the company's outstanding capital stock that it does not already own for $1.40 per share. This is a cash deal worth about $375 million. SoftBank is a strategic investment holding company with investments in AI, smart robotics, IoT, telecommunications, internet services, and clean energy technology providers".