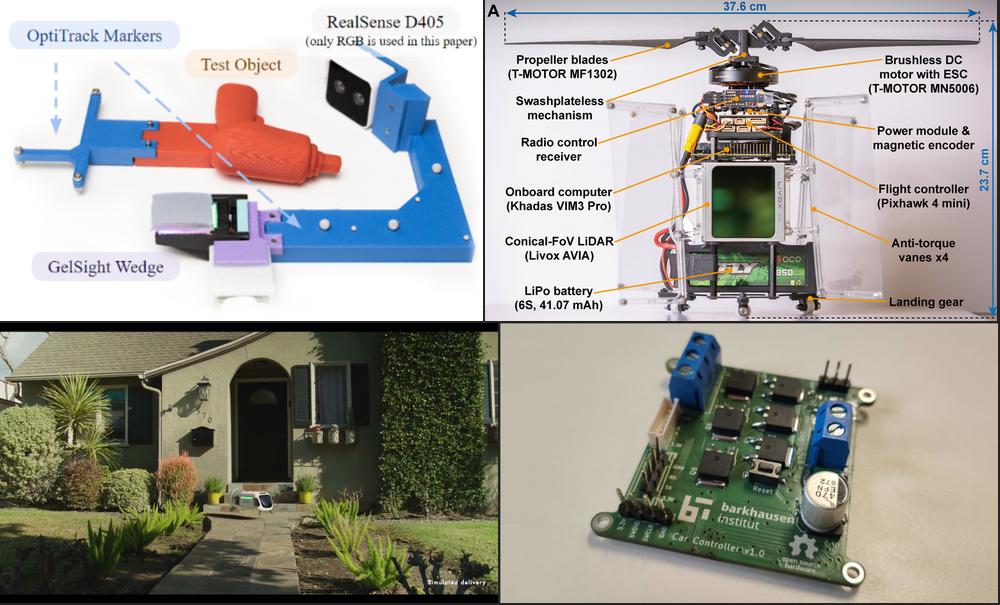 No intro today; instead, let's jump right at it. As usual, the publication of the week section is manned by Rodrigo. Last week's most clicked link was Brian Heater's list of 45 robotics companies that are hiring, with 14.5% opens.
Sponsored
Weekly Robotics is being developed thanks to the Patreon supporters and the following business sponsors:
---
ROS MOOC for beginners - New edition of the course from TUDelft
The folks from TUDelft updated their free course to work with ROS Noetic. If you need to learn ROS 1, this course is an excellent way to start. However, if you don't specifically need to learn ROS 1, I recommend starting with ROS 2.
---
Zipline Unveils New Autonomous System Capable of Quiet, Fast and Precise Home Delivery
Recently, Zipline unveiled a drone delivery solution for residential units. My worries about the drone deliveries were always related to noise, the inability to control parachuting packages, and landing meat grinders in places with potential pets and little humans. The Zipline's solution will not have any of these issues due to them rappelling a droid (yes, they call it that) from a VTOL aircraft. I found Mark Rober's recent company coverage interesting if you like this project.
---
Take A Ride Through The Development Of A Custom BLDC Motor Controller
Researchers from the Barkhausen Institut created an open-source BLDC controller. Their solution uses an STM32 controller running SimpleFOC. You can find the schematics for this project on GitLab.
---
A self-rotating, single-actuated UAV with extended sensor field of view for autonomous navigation
This is a good one! In this work, Researchers from the University of Hong Kong used a LiDAR with a conical 70 degrees field of view and applied it to a single-rotor UAV, creating a system named PULSAR. I know what you must be thinking: if there is a single rotor, there won't be a counter-reaction, the whole thing will spin in flight, and that's precisely the point. If you do some digging into this article, check out figure 3.A with the system diagram. It's my first time seeing a mixer working at close to 1kHz.
---
Tartan Planning Series
After a fantastic Tartan SLAM Series and Tartan SLAM Series Fall Edition, the CMUs AirLab is organizing a series of talks about planning with some top researchers in the field. Two presentations have already taken place and are available on YouTube, with ten more coming in the next month and a half.
---
Publication of the Week - FingerSLAM: Closed-loop Unknown Object Localization and Reconstruction from Visuo-tactile Feedback (2023)
Continuing the series on different methods of SLAM, this paper presents a technique that combines visual and tactile sensing to map and reconstruct objects. The authors used an intel D405 as an RGB image source and a GelSight Wedge to measure high-resolution 3D tactile contact. A closed-loop factor graph was used to estimate the 6-DoF pose from the measured object. Two objects were reconstructed, and the results show a vast improvement between FingerSLAM when compared to tactile only.
---
Business
Plus One raises $50M for its parcel robotics vision systems
PlusOne, a San Antonio-based vision systems developer for picking solutions, announced a $50M series C raise.
---
Nimble Robotics raises $65M to scale up its autonomous logistics fulfillment network
"Nimble Robotics Inc., an autonomous logistics startup that's aiming to reinvent the fulfillment center for small and medium-sized businesses, said today it has closed on a $65 million round of funding".