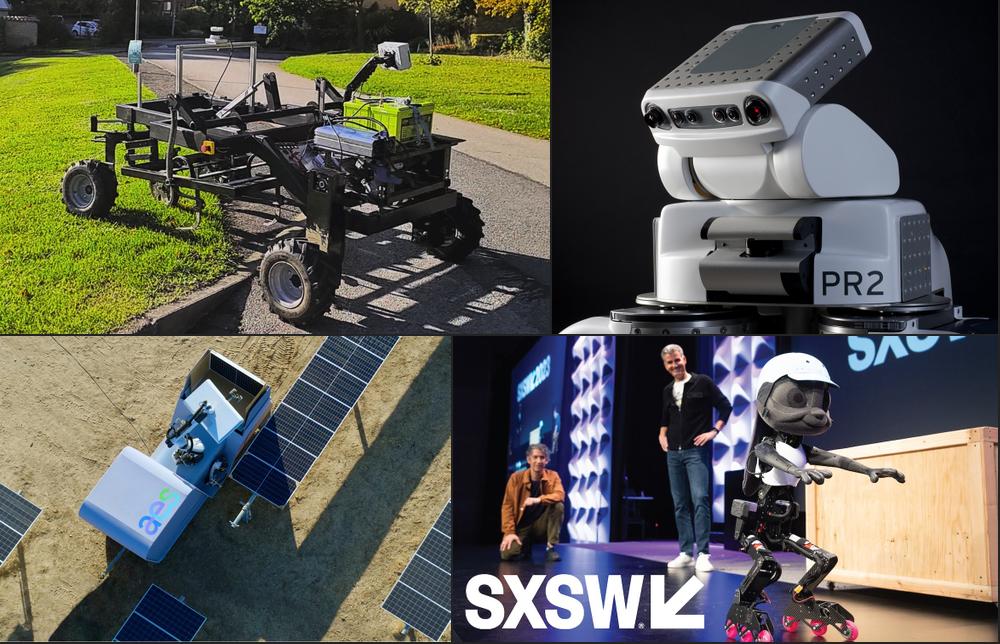 Since Friday, I've been following information on the SVB bank run. My heart goes out to anyone affected, and I hope that all companies involved get access to their funds and can continue their operations. As usual, the publication of the week section is manned by Rodrigo. Last week's most clicked link was Nerdforge's missing finger replacement, with 11.1% opens.
Sponsored
Weekly Robotics is being developed thanks to the Patreon supporters and the following business sponsors:
---
Advertise in WR
Would you like to showcase your robotics-related products to the WR audience of 8,948 across our two main channels and help weekly robotics grow? Check out the sponsor kit for more details, and please feel free to contact me in case of any questions.
---
PR2 Design Files
As promised at ROSCON 2022, Clearpath published the PR2 design files.
---
Storytelling Through Characters at Disney Parks I SXSW 2023
At SXSW, Disney Imagineers showcased Judy, a prototype skating bipedal robot. I loved the presentation and the way the robot appeared on stage. These robots are built with emotions in mind, and I can see that through this build's kinematics. I'm looking forward to learning more about these projects!
---
How Roboticists Can Tackle Climate Change
In this article, Sherry Chen from Nirva Labs showcases some companies that already develop technology that can help with climate change.
---
A Variable Autonomy approach for an Automated Weeding Platform
Tangential to the robots for climate change, Researchers from the University of Lincoln are proposing ARWAC, a robot platform for mechanical wedding. The platform utilizes Ackermann steering and weighs under 250 kg. The sensor kit is relatively standard for this type of mobile robot, consisting of RTK GPS, LiDAR, and an RGB Camera.
---
A Catch Up on General Robots series
A couple of issues ago, I introduced the General Robots series by Benjie Holson. The other day, I had enough time to review the most recent posts, which I found valuable and entertaining. Here are the links to the latest three articles:
---
How Computer Vision Is Changing Manufacturing in 2023
Jacob Marks's article explores examples of how machine vision is used in manufacturing today.
---
Publication of the Week - SpinDOE: A ball spin estimation method for table tennis robot (2023)
Tracking the position of a tennis table ball requires fast cameras and calculations. This paper presents a method to track the spin of the balls using a low-resolution camera. The authors used a Grasshopper3 with 350fps and less than 1MP to detect several dots patterns painted on the balls using a CNN. To make this easily replicable, they created a 3D print stencil design for the dots pattern. The results were impressive, with a mean error of 2.4º robust to motion blur. The code and a dataset are available in this repository.
---
Business
Autonomous Trucking Upstart Embark Goes From $5B Valuation To Kaput In 16 Months
Sixteen months after going public through a SPAC merger, Embark is winding down.
---
Here is a list of 45 robotics companies that are hiring
A very cool initiative by Brian Heater from TechCrunch, who listed all these companies that are looking for talent.
---
Announcements
2nd BehaviorTree.CPP Workshop. Call for speakers
Davide is looking for speakers for a BT workshop. The previous edition was very informative. If you use BehaviorTrees in your robots, consider presenting and helping the community grow.