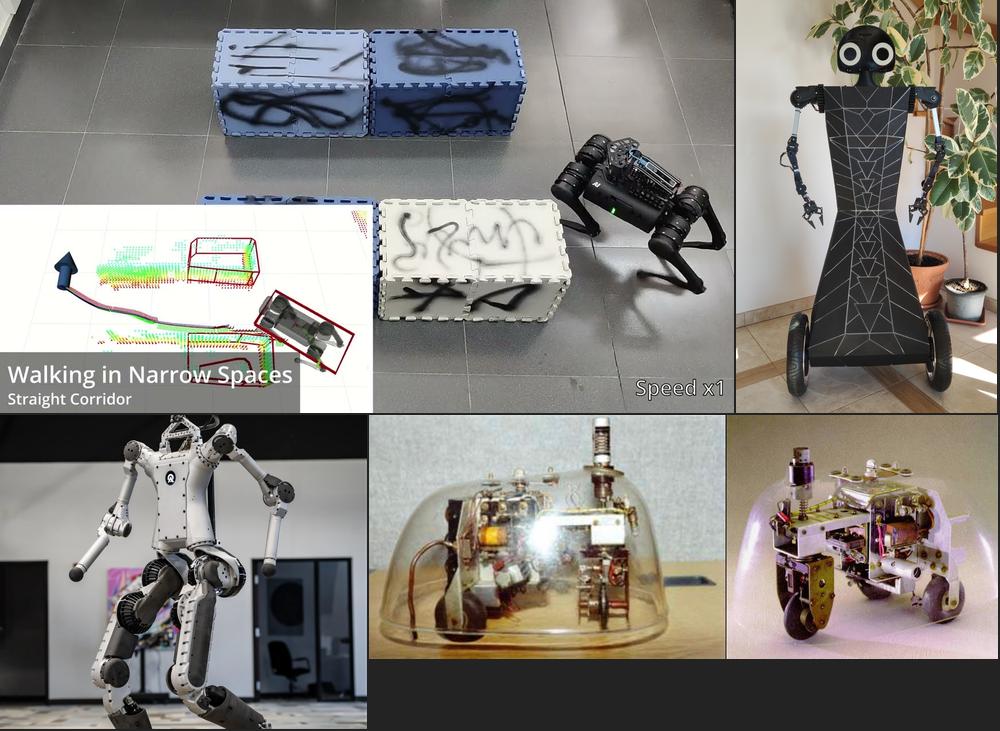 As of last week, the WR project is richer by another article thanks to Apoorva Gupta. If you would like to contribute an article to Weekly Robotics, please feel free to get in touch. When writing for us, you keep all the rights to your work, and we hire a professional proofreader to bring your writing to the next level. As usual, the publication of the week section is manned by Rodrigo. Last week's most clicked link was the video about self-soldering circuits, with 11.7% opens.
Sponsored
Weekly Robotics is being developed thanks to the Patreon supporters and the following business sponsors:
---
Try Viam, An Entirely New Approach to Robotics Software
Remotely control a rover in Viam's robotics lab
The software side of robotics shouldn't slow you down. Viam is a modern alternative that makes it easier to go from paper, to prototype, to production, to scale—all from a single platform. Try Viam today with 0 hardware setup by taking over a rover in their robotics lab & review Viam documentation for ideas. What are you going to build?
---
The History of Turtle Robots
Did you know some turtle robots go as far back as the 1940s? In this article, Apoorva looks at various designs of turtle robots that generations of roboticists created over the years.
---
Roomac - General-Purpose Personal Robot (Construction + Fetch a Bottle Demo Application)
Roomac is a wheeled robot with two arms by Maciej Stępień that costs around $550 in parts. You can see the demo video of this robot on YouTube. To learn more about the technical aspects of this build, check out the project's repository or Maciej's thesis.
---
Walking in Narrow Spaces NMPC DCBF Duality
Researchers from Berkeley Hybrid RObotics lab created this controller for quadrupeds that might find themselves in narrow spaces. You can find the code with this work on GitHub.
---
Watch How Turning Scraps Into Sound Sculpture Can Inspire Learning At Science Museum
Daric Gill is an artist that creates robotic sculptures. The art pieces shown in this video are more on the static side, but if you like woodworking or seeing a fabrication process from start to finish, you will appreciate this 40-minute video.
---
ExoMy
Jan Neumann recently reminded me of this open-source ESA rover that we initially covered in the issue #107. According to the website, the project price is 250-500 Euro, and the robot weighs 2.5kg. You can learn more about this project in this repository
---
Cut Your Own Gears With This DIY Machine
If you have room for one more DIY video, check out the process of making this machine for making gears.
---
Apptronik Developing General-Purpose Humanoid Robot
We have a new humanoid robot in town - Apollo by Apptronik. The company aims to build a general-purpose humanoid that will cost under $100,000 and hopes to deliver a million by 2030. Here you can find an interview with Jeff Cardenas (CEO of Apptronik) and Nick Paine (CTO) where they talk more about their vision for Apollo. We will learn more about this project after the Alpha version premiers in March.
---
Publication of the Week - Real-Time Simultaneous Localization and Mapping with LiDAR intensity (2023)
We covered many types of SLAM (simultaneous localization and mapping) methods, from pure LiDAR-based to sound-based. This paper presents a SLAM method purely based on LiDAR intensity. Some LiDARs collect not only the distance but also the strength of the reflected beam intensity. The author's algorithm extracts features from the intensity image generated by an Ouster LiDAR. The results show an increase in robustness against featureless environments, such as long corridors, and an increase in performance as there are fewer points to process.
---
Business
Scythe Secures $42M Series B Financing
"Scythe Robotics, the company developing advanced, commercial-grade autonomous solutions for the professional landscape industry, today announced it has raised $42 million in Series B financing".
---
Cepton raises $100M for LiDAR sensors
"Cepton, a Silicon Valley-based developer of LiDAR products, has raised $100 million from Koito Manufacturing Co., its automotive Tier 1 partner and current shareholder".
---
Announcements
Understanding Calibration - a Webinar
This Wednesday, Tangram Vision is organizing a webinar on sensor calibration. The team is well known for their high-quality blog posts, and I'm sure their webinar, as always, will be hugely informative. I'm looking forward to learning something new in two days!