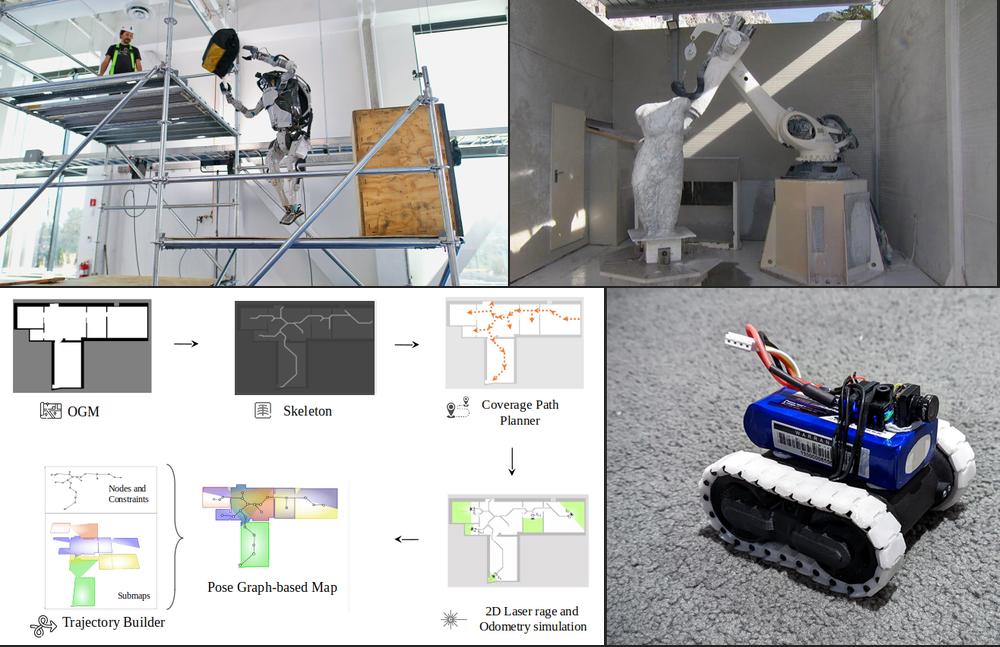 Some days, when working on the newsletter, finding content takes a lot of work. It feels like robotics stagnates when it happens, resulting in me digging through my backlog of 1.4k saved websites to find something good to feature. This week was not that. So many exciting things came my way it wasn't easy to make the final selection. (This is how I ended up with 1.4k not reviewed pages, isn't it?). As usual, the publication of the week section is manned by Rodrigo. Last week's most clicked link was the Robot Report's coverage of CES robots, with 16.7% opens.
Sponsored
Weekly Robotics is being developed thanks to the Patreon supporters and the following business sponsors:
---
How to Integrate Isaac Sim with ROS
NVIDIA® Isaac Sim is a scalable robotics simulation application and synthetic data-generation tool that powers photorealistic, physically accurate virtual environments. In this webinar, you'll learn how to integrate Isaac Sim into your ROS workflows to support robotics apps including navigation, manipulation and more.
---
Atlas Gets a Grip | Boston Dynamics
Boston Dynamics did it again, this time showing Atlas, their humanoid robot, modifying an obstacle course by itself and delivering a toolbox to a human, finishing with a nice flip. The how to video is ten minutes long, and I highly recommend it if you want to learn more about this stunt. As always, BD included some footage of failures. I've also seen something that looks very similar to RVIZ, but it's called 'director' at one point in the video!
---
Self-Soldering Circuits
It's the first time I came across the concept of the self-soldering PCB, and I adore the idea of just connecting two wires and all the components magically falling in place. The way to achieve this is to make a special track that occupies the whole space of the PCB and acts as a resistor that will heat up. You can find the design of the board used in this video on GitHub.
---
OGM2PGBM
Building Information Modelling (BIM) is a set of tools for digitally representing buildings. The linked repo contains a tool for generating pose-graph maps on 2D occupancy grids from BIM models or terrestrial laser scanners. To learn more about this process, check out this paper. Thanks, Sooraj!
---
Could robots do the work of master marble sculptors? This one is "99%" there, according to its creator
Robots making art from marble? Why not?! As the interviewee says in the video, they believe there are 99% there with the technology, but still, some final touches by humans are required.
---
MIT Engineers Build a Battery-Free, Wireless Underwater Camera
It is an exciting project where MIT Engineers build a camera that requires so little power to operate that it can be charged through transducers converting sound waves into energy. Observing the video featured in the article, capturing a full image takes quite a bit of time, which might be fine for lots of applications!
---
2022 FPV Contest: Congratulations To The Winners!
The FPV contest winners were announced! You can head to the page above to see some cool DIY projects.
---
Publication of the Week - SCARP: 3D Shape Completion in ARbitrary Poses for Improved Grasping (2023)
Recovering full 3D shapes from partial images is a critical task for robot manipulation and grasping. This paper presents a method for shape completion with no fixed canonical frame of reference, as used by most existing methods. The authors used a feature extraction module that can disentangle the pose and shape. Results show an increase of 48.27% over the current method on partial point clouds. This page contains videos, explanations, and the code used for anyone who wants to try.
---
The Probabilistic Robot Kinematics Model and Its Application to Sensor Fusion (2022)
We have yet to finish reviewing publications! In this one, the researchers from DLR look at modeling the kinematics of manipulators that contain elastic components and then adding this information as a source to a probabilistic filter. Thanks, Lukas for sending this over!
---
Business
United Robotics Group acquires mobile robot developer Robotnik
"United Robotics Group (URG) has acquired a majority stake in Robotnik Automation, a Valencia, Spain-based provider of technologies in mobile service robotics. Financial details of the acquisition weren't disclosed".
---
Outrider brings in $73M for autonomous yard system
"Outrider, a developer of autonomous yard operations for logistics hubs, announced that it raised $73 million in Series C financing, bringing the company's total funding raised to $191 million".
---
Announcements
ICRA 2023 Simulated Humanoid Robot Wrestling Competition
Cyberbotics is organizing an online humanoid robot wrestling competition. See you in the ring!