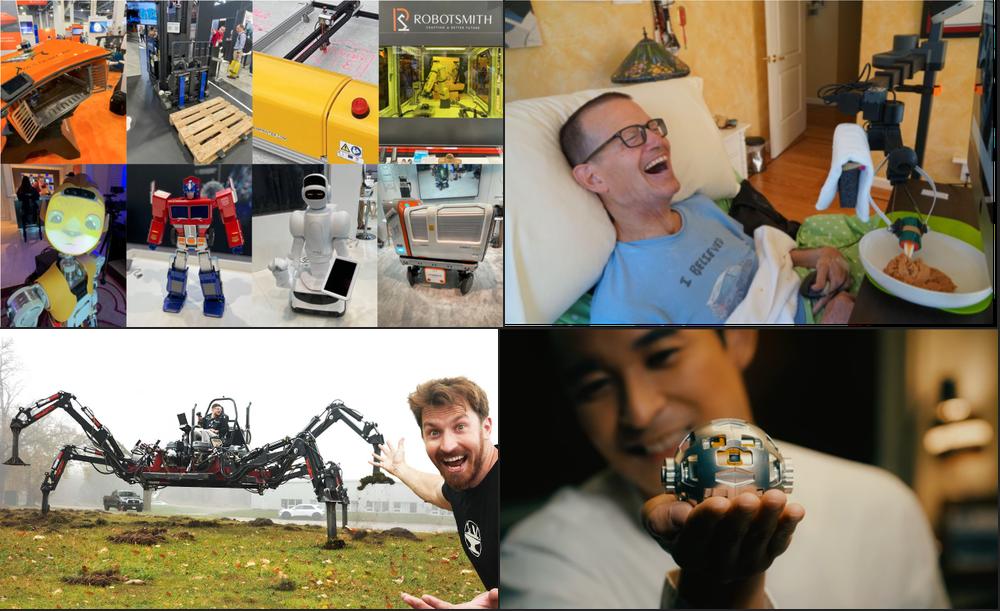 There are no opening insights from me today, just keeping my head down and focusing on delivering you some interesting stuff. As usual, the publication of the week section is manned by Rodrigo. Last week's most clicked link was my coverage of Robotics in 2022, with 15.1% opens.
Sponsored
Weekly Robotics is being developed thanks to the Patreon supporters and the following business sponsors:
---
Spider Mech by Hacksmith Industries
Folks from Hacksmith industries created this massive ride-on spider mech robot with legs built from hydraulic excavator booms. The project tech stack includes ROS and a RevolutionPi, among others. As you probably expect, this kind of project is hard, and in the video, you will see the team battling many software, electronics, and mechanical issues.
---
Open Deep Robotics
"The aim of OpenDR Project is to develop a modular, open and non-proprietary toolkit for core robotic functionalities by harnessing deep learning to provide advanced perception and cognition capabilities, meeting in this way the general requirements of robotics applications in the applications areas of healthcare, agri-food and agile production. OpenDR provides the means to link the robotics applications to software libraries (deep learning frameworks, e.g., PyTorch and Tensorflow) to the operating environment (ROS)".
I looked through the project page, and after 40 minutes, I'm no closer to understanding how to apply this project. I hope that over time the authors will be able to show some real-life use cases for OpenDR, even though the initial funding for this project was three years starting from January 2020.
---
A Bare Metal Programming Guide
This repo contains a set of projects to learn programming microcontrollers using GCC and focusing on the bare minimum to get you started.
---
Editor's Picks: best robots of CES 2023
This article by Mike Oitzman is the best write-up on CES robots that I came across in my research, closely followed by this piece by Vanessa Bates Ramirez.
---
Lunar Rover Is No Toy
This tiny lunar rover named SORA-Q has a shape of a sphere that splits up and exposes a camera. The wheel mechanisms look very clever and should allow the robot to traverse through sand-like material. Hackaday says the battery should provide this robot with a two-hour operation time.
---
Publication of the Week - ShadowNav: Crater-Based Localization for Nighttime and Permanently Shadowed Region Lunar Navigation (2023)
With the latest missions to go to the moon again, Nasa and JPL (Jet Propulsion Laboratory) are constantly developing new autonomous robot solutions. This paper presents a method of absolute localization for rovers based on lunar crater edges. The authors tested a stereo camera to detect and match the crater edges with known ones from orbital images. An external illuminator placed underneath the camera is also used to enhance the perception systems in permanently shadowed regions of the moon. They also tested both in simulated and real data with a 4m error, which shows that this technique might be promising.
---
Business
Alphabet robotics division Intrinsic hit with layoffs
Intrinsic, a robotics company that recently acquired Open Robotics Corporation will be laying off 40 employees. According to this ROS discourse post no one from the recently acquired firm is affected.
---
Oxbotica brings in $140M for AV software
"Oxbotica announced that it brought in $140 million in Series C funding, bringing the company's total funding to date to $225 million. Oxbotica aims to use the investment to drive expansion into new geographical markets and more quickly deploy its autonomy software".
---
Hello Robot receives $2.5M award from the National Institute of Health to advance robot assistance for older adults with mobility and mild cognitive and impairments
"Hello Robot, a leader in assistive mobile manipulator robots, has received a Phase II Small Business Innovation Research grant from the National Institute on Aging (National Institutes of Health) for approximately $2.5 million. The goal of the grant is to develop the Stretch Cognitive and Physical Assistant, a friendly, affordable, and capable robot helper that can assist older adults who have a range of cognitive and physical impairments".