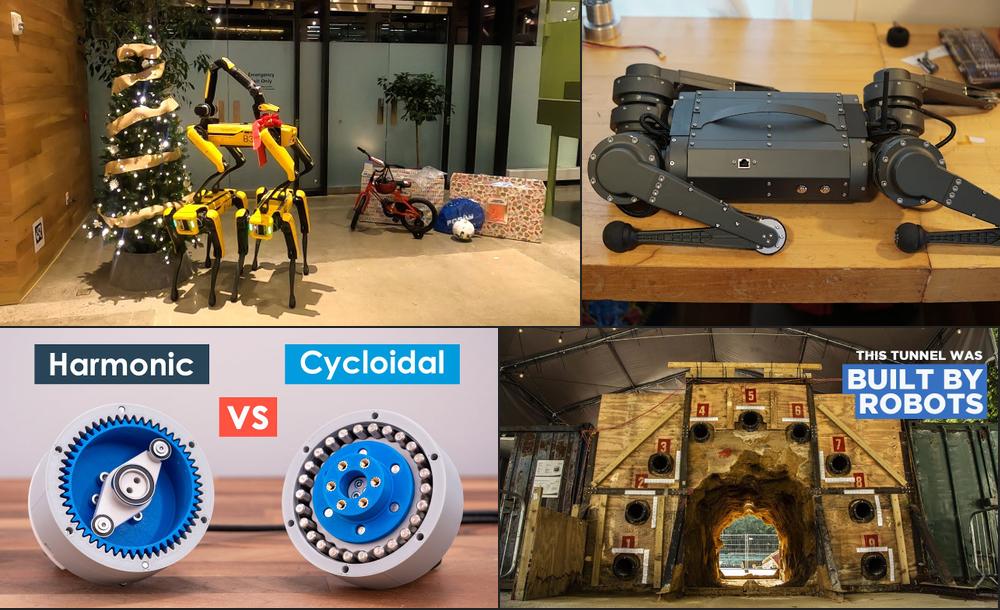 Happy Holidays again! This issue should be pretty balanced, as we cover some libraries, sensors, dissecting a quadruped, and even looking at some gearboxes. As usual, the publication of the week section is manned by Rodrigo. Last week's most clicked link was Tessa Lau's story about debugging some robots, with 14.9% opens.
Sponsored
Weekly Robotics is being developed thanks to the Patreon supporters and the following business sponsors:
A Tutorial on Manipulator Differential Kinematics
We featured the Python Robotics Toolbox back in May. The tutorial linked above is a set of Jupyter notebooks making excellent use of the Robotics Toolbox.
---
Magnetometer Soft Iron and Hard Iron Calibration: Why and How
I found this article by Yahya Tawil to be an excellent introduction to magnetometers, providing some practical integration tips. I admit, I stole this link from the Embedsys Weekly, but I would be a fool not to!
---
Mini Cheetah Clone Teardown
In this blog post, Ben Katz, the original inventor of the MIT Mini Cheetah quadruped does a teardown of a clone of his design that you could get nowadays from AliExpress. In the article, you will find some interesting design choices made by the manufacturer.
---
Harmonic vs. Cycloidal Drive - Torque, Backlash and Wear Test
This video is a comparison of 3D-printed harmonic and cycloidal drives.
---
Holiday robot videos 2022
This Robohub article features lots of holiday robotic videos, so if you are still in the Christmas spirit, you should check them out.
---
A Swarm of Robots Built This Tunnel
This video presents a different way of building tunnels. In this process (description starts at this mark), a swarm of robots is injected into tubes, and then deposit the tunnel structure from the inside. Afterward, the ground is removed, and you have the tunnel. I'm still deciding on the concept based on the demonstrator, but I found the idea inspiring, and I'll be looking forward to seeing how this process develops.
---
Publication of the Week - Robot Learning on the Job: Human-in-the-Loop Autonomy and Learning During Deployment (2022)
Robots interacting and helping humans is an idea that permeated around us in many aspects of Sci-Fi movies (R2-D2 is one of my favorites), tv series, novels, and others. This paper presents a human-in-the-loop learning framework using a robot arm with continual policy learning in deployed environments. A teleoperated infrastructure enables human interventions to re-weight training samples in a supervised learning setting. Within this framework, the method decreases the human workload as the level of robot autonomy increases by 3x faster when compared to state-of-the-art methods. The article page contains videos and very cool animations worth checking out.
---
Business
Fruitcore Robotics Brings in over $24M
"Fruitcore Robotics brought in 23 million euros, over $24 million, in Series B funding last week. Fruitcore Robotics offers a line of industrial robotic arms that utilize the company's Highly Optimized Robotic Systems Technology (HORST)".