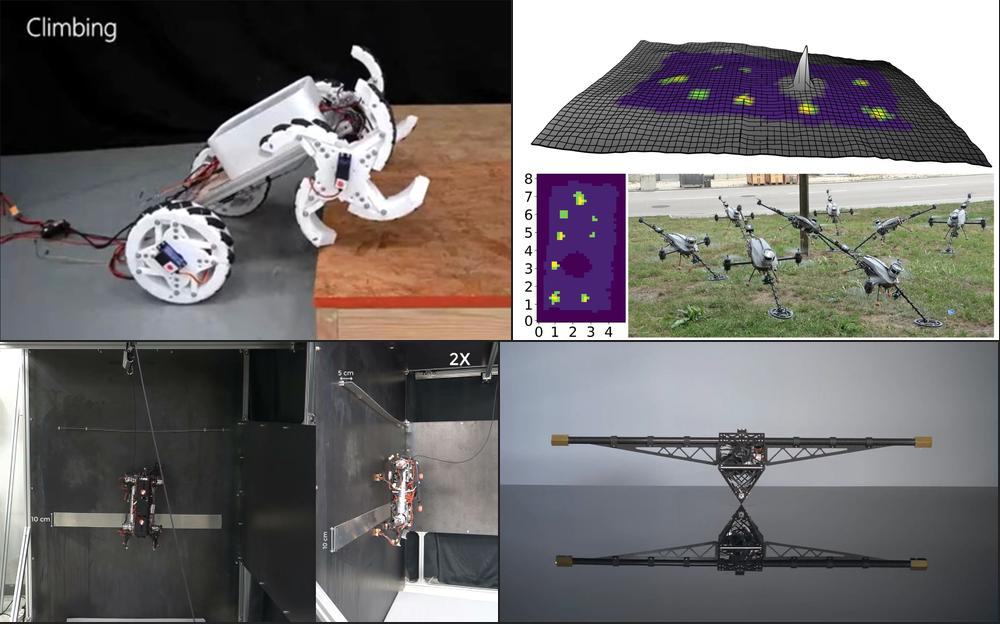 Happy Holidays! To celebrate, here is a 1-minute footage of relaxing robots from EPFL Reconfigurable Robotics Lab. As usual, the publication of the week section is manned by Rodrigo. Last week's most clicked link was the ad for my ROS 2 liveProject, with 14.3% opens.
Sponsored
Weekly Robotics is being developed thanks to the Patreon supporters and the following business sponsors:
---
Build Connected Robots with NVIDIA Isaac Dispatch and Client
NVIDIA® Isaac ROS is a collection of hardware accelerated packages that make it easier for ROS 2 developers to build high-performance robotics solutions. Robots are becoming more connected and collaborative through the industry with platforms like NVIDIA Isaac and protocols like VDA5050. In this Isaac ROS webinar, you'll learn how to use Isaac Mission Dispatch to manage a heterogeneous fleet of robots from the cloud.
---
Intrinsic Acquires Open Source Robotics Corporation (OSRC)
This acquisition was important news in the robotics world this week. Intrinsic is an Alphabet company working on "making industrial robotics more accessible and usable". OSRC is (was?) a commercial arm of Open Robotics, focusing on commercial projects and maintaining ROS. All ROS-related intellectual property will remain under the control of the Open Source Robotics Foundation. According to the announcements and the discussion, the OSRC team should have more time and resources to focus on ROS development thanks to this deal.
For more information about this acquisition, you can look through these resources:
---
Omniwhegs Are Awesome Times Two
Researchers from the Shanghai Technical University had created an omniwheel that, when actuated by a servo, can unfold into a leg, hence the name "omniwheg". You can find the system in action in this video, also featured in the Hackaday article.
---
Yet Another Story on why Robotics is Hard
Here is an interesting Twitter thread from Tessa Lau, the CTO of Dusty Robotics, about a bug they have encountered in their robot that resurfaced only in certain conditions. This thread reminded me a little bit about a story of a Pontiac that would not start when the owner bought vanilla ice cream.
---
Quadruped robot with magnetized feet can climb on metal buildings and structures
Clang, clang, clang. This quadruped robot is equipped with magnetic feet that the robot's control system can toggle. The quadruped has multiple gaits, the fastest one allowing climbing a vertical wall at a speed of 0.7 m/s. The magnets are strong enough that the robot can carry an additional payload and even walk upside-down. For more information about this work, check out this paper.
---
Minuscule Sensing Suite Is a Big Step Toward Robotic Gnats
This article describes the work done by Sawyer Fuller and his team from the University of Washington in researching tiny sensors that could ultimately be used on a flying robot weighing 10mg. Interestingly, according to the article, the camera that could be a part of this sensing stack is available off the shelf and weighs only 1mg. The authors used palm-sized drones and simulated the sensors at this research stage to prove the concept. I'm looking forward to the first robotic fruit fly.
---
One-Wheel Cubli Balances Like Magic
This balancing robot can balance on the tip of its structure using a single reaction wheel that acts in pitch and roll directions. The researchers achieved this by having a significant difference in inertia between the two axes.
---
Publication of the Week - Resilient Terrain Navigation with a 5 DOF Metal Detector Drone (2022)
One of the main advantages of autonomous robots is their ability to work in hazardous environments, most time replacing humans. This paper presents an autonomous metal detector survey robot under undulated terrain. The authors use a 5 DOF tricopter set up with a LiDAR and GNSS for terrain mapping. The metal detector's performance depends upon staying parallel to the ground at a certain distance. Therefore, a novel local trajectory planner was proposed to maintain the drone with minimal turning efforts and collision avoidance. As stated, they developed the system for landmines and explosives detection and generated a 2.5D map with points where there is a chance of having metal objects.
---
Business
LiDAR maker Quanergy files Chapter 11 bankruptcy
Two weeks ago, we reported on MicroVision acquiring Ibeo after it was insolvent. Quanergy is filing for bankruptcy ten months after going public through a SPAC and is currently looking for a buyer.