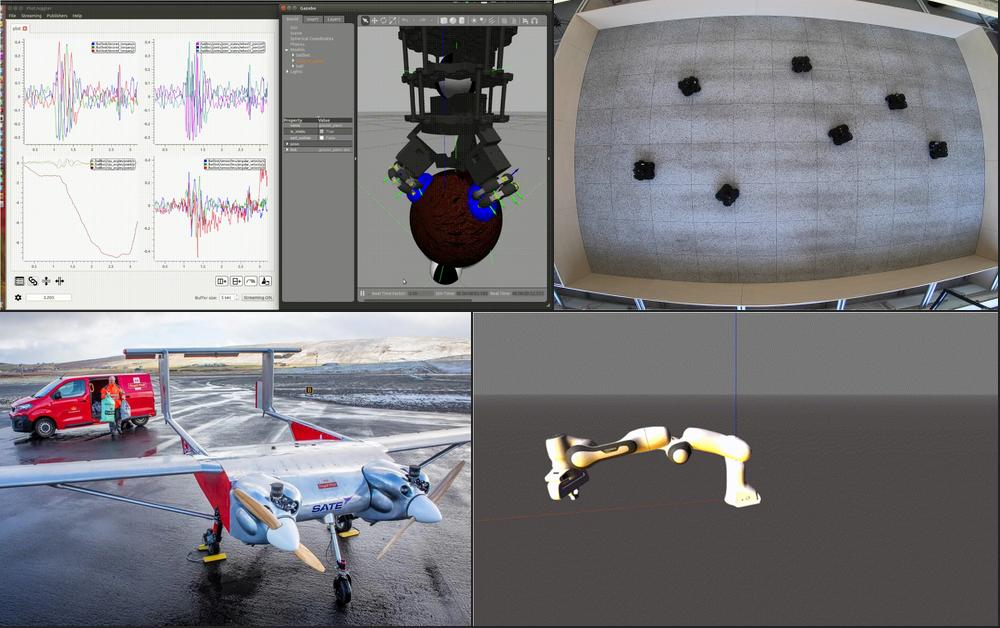 ICRA is happening soon! Usually, this means a range of interesting projects and publications, so I'll be looking forward to what we learn about in the coming weeks. As usual, the publication of the week section is manned by Rodrigo. The most clicked link last week was the article about ROS2 in Science with 17.0% opens. Unfortunately, the article is now paywalled, but you should be able to access it for free from this article.
Sponsored
Weekly Robotics is being developed thanks to the Patreon supporters and the following business sponsors:
---
Make the Most of Your Robotics Data and Scale Your Fleet
Operate and Observe Devices in Formant
Formant is a data and operations platform that helps robotics companies get to market faster, scale successfully, and optimize fleet performance. To get started, request a technical demo or read how we've helped companies like Burro and Canvas make the most of their robotics data.
ROS2swarm
Researchers from the University of Lübeck, Germany, released the ROS2swarm package with some multi-robot behaviours. The package has out-of-the-box support for Clearpath Jackal and TurtleBot3 and works with ROS2 Foxy and Dashing. For more information, you can check out the project paper and the project repository.
---
Common Pitfalls to Avoid in Object Detection Datasets
A very good talk with solid advice on how to check the quality of object detection datasets. I found this video highly informative but I don't work with AI/ML/DL so I might be a bit biased here.
---
Royal Mail Is Doing the Right Thing With Drone Delivery
UK's Royal Mail announced plans to establish more than 50 new postal drone routes for their UAVs to deliver parcels to remote islands. These fixed wings are capable of transporting up to 100kg of payload over 1,000 kilometres.
---
Rust: A Critical Retrospective
If you have been reading this newsletter for a while, you might have noticed that I tend to post Rust related news every now and then. Usually, these articles were focusing on advantages, but this one is a bit more balanced showing some weaknesses of the language and that there is still some work to do.
---
Robotics Toolbox for Python
"This toolbox brings robotics-specific functionality to Python, and leverages Python's advantages of portability, ubiquity and support, and the capability of the open-source ecosystem for linear algebra (numpy, scipy), graphics (matplotlib, three.js, WebGL), interactive development (jupyter, jupyterlab, mybinder.org), and documentation (sphinx)". The project has been added to the Awesome Weekly Robotics list!
---
bb
Last week I came across this repo with a ball-balancing robot simulated in Gazebo and thought it could make an interesting educational project, even though it's running ROS Kinetic. If you decide to give this a go let me know how it went!
---
Publication of the Week - Unconventional Visual Sensors for Autonomous Vehicles (2022)
When it comes to autonomous cars, we think of LiDARs, RGB cameras, sonars, and other commonly used sensors that are part of perception and navigation systems. This article presents a new set of uncommon sensors and their comparative advantages in different scenarios. The authors evaluate four types of cameras: infrared, range-gated, polarization, and event. Each sensor principle is explained and their related applications are described with real industry usage examples. Of all these technologies, the event and range-gated cameras are the most exotic and exciting. This last one can detect long-distance obstacles under adverse conditions of fog, low light and backscattering.
---
Business
GreyOrange raises $110 million for 'growth financing'
"GreyOrange, a robotic fulfilment company, has raised $110 million in "comprehensive growth financing", a majority of which came from Mithril Capital Management and a group of current and new investors, along with separate financing provided by funds and accounts under management by BlackRock".
---
Elios 3 - Digitizing the Inaccessible
Flyability has released a new version of their indoor inspection multirotor. What stood out for me is that they seem to have dropped the 'rolling cage' that you could see in the previous designs that made their design resilient to collisions. Instead, the new design appears to be using reversible motors for recovery. A 3D LiDAR introduced in Elios 3 is indeed an interesting add-on.
---
Announcements
Drone development event, June 23-34 in Austin, Texas
The #PX4DevSummit schedule is finally out, and it comes packed with tons of drone development content, happening next month, June 23-24, at the JW Marriot in Austin, Texas:
40+ sessions & 2 workshops
40+ speakers representing 20+ companies
1 Amazing after-party at Austin's Capital Factory!
Tickets are on sale now on the event website and include access to everything! And if you can't attend in person this year, don't worry. We also have a virtual ticket with access to all the talks!