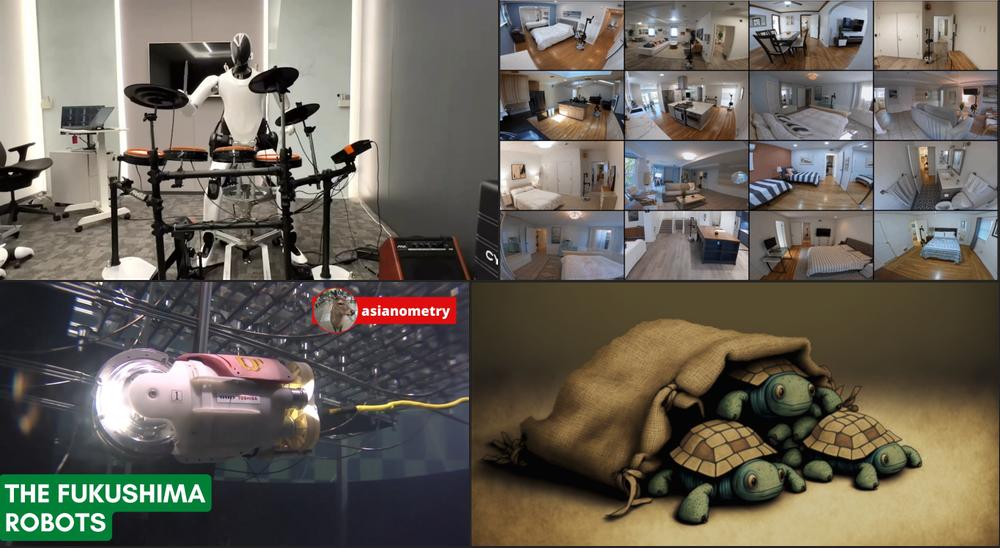 In one of the features covered today, I made a little apples-to-oranges comparison, but it made me think about the baseline for comparing humanoid robots. Initially, I was thinking of three-year-olds but seeing some of them drumming on YouTube; the bar would be too high for the robots available today. Instinctively, we will be comparing bipedal robots' capabilities to our own, but by doing that, we will be unimpressed with most applications we will see… As usual, the publication of the week section is manned by Rodrigo. Last week's most clicked link was Tangram Vision's post on event cameras, with 13.6% opens.
Sponsored
Weekly Robotics is being developed thanks to the Patreon supporters and the following business sponsors:
---
Build Mobile Robots with ROS2 - Five-Project Series
Manning
If you are looking to learn ROS2 by working on some mobile robotics projects, check out my project series on the topic. There, you will find lots of tips from years of working in the field that you might find useful. Use a code lpsad40 for a 40% discount.
Xiaomi's Humanoid Drummer Beats Expectations
Xiaomi is working hard on building some showcases for CyberOne. In this research, the robot gets a MIDI file, parses it into beats, and creates trajectories synchronized with the music. Searching for drumming robots sent me through a rabbit hole, and I came across a band called Compressorhead. Their drummer would be difficult to beat with anything other than direct methods and some ultra-fast actuators.
---
Sensoria Obscura: Event Cameras, Part II
Last week, I promised I would feature part two of the Tangram Vision coverage of event cameras, and we didn't have to wait long. This time, Brandon Minor focuses on the technical evaluation of these sensors and analyzes the sensors that were/are available on the market.
---
From the Evolution of Rosbag to the Future of AI Tooling
In this article, Jeremy Leibs describes how he developed the rosbag storage format. If you don't use ROS, bagfiles are files to which you can record the data from your system for future review or replay. If you are using rosbags but don't know how they work (I always assumed magic was involved), then reading this piece will give you some idea of what happens behind the scenes when you record or replay data using this tool.
---
The Fukushima Robots
Over 11 years after the Fukushima disaster, the robots are still at work, performing nuclear decommissioning work. This video is an in-depth look at some robots and their role in cleaning up the site. It was very educational, not only regarding the robots themselves but also about the radiation hardening of equipment.
---
Navigating to Objects in the Real World
This work explores semantic navigation with mobile robots using Modular Learning. I highly recommend watching the 10-minute presentation to understand this research better. My takeaway from this project is semantic navigation will mean little in simulation and that you need to deploy your stuff on real robots, as you will be dealing with different kinds of error sources.
---
Publication of the Week - Towards Accurate Ground Plane Normal Estimation from Ego-Motion (2022)
Estimating the ground plane (GP) is a crucial part of many autonomous systems. It may sound simple, but determining the GP can be challenging for wheeled vehicles. Unstable road surfaces and speed bumps amplify the error around this estimation. This paper presents a real-time method to get ground plane normal estimation using only odometry with little computational cost. The tests conducted with the KITTI dataset showed a reduction in the estimated vector error from 3.02° to 0.39°. The authors provide a GitHub repository, but there is still no code as of the publishing date of this issue.
---
Business
Verdant Robotics Raises $46.5 Million to Reduce Ag Chemicals, Improve Farm Profits
"Verdant Robotics announced the close of a $46.5 million Series A funding to scale its advanced robotic technology and accelerate broad adoption of its regenerative and precision ag solutions".
---
Announcements
Geo Week
Geo Week, February 13-15, 2023 in Denver, is the learning and networking nexus of the geospatial and built worlds. Professionals from a wide variety of industries and disciplines convene to advance digital technologies in these sectors. It combines 3 previous event brands (in AEC, 3D and Lidar) and important collocated user meetings (ASPRS, USIBD, MAPPS, WGIC and more to be announced). The 2022 event had 2,121 registrants, and hosted 1,889 verified delegates from 48 nations. Geo Week 2023 will convene 2,500+ attendees from 6 continents. Use code SAVE100 for a $100 discount and/or FREE Expo.