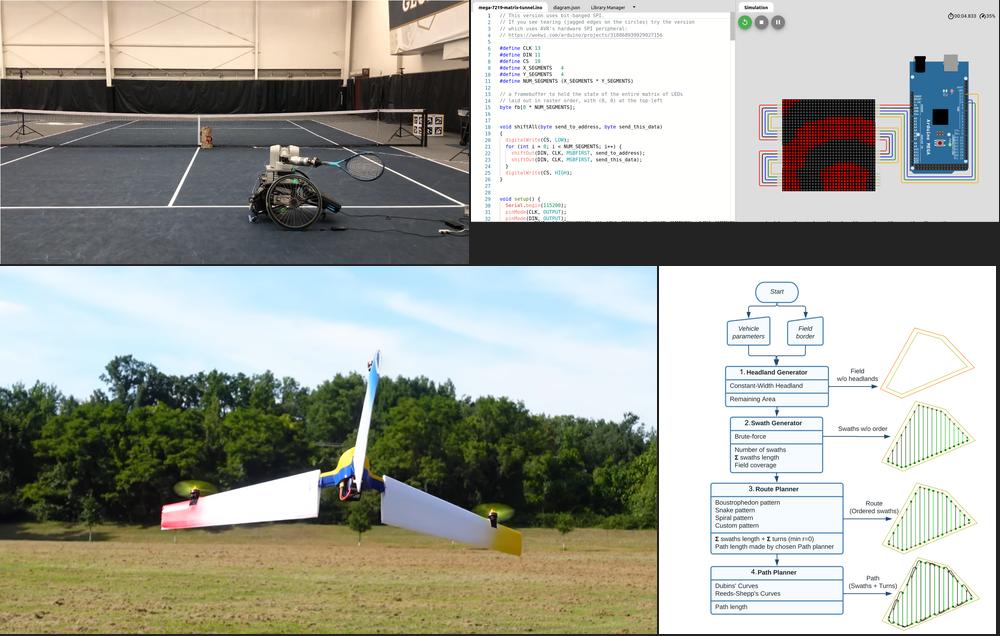 It would be unpatriotic of me not to mention the latest spike in interest in robotics in Poland. Lately, Carrefour introduced BellaBots from Pudu Robotics as part of some in-store promotional campaigns. The robot named 'Kerfuś' sparked something more than just curiosity in some people, with many creating memes about their romantic interest in the robot. As usual, the publication of the week section is manned by Rodrigo. Last week's most clicked link was the list of 50 women in robotics, with 18.1% opens.
Sponsored
Weekly Robotics is being developed thanks to the Patreon supporters and the following business sponsors:
---
Build Mobile Robots with ROS2 - Five-Project Series
Manning
My ROS2 project series works with ROS2 Humble. If you want to learn to develop mobile robotics with good practices and lessons learned from the field, then check it out!
---
Is THIS the Most Versatile Aircraft Design?
We've featured this aircraft back in the issue 205. In this follow-up video, Nicholas discusses the efficiency of his design in forward flight mode and some possible applications for this type of drone.
---
General Purpose Robots Should Not Be Weaponized
A coalition of robotics companies working on mobile robotics (both wheeled and legged) created an open letter against the weaponization of their platforms. The companies say they won't do it, and to the best of their abilities, they will screen their customers so that they don't do it either.
---
A Lesson from the Past: Building Real-Time Systems Is Hard
This article by Amar Mahmutbegovic is an exciting story about a scheduling bug that made it onto the Pathfinder rover and ultimately caused system resets on Mars.
---
Fields2Cover
Fields2Cover is a library with robust and efficient coverage path planners for agricultural vehicles with a ROS interface as an add-on. An instant awesome WR classic. You can learn more about this work through this paper.
---
Wokwi
Wokwi is an online platform that allows you to simulate IoT projects in the browser. Multiple projects are featured on the website, which should be a great way to prototype without hardware. The boards currently supported are Arduino, ESP32, and Raspberry Pi Pico.
---
Publication of the Week - Athletic Mobile Manipulator System for Robotic Wheelchair Tennis (2022)
We all know that making full-scale dynamic humanoid robots is an arduous task. Most competitions, such as RoboSoccer, use them in a miniaturized form. This paper presents ESTHER, an autonomous robotic wheelchair that plays tennis on a human scale form. The authors equipped the wheelchair with a 7-DoF high-speed robot arm and used Odrive to control both wheels. Six low-cost camera detection rigs were placed around the court to track the ball's movement. ROS is used to stitch everything together and compute the motion planner that outputs the velocity of the wheelchair and the trajectory of the robot arm. ESTHER is an open-source project, as you can check it out on this page. You can find the project repository on GitHub.
---
Business
Foxglove's $15M Series A and the Missing Data Stack for Robotics
Foxglove announced a $15M series A funding led by Eclipse Ventures. Congrats!
---
Ambi Robotics Raises $32M for Sorting Robots
"Ambi Robotics announced $32 million in additional funding for its AI-powered parcel sorting systems. The company has now raised about $67 million since it was founded in 2018. It closed a $26 million Series A in September 2021".
---
Jobs
Below are the latest positions from our job board. If you want to learn more about paid job advertising, please check the board for more details.
---
DevOps Lead
DTE (Reykjavík, Iceland)
DTE is looking for a dedicated individual to join as a DevOps Lead in our Software Development team.
---