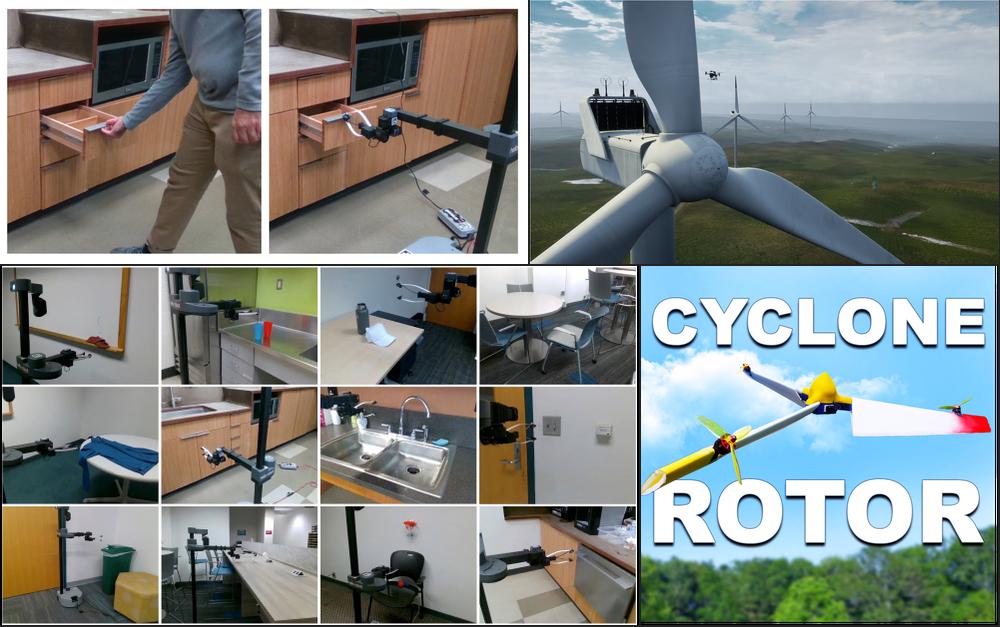 This video of someone trying to play basketball on a stand-on multirotor made me think a lot about safety, and how easy it can be to disregard. I never thought I would be too welcoming of safety regulations, but with devices like this, it is a severe accident waiting to happen. The same goes for attaching machine guns to quadrupeds.
On a lighter note, we have partnered with the Commercial UAV Expo as a media sponsor, and we can share some event passes with the readers. You will find more information about the event in the Announcement section. If you would like a chance to get a free pass, fill in this form. We will not share any provided data with anyone. As usual, the publication of the week section is manned by Rodrigo. Last week's most clicked link was the Foxglove ad, with 10.6% opens.
Sponsored
Weekly Robotics is being developed thanks to the Patreon supporters and the following business sponsors:
---
Make the Most of Your Robotics Data and Scale Your Fleet
Operate and Observe Devices in Formant
Formant is a data and operations platform that helps robotics companies get to market faster, scale successfully, and optimize fleet performance. To get started, request a technical demo or read how we've helped companies like Burro and Canvas make the most of their robotics data.
---
A Chess Robot in Moscow Has Broken the Finger of Its Human Opponent
Not cool! Someone at Moscow Chess Open did not take safety seriously and deployed a chess-playing robot arm that proceeded to break a kid's finger. According to the article, the player moved the piece when he was not supposed to, leading to the robot throwing a fit. I believe the only people to blame here are the system designers who did not use the right platform for the job and did not appropriately consider safety.
---
Microsoft launches Project AirSim, an end-to-end platform to accelerate autonomous flight
Microsoft is launching Project AirSim, a commercial platform for drone simulation and AI training. If the name rings the bell, you probably came across the open-source AirSim, which, sadly, will be superseded with this new development. If there is a serious effort to keep this project alive, we will be sure to report it.
---
The "Cyclone-Rotor" Drone
Provided link shows an exciting tri-copter design with wings that can spin while hovering. Thanks to the attached wings, the hover efficiency is tripled compared to a no-wing platform. The featured video is very informative. I highly recommend checking it out, and I'll be looking forward to watching the follow-up video.
---
ros-o
Someone is eager to keep ROS1 functioning beyond 2025 Noetic end of life by creating ROS1 Obese. My take on this: ROS require not-insignificant infrastructure to offer minimum setup hurdles. If the infrastructure isn't there, this project will be a harder sell, but some companies will give this a go if they can't timely switch to ROS2.
---
Robots Learn Household Tasks by Watching Humans
Here is a very cool application of the Stretch robot. WHIRL (In-the-Wild Human Imitating Robot Learning) allows the robot to learn from a video of a human performing a task. As per the project's website, the Researchers have taught the robot to perform 20 different functions.
---
Debugging with JTAG
In this blog post, Lukasz Barczyk looks at debugging embedded applications with JTAG and provides some background information on this standard.
---
Publication of the Week - A Survey of Robotic Harvesting Systems and Enabling Technologies (2022)
If you find agricultural robots curious or want to stay tuned with them, this paper will contemplate you with a review of robotics harvesting systems. Automated crop harvesting imposes significant challenges due to its unstructured nature, and tasks for identifying the targets and then picking each one up can be demanding. The authors evaluate each robot system by crop and list many research projects alongside commercial products. They also comment on a late demand to adjust crop cultivation to better fit robotics systems, with one of the cited examples being a robot on rails to move towards shorter crop cultivations.
---
Business
JAKA Robotics Raises $150M for Collaborative Robots
"JAKA Robotics has raised $150 million in Series D funding. This follows a $50 million Series C funding round earlier in 2021. JAKA plans to use the Series D funding to further support globalization of the company and the research and development of its collaborative robot arm".
---
Announcements
Commercial UAV Expo
Commercial UAV Expo, September 6-8 in Las Vegas, is the premier event for the commercial drone industry, focusing on the integration/operation of commercial UAS. The event will feature exhibits and demonstrations by UAS solutions providers, keynotes, panel discussions, presentations with interactive Q&A and chat, AI-powered networking, and more. Industries covered include Construction, Drone Delivery, Energy & Utilities, Forestry & Agriculture, Infrastructure & Transportation, Mining & Aggregates, Public Safety & Emergency Services, Security, and Surveying & Mapping. It is presented by Commercial UAV News and organized by Diversified Communications. Use code SAVE100 for a $100 discount.
---
AI Image of the Week