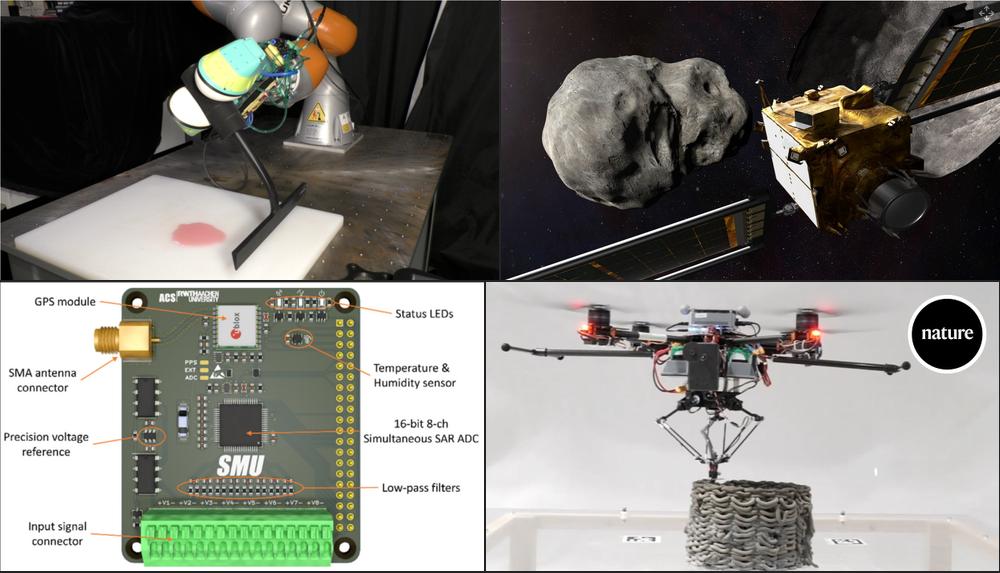 This weekend, I've undusted my SteamDeck and installed Ubuntu 22.04 with plans to test ROS2 with it. So far, the process was going well, but I can't seem to be able to get joystick output (which is kind of a point of this exercise). Please, wish me luck as I'm entering the Linux Kernel territories. As usual, the publication of the week section is manned by Rodrigo. Last week's most clicked link was the article presenting toggle magnets, with 11.7% opens (I'm happy I was not the only one that seemed interested in the idea).
Sponsored
Weekly Robotics is being developed thanks to the Patreon supporters and the following business sponsors:
---
SwitchBlox - The Open Source 5-Port Ethernet Switch for Robots and Drones
BotBlox
SwitchBlox is a small, open-source Ethernet switch with five 100/100M ports designed for size-constrained and tough environments. With a size of 44.5mm (1.75 inches) by 44.5mm (1.75 inches), SwitchBlox is the smallest network switch in the world, making it perfect for robots, drones, or any space-limited network application.
---
NASA's DART Spacecraft Will Crash into an Asteroid Tonight in Historic Planetary Defense Test
Today, at 7:14 p.m. EDT. Dart will hit Dimorphos, the moonlet of the Didymos asteroid. The mission's goal is to check if crashing into an asteroid could be used as a planetary defense mechanism. DART's target is only 170m in diameter, and according to Elena Adams, DART mission systems engineer, an hour before impact, the tracking instrument onboard the spacecraft will see the target as mere 42 pixels.
---
Soft Robots That Grip with the Right Amount of Force
The researchers at MIT and Toyota Research Institute (TRI) created SEED (Series Elastic End Effectors), a system that can grasp tools with the right amount of force. Even though it's not mentioned in the article or the paper, the end effector seems to be based on the open-source Punyo grippers by TRI. This video shows how the system works, and I can see how this approach could be helpful for some tasks. Also, a point cloud output from the gripper in 1:20 is an exciting way to visualize the deflection in the gripper.
---
3D Printing With Drones
Researchers have created some 3D-printing multirotors. Looking at the video, it seems that the system currently uses a motion capture system for localization; it is worth noting that the small delta manipulator used for the deposition of the material should add some wiggle room if your aircraft is not stable enough. Unfortunately, the publication is paywalled, but you might be able to learn more about this work through this MIT Technology Review article or the IEEE Spectrum one.
---
A RPI HAT For Synchronized Measurements
This one is more a food for thought, but the Researchers from the Institute for Automation of Complex Power System at Aachen University had created a Raspberry Pi Hat for synchronizing measurements called Synchronised Measurement Unit (SMU). According to the article, the system can achieve a 180ns accuracy. Being designed for power systems, I'm not sure how applicable this system could be for robotics, but if you have ideas, don't hesitate to let me know. The best thing about this work is that it's all open source.
---
Ion Propulsion Drone Proves Its Commercial Viability
Let's get back to 25th of November 2018, a time when this newsletter had only around 300 subscribers. In that issue, we featured the Ion Drive Drone, a fixed-wing aircraft that was capable of flying indoors over a distance of 60 meters in 10 seconds. Close to 4 years later, boom, a working prototype of Ion Propulsion "multirotor", if we can call it that, given no moving parts, capable of flying for 4.5 minutes by Undefined Technologies. Is the future now (again)?
---
Publication of the Week - Learning to Simulate Realistic LiDARs (2022)
We all know how costly and time-saving simulations can be, but often they don't represent the data the way it is, creating a gap between simulation and the real world. This paper presents a data-driven pipeline for simulating realistic LiDAR sensors to decrease this gap. The method learns how to predict realistic LiDAR data using RINet (Raydrop and Intensity Network) with RGB images. Then, the same model is used to predict LiDAR points and intensities from synthetic RGB. The method can also remove points on surfaces that reflect little or none, such as glasses.
---
Business
Ouster Lays off 10% of Staff
Ouster, a manufacturer of LiDARs, announced a layoff of 10% of staff and a spending reduction of 15%. The company is also suspending sales of common stock through at-the-market.
---
Kittyhawk Shutters
According to the tweet, Kittyhawk, working on eVTOL aircraft, is winding down. There are no details on the reasons for that decision, but I'll do my best to give you an update once there are more details.
---
Seoul Robotics' LV5 CTRL TWR brings in $25M
"Seoul Robotics, a company taking an Autonomy Through Infrastructure (ATI) approach to autonomous driving, brought in $25 million in Series B funding. KB Investment, a Korean venture capital and private equity firm, led the funding round."
---
Jobs
Below are the latest positions from our job board. If you want to learn more about paid job advertising, please check the board for more details.
---
Senior Electrical Specialist
DTE (Reykjavík, Iceland)
DTE offers an exciting and challenging role in our Production and Delivery team, producing and commissioning automatic analysis equipment for the metals industry.
---