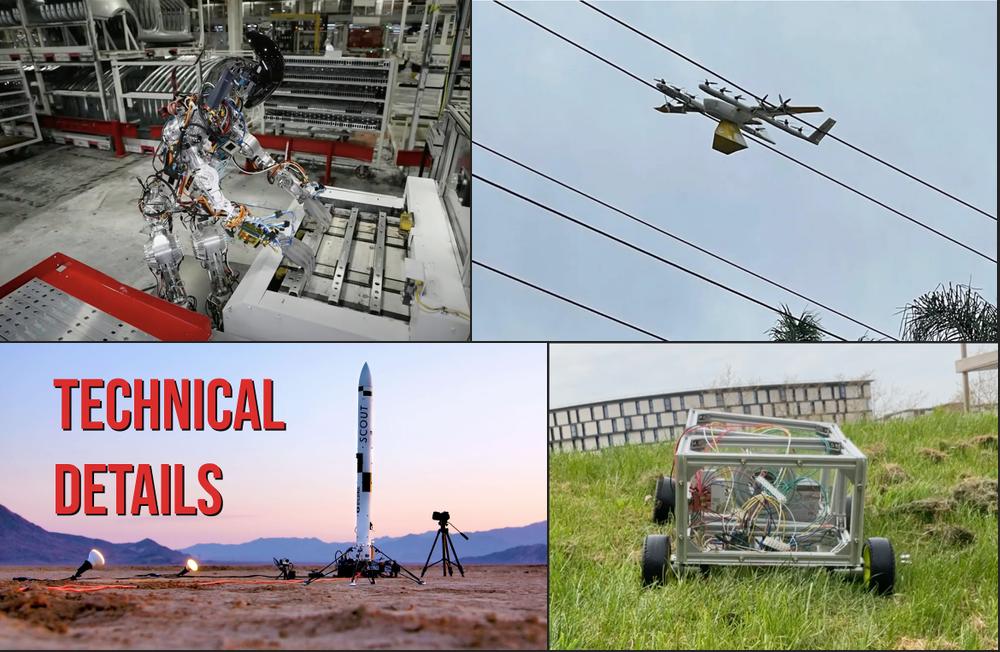 Today, I'm leaving for a long overdue holiday. For the following two newsletter issues, I'm leaving you in the capable hands of Ignat, who takes over for me. Many thanks for the help! If you consume this newsletter on LinkedIn, you might miss the following two issues if I do not have Internet access. If you don't want to miss it, check the website next week or subscribe to the e-mail newsletter or the RSS feed. As usual, the publication of the week section is manned by Rodrigo. Last week's most clicked link was the SwitchBlox ad, with 14.8% opens.
Sponsored
Weekly Robotics is being developed thanks to the Patreon supporters and the following business sponsors:
---
Elon Musk Reveals a Humanoid Robot at Tesla Ai Day 2022
I bet you've already heard about Tesla showing their Optimus Humanoid robot two days ago. The team did well to pull this build off in one year, and I imagine being able to retrain the car NN to work on the robot had shaved some of the prototyping time. In the presentation, Elon mentions the possibility of these robots getting to mass production and selling for less than $20K. This would be less than some of the cobot arms on the market or the Open-Source Reachy torso. On the one hand, I don't believe the $20k price point will be achievable, but on the other hand, some people were very skeptical of thrust vectoring on rockets too. For a closer analysis of the demonstration, I highly recommend this Twitter thread by Christian Hubicki or this in-depth analysis by Evan Ackerman.
---
Bipedal Robot Developed at Oregon State Achieves Guinness World Record in 100 Meters
While we are on the topic of bipeds, recently, AgilityRobotics' Cassie beat the Guinness World Record for the fastest 100 meters by a bipedal robot, boasting a time of 24.73 seconds. Not too bad, given the world record by Usain Bolt for this distance is 9.58 seconds.
---
Robotic Platform Is Open Sourced And User Friendly
OpenScout is an open source skid-steer rover build based on 20x20 aluminum extrusions. The chassis consists of two modules with a hinge between them, allowing for more wheel contact on uneven terrain. The robot software you will find in the repo is an Arduino sketch. Making this build ROS2-ready could be an interesting side project, so if you give this a go, let me know, and I'll feature your project in the newsletter!
---
Simple Creality Ender 3 Fire Suppression
If you search around on the Internet, you will find examples of an aftermath of a 3D printer catching fire (some examples: 1. 2. 3). The other day, I came across this post suggesting using a car fire suppression system that gets triggered once the temperature exceeds a certain threshold. It could be a great idea for an additional layer of safety, especially if you sometimes leave your printer unattended.
---
iRobot Crams Mop and Vacuum Into Newest Roomba
I usually don't get too excited about robot vacuums, but I think the mechanism for deploying the mop is clever in the latest iRobot product. Cramming everything in such a small robot body was not a small feat.
---
Scout F - Engineering Cut
A couple of weeks ago, Joe Barnard had finally realized his project of landing a model rocket Space-X style. In this two-hour (!!) video Joe goes through all the technical details of his build. By all the details, I really mean it. We will learn about CAD, simulation, thrust control, reaction wheels, and more! I appreciate Joe putting this together, and from experience, I recommend this as a Sunday morning watch.
---
Wing Delivery Drone Crashes into Power Lines in Australia
Recently, a Wing UAV crash landed on some 11kV powerlines in Australia, leaving 2,000 homes without power for around 45 minutes. According to this report, "The meal was still hot inside the drone's delivery box when the crew got there".
---
KISS-ICP: In Defense of Point-to-Point ICP – Simple, Accurate, and Robust Registration If Done in the Right Way
Researchers from the Photogrammetry & Robotics Lab at the University of Bonn released a Python package with a 3D LiDAR odometry pipeline. I highly recommend checking out the video in the above repository and reading this LinkedIn post where Cyril Stachniss explains it in more detail.
---
Publication of the Week - SGTM 2.0: Autonomously Untangling Long Cables using Interactive Perception (2022)
While some devices are moving towards being wireless, untangling cables will continue to be part of our lives. This paper presents an ABB YuMi equipped with two 6-DOF robot arms that can untangle long wires. The robot uses an overhead RGB-D Phoxi camera to feed a Faster R-CNN model that identifies knots and endpoints. Based on their position, the wire gets traced, and the robot starts the untangling process. The system achieved an average untangling success rate of 83% while 200% faster than the 43% success rate of the prior state-of-the-art model. You can check more details and videos with this research here.
---
Business
SoftBank Robotics Europe Is Now Aldebaran, a Part of United Robotics Group!
"SoftBank Robotics Europe will now operate under its original name Aldebaran, the creator and manufacturer of NAO robot in 2006 and Pepper with SoftBank in 2012".Big thanks to Atul for forwarding me this information!
---
Avidbots, Maker of Autonomous Industrial Cleaning Robots, Nabs $70M
"Avidbots, a Canadian robotics manufacturer that develops autonomous cleaning robots, has raised $70 million in a Series C round of funding. Founded out of Kitchener, Ontario, in 2014, Avidbots has built a robotic floor cleaner called the Neo 2, designed for commercial environments such as airports, warehouses, and shopping malls".