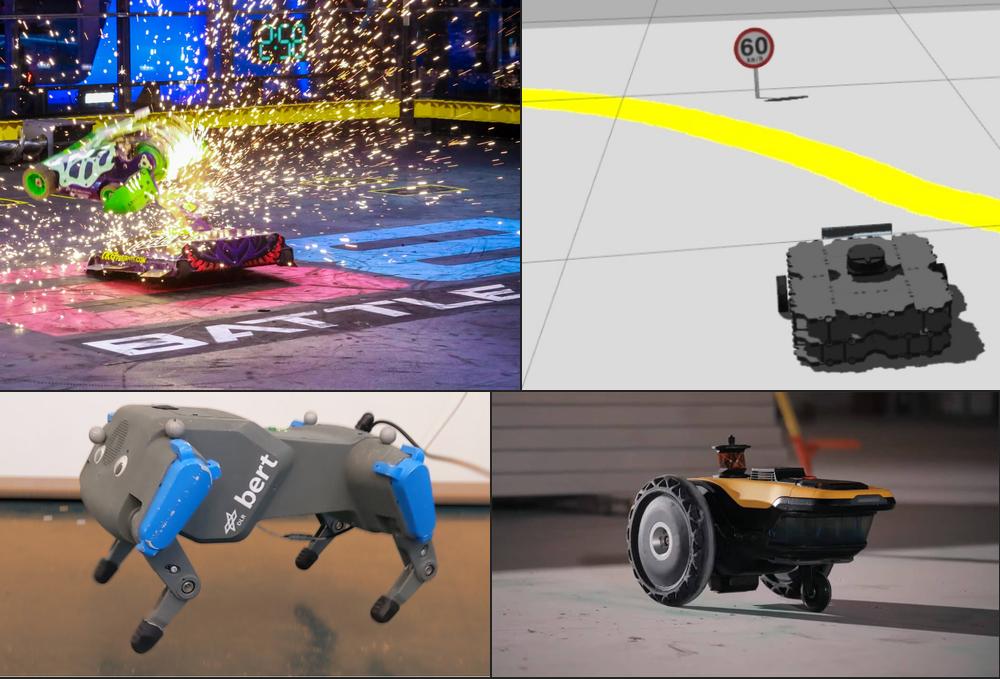 As I have been sick the past week, I've started playing Factorio, a game where you build a factory, gather resources, and defend your stuff from aliens. The demo offers about 10 hours of gameplay, so if you want to fill in some time when traveling to ROSCon, I highly recommend checking it out. As usual, the publication of the week section is manned by Rodrigo. Last week's most clicked link was Víctor Mayoral's list of ROS companies, with 18.1% opens.
Sponsored
Weekly Robotics is being developed thanks to the Patreon supporters and the following business sponsors:
---
Explore your 🤖 data with Foxglove Studio's new 3D panel
Foxglove
Whether you're on Windows, Linux, or macOS, use Foxglove Studio to explore and analyze your robotics data with easy-to-configure visualizations. Check out our new and improved 3D panel, rebuilt on three.js, to display your robots' markers, camera images, meshes, and URDFs in an interactive 3D scene.
---
Adversarial Detection: Attacking Object Detection in Real Time
A team of researchers from the University of Exeter and the University of West England created a tool to attack image detection by injecting adversarial patches to the camera feed that is not immediately visible to the human eye. You can find more information on this project in the project GitHub repo.
---
Faster, Meaner, Deadlier: The Evolution of "BattleBots"
In this interview, Greg Munson, one of the founders of BattleBots, provides some insights into how the advancement of technology changed robot fighting over 22 years. Two things jumped out to me reading this material: 1. Robotics has gone a long way since the show started. 2. The BattleBots team takes safety very seriously. Having protocols in place and dedicated places for battery operations is commendable.
---
Magnets with an OFF Switch
The other day, I watched Mark Rober's latest video about beating some arcade games with technology, and I was surprised to learn that there exist on-off magnets. The linked page describes in detail how they work.
---
HP Revolutionizes Construction Layout Process With New SitePrint Robotic Solution
HP made some news with their new robot for construction layout, creating competition for Dusty Robotics. Unsurprisingly, given the application, the HP robot uses a total station for localization. At this time, it is not clear how much the device or the ink will cost.
---
This Robot Crossed a Line It Shouldn't Have Because Humans Told It to
Serve Robotics delivery robot made the news lately when one of their robots trespassed on the crime scene. According to the article, the robot did so while being teleoperated by a human.
---
There's No Driving Test for Self-Driving Cars in the US — but There Should Be
This article explains the difference in the regulatory frameworks between the US and EU for certifying cars. Surprisingly, NHTSA (National Highway Traffic Safety Administration) in the US had only 90 employees in 2014, while FAA (Federal Aviation Administration) employed 6,000 people.
---
Publication of the Week - Learning to Exploit Elastic Actuators for Quadruped Locomotion (2022)
Most four-legged robots use electric motors because of their controllability and power to size high ratios. This paper presents the DLR quadruped Bert robot using spring-based actuators to enhance locomotion. The used springs have less stiffness when compared to ANYmal or Mini Cheetah, which makes more use of its elastic properties at the cost of lower controllability. Because of that, the authors used central pattern generators (CPGs) with a reinforcement learning controller. This controller setup created a fast optimization for trotting and pronking, leveraging the energy stored in the springs while keeping a natural-looking gait.
---
Business
Realtime Robotics Raises $14.4M for Motion Planning Software
"Realtime Robotics, a Boston-based developer of collision-free, autonomous motion planning for industrial robots, has raised another $14.4 million in funding. The funding was led by Soundproof Ventures, Heroic Ventures and SIP Global Partners and brings the company's total funding to date to more than $60 million".