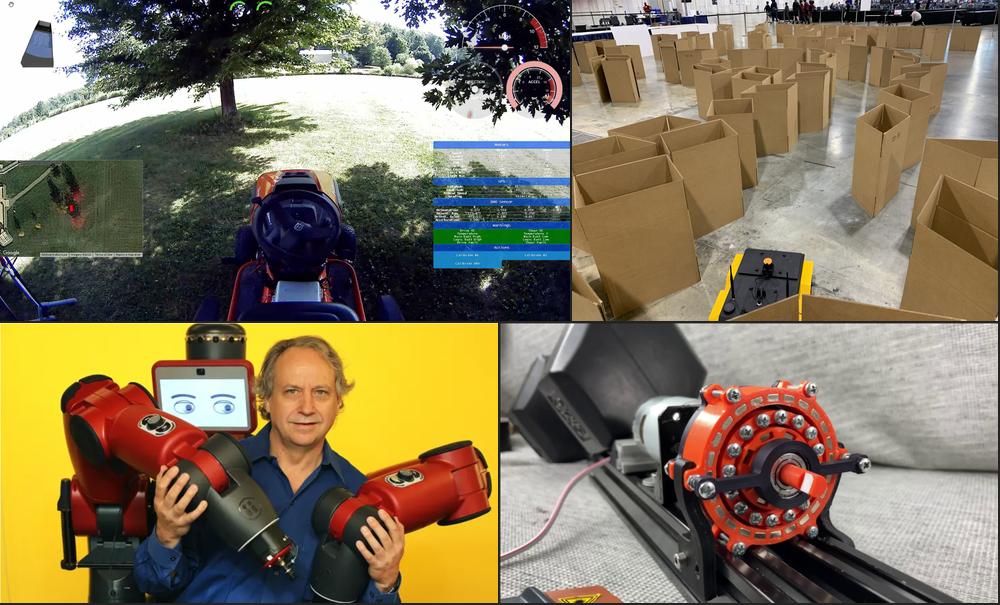 The fact that the University of Washington autonomous off-road car got so much interest makes me think that I'm not the only one who could use some getting energized in the morning. I'm making a mental note to remember to highlight potential energizers in the future. I've also started checking out some industrial metal playlists just for you. As usual, the publication of the week section is manned by Rodrigo. Last week's most clicked link was UW autonomous off-road Polaris, with 18.1% opens.
Sponsored
Weekly Robotics is being developed thanks to the Patreon supporters and the following business sponsors:
---
I Make Robots T-shirts - Recharged
shop.weeklyrobotics.com
I have created new variations of our 100% organic cotton T-shirts 'I make robots', enabling all t-shirt colors that were available to me. Use the WR10 code at checkout to get a 10% off your order and show others what are you excited about.
---
Artemis I Launch Attempt Scrubbed
So, the launch I was excited about last week did not happen in the end. Then the follow-up launch did not happen too. The reason for both cancellations was a hydrogen leak, and since the seal reseating attempts did not resolve the issue, the mission was postponed. As per this page, the next launch window is September 19th - October 4th. At this time, there are no indications whether NASA will be ready at this time. It's worth noting that there is a history of shuttle launches being canceled due to similar issues.
---
Virtual Sphere Rolling Joint Robot Arm
Skyentific has developed a robot arm based on interesting @-DOF joints and driven by ROBOTIS OpenRB-150 servo controller. The result seems quite interesting, even though the servos used are not powerful enough to support the robot's motion with all links assembled.
---
A General Overview of What Happens Before main()
As a self-learner in programming, I found this article interesting, and I was inspired to dig deeper into some low-level details related to operating systems and compilers.
---
A Robot Named Baxter Wanted to Change the World of Work, but His Career Ended Early
An excellent piece on Rethink Robotics highlights the company's approach using elastic actuators that, while low cost, enabled force sensing. This decision most likely came at the expense of repeatability, making the product a harder sell. Ultimately Rethink went bankrupt, and the IP was sold to the Hahn Group.
---
Magnetic Gearbox Can Go Fast But Not Hard
A planetary gearbox, using permanent magnets instead of traditional gears? Yes, please! The video presented has excellent visuals that help understand the concept behind this kind of gear. I appreciate the usage of magnet paper in some of the shots. I'm not sure whether you will come up with many applications for this system in robotics, but I thought it was thought-provoking enough to feature it in this issue of the newsletter.
---
Remotely Controlled Lawn Tractor
Here is a very detailed blog post on making a lawn tractor controlled via R/C input.
---
Publication of the Week - Autonomous Ground Navigation in Highly Constrained Spaces: Lessons learned from The BARN Challenge at ICRA 2022 (2022)
This year at ICRA, the first edition of the BARN (Benchmark Autonomous Robot Navigation) challenge took place. The competition aimed for state-of-the-art navigation algorithms in highly constrained environments. All three teams received a Clearpath Jackal with a 2D 270°-field-of-view Hokuyo LiDAR. What seemed to work well in simulation proved harsh in the real world, as all the team's robots hit a target on all trials before the judges flexed the rules a bit. Finding a fine tune between safety and speed was key to getting first place, and UT Austin was the winner using two-stage hierarchical planning. You can check more details about the challenge on this GitHub page.
---
Business
How AI Chipset Bans Could Impact Chinese Robotics Companies
United States had ordered NVIDIA and AMD to restrict the export of certain AI chips to China, requiring both companies to seek licenses to sell these chips. According to the article, this move could result in a $400M loss in sales for NVIDIA alone this year.
---
In Leaked Memo, Aurora CEO Weighs Spinouts, Layoffs and Acquisitions against Sale to Big Tech
"The chief executive of autonomous vehicle developer Aurora Innovation presented a swath of cost-cutting and cash-generating options to its board, ranging from a hiring freeze and spinning out assets to a small capital raise, going private and even selling itself to high-profile tech companies Apple and Microsoft."