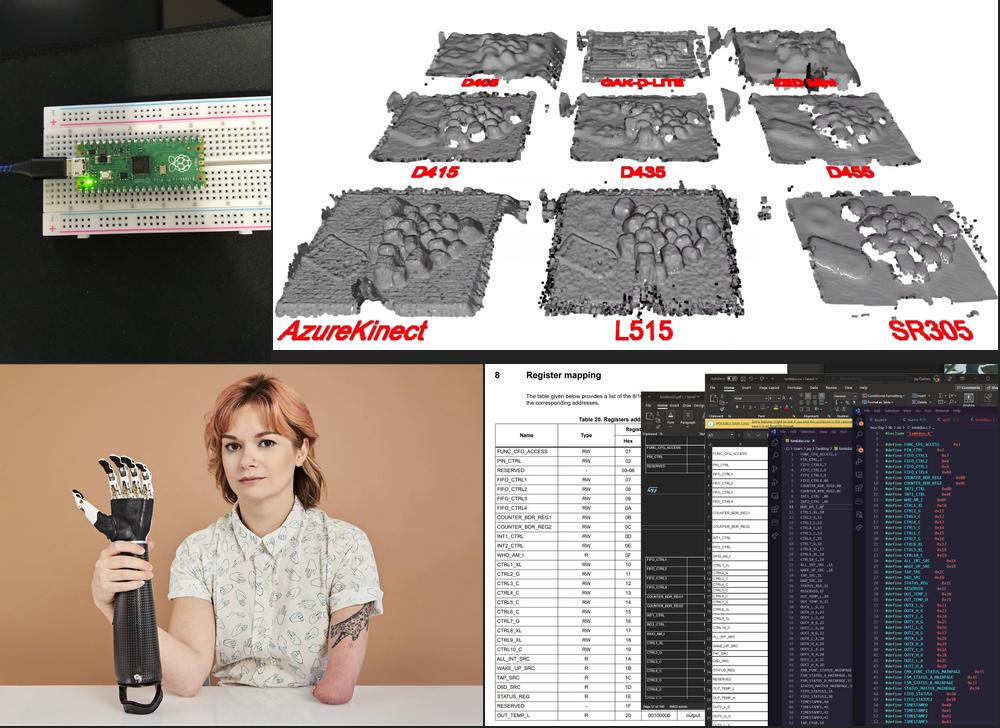 This newsletter is officially four years old now! Celebrating, I opened the latest Patreon post to the public. In the post, you will see some statistics coupled with the standard issue of Monthly Robotics. Enormous thanks for following my work! As usual, the publication of the week section is manned by Rodrigo. Last week's most clicked link was Xiaomi's new humanoid robot, with 9.5% opens.
So You Want to Be a Consultant?
Having worked as a consultant for many years, I found the advice presented by Steve Friedl quite complete. I would recommend it to anyone thinking of jumping into consulting or doing any customer-facing work.
---
Datasheet to Header Files Sorcery
This tweet popped randomly on my feed, and I thought others could find it useful. Jay Carlson says that you can copy over the register tables from PDF -> Word -> Excel -> CSV -> C code. I can see how this can save hours of work or even days if you make a mistake typing these by hand.
---
Review of 9 Depth Cameras as a Wrist Camera of a Robot Arm
This feature is an excellent video comparison of robotic cameras for picking applications. Seeing the point cloud output in a standard format side by side is a perfect way of getting an idea of what to expect from these sensors. Looking at the video, it's a shame L515 was discontinued! I also appreciate the author's comments when discussing each of the products.
---
Raspberry Pi Pico — ROS2 via Micro-ROS Actually Working in < 1 hr
I did not expect setting up Micro-ROS would be as straightforward as described by RoboFoundry. Thanks for one more item on my to-checkout-because-FOMO list!
---
Fast Multirotor Landings on Steep Roofs using Friction Shock Absorbers and Reverse Thrust
YouTube (Createk Engineering Lab)
Researchers from the Université de Sherbrooke created a system using lightweight shock absorbers that allow small multirotors to land on roofs with an inclination of up to 60 degrees.
---
The Bionic-Hand Arms Race
A very thoughtful article by Britt H. Young about prosthetics and how the race to mimic the human hand functionality in prosthetics might not necessarily be what users want.
---
Publication of the Week - Survey on Teleoperation Concepts for Automated Vehicles (2022)
Teleoperation for automated vehicles can be a game changer for higher levels of autonomy. Whenever an automated driving (AD) function reaches its limit, a teleoperated human operator can assume control over the vehicle to get it to a safe/controllable condition again. This paper presents a summarized collection of teleoperation concepts for road vehicles. The author evaluates methods from different categories: direct control, shared control, trajectory guidance, waypoint guidance, and interactive path planning. Companies are also putting effort into creating many patterns and even holding public demonstrations in places such as San Francisco.
---
Business
Snap Is Giving up on Its Pixy Drone After Just Four Months
According to the article, Snap will not work on the second version of the Pixy drone until they get some solid feedback from the users. Since we are on the topic of big tech micro drones, Amazon has been relatively quiet about the Ring Drone, and I'm yet to see a user review for it.
---
Mobot Raises $12.5M, Launches Robotic App Testing Platform
"Mobot announced that it brought in $12.5 million in Series A funding and that it launched its quality assurance-as-a-service (QA-as-a-service) platform for app testing. The company uses mechanical robots to automate the testing of repetitive, human-like functions in a real-world setting".
---
Announcements
Commercial UAV Expo
Commercial UAV Expo, September 6-8 in Las Vegas, is the premier event for the commercial drone industry, focusing on the integration/operation of commercial UAS. The event will feature exhibits and demonstrations by UAS solutions providers, keynotes, panel discussions, presentations with interactive Q&A and chat, AI-powered networking, and more. Industries covered include Construction, Drone Delivery, Energy & Utilities, Forestry & Agriculture, Infrastructure & Transportation, Mining & Aggregates, Public Safety & Emergency Services, Security, and Surveying & Mapping. It is presented by Commercial UAV News and organized by Diversified Communications. Use code SAVE100 for a $100 discount.
---
AI Image of the Week