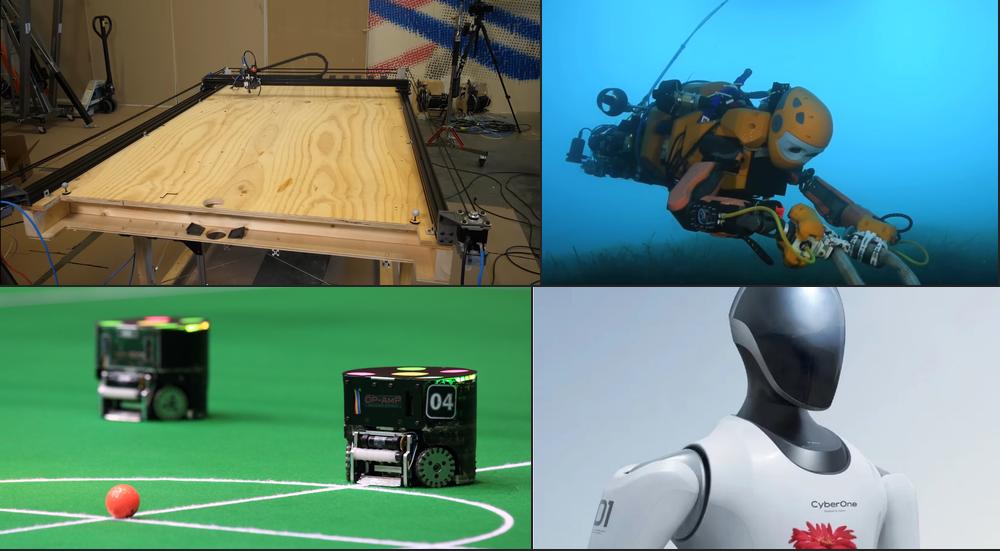 There is no intro today, just me trying to get stuff done and clear my backlog. As usual, the publication of the week section is manned by Rodrigo. Last week's most clicked link was the paper Evaluation and comparison of eight popular Lidar and Visual SLAM algorithms, with 14.2% opens.
Sponsored
Weekly Robotics is being developed thanks to the Patreon supporters and the following business sponsors:
---
MCAP: The best way to record 🤖 data
mcap.dev
Did you build a robot using custom data formats like Protobuf, Flatbuffer, or JSON? Are you jealous of the developer tools your ROS friends get to use? If so, MCAP is for you! Store your robotics data in a performant file format that can be visualized in Foxglove Studio, for a more flexible and streamlined development workflow.
---
A Simple Human Task That's Insanely Hard for a Robot
The Stuff Made Here channel created a very interesting gantry that can solve Puzzles. Currently, the software can solve relatively small sets, but I eagerly look forward to the follow-up video (before the video was called "Jigzilla: the puzzle solving robot (part 1)", so I hope it's coming).
---
The First Industrial Robot: Why It Failed
Here is an interesting case study on Unimation Inc., a company that built the first industrial robots in 1962 and ultimately went out of business in the 1980s.
---
Meet Xiaomi's new humanoid robot, CyberOne
Xiaomi announced an interesting humanoid robot. It looks like the project is an exciting demonstrator for now. Is this what the TeslaBot will be if it ever comes to life? To learn more about this work, you can check out the IEEE piece on the topic.
---
Debugging Bare-Metal STM32 from the Seventh Level of Hell
An exciting 'detective' story from Josh Piper, who develops the Moteus BLDC controllers. If you would like to learn more about Moteus or Josh's work, then he gave a fascinating presentation in one of our meetups back in the day.
---
ROS Sports
I just learned about this project from this ROS Discourse thread. ROS Sports aims to create and maintain baseline software for competitive robot sports. Very cool initiative!
---
Stanford Team Develops Humanoid Robot for Virtual Deep-Sea Exploration
Stanford Researchers had created a diving humanoid robot with a haptic interface. The robot had already taken part in some expeditions. I wonder if the team will pull off cooperation with ESA to control the robot from space!
---
Publication of the Week - Quadrotor Autonomous Landing on Moving Platform (2022)
Over the last decade, we've seen a tremendous effort in the space of autonomous landing for many types of robots, rockets, drones, and many more. This paper presents an autonomous landing of a quadrotor in a moving mobile robot. The key challenges for this task involve fast tracking and pose estimation of the target, and any miscalculation or delay can lead to a crash. The authors used an AruCo pad consisting of four different sizes and ten kinds of markers to ensure near, far, and sideways views from the drone. They also made use of gradient-based local motion planning and could land the quadrotor on a 3.24 km/h target with obstacle avoidance.
---
Business
RoboTire Installs Its First System at Discount Tire
"RoboTire announced that it's installed and started operating its system at a Discount Tire in Fountain Hills, Arizona. The system can replace four tires on a passenger vehicle in less than 25 minutes". You can find the system's video on YouTube.
---
Boston Dynamics AI Institute Targets Basic Research
"Hyundai Motor Group and Boston Dynamics announced the launch of the Boston Dynamics AI Institute, to "spearhead advancements in artificial intelligence and robotics." BDAII (I guess we'll have to get used to that acronym!) will be located in Cambridge, Mass., with more than US $400 million of initial investment from Hyundai (Boston Dynamics' parent company) and BD itself to get things started".
AI Image of the Week