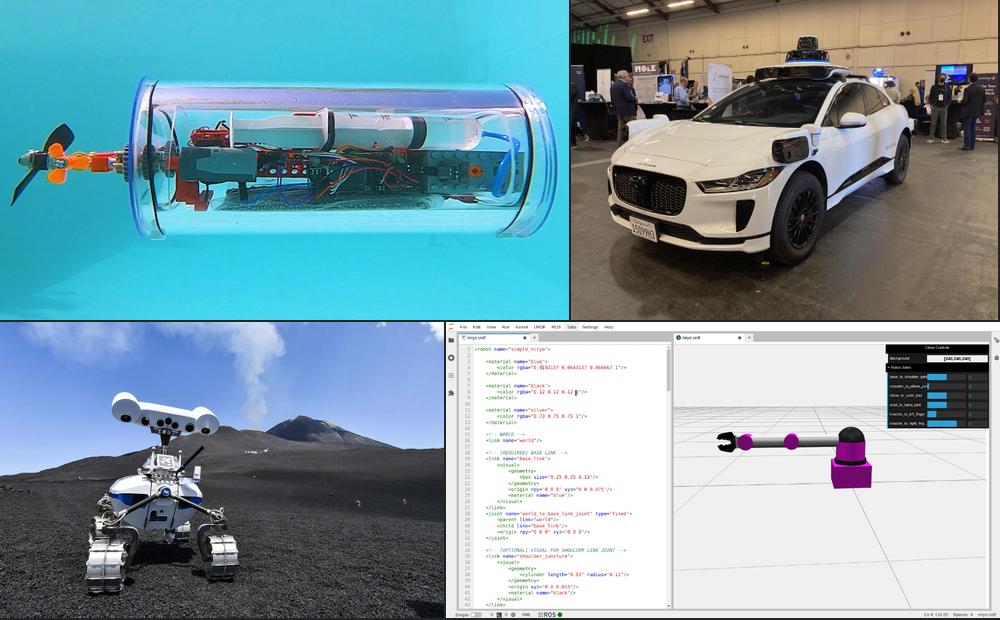 Apologies for sending this out later than usual. Things have been wild the past five days! As you will soon see, I have started testing Midjourney, an AI generating images from text prompts. For the next couple of weeks, I'll be including some of the output I liked, and if you sign-up for beta and end up creating some interesting images, don't hesitate to let me know, and I'll be happy to showcase your work and provide a link to your social profile! As usual, the publication of the week section is manned by Rodrigo. Last week's most clicked link was the masking tape plotter, with 10.6% opens.
Sponsored
Weekly Robotics is being developed thanks to the Patreon supporters and the following business sponsors:
---
Open Source Robotics Visualization
foxglove.dev
Foxglove Studio is an open source robotics visualization tool, with support for ROS 1+2, Protobuf, and many other common data formats. You can visualize sensor data, 3D environments, plots, maps and more. Web and desktop apps available for Linux/Windows/Mac.
Sensing Breakdown: Waymo Jaguar I-Pace RoboTaxi
Our friends at Tangram Vision made a comprehensive analysis of a Waymo self-driving car, counting all the sensors they could visibly see and assuming their role in the autonomous operation of the vehicle.
---
CVPR 2022 Papers
Here is a collection of CVPR 2022 papers, summarized in a table with links to articles, repositories and sometimes a virtual space where you can test the algorithm yourself.
---
Lunar Robots Go for a Test Drive on Italy's Etna Volcano
The other day we mentioned this mission by DLR and ESA. If you enjoy learning about this work, then you might want to check out this paper and a resulting DLR Planetary Stereo Solid-State LiDAR Inertial Dataset acquired as a part of the ARCHES project.
---
RC Submarine 4.0 – Blog Post Series
This LEGO submarine project has come a long way since the last time we've talked about it about two years ago. Interestingly, the project still uses magnetically-coupled motors. If you think you might like learning more about this project, give this video a shot, as it contains lots of technical details. As for me, I love the PID tuning of the depth control.
---
jupyterlab-urdf
JupyterLab is a URDF viewer and editor for Jupyter notebooks. It can be handy if you need to edit and view URDF quickly. My workflow so far was editing the files and then launching the robot description, followed by an RVIZ launch for ROS projects. This tool is much quicker to work with. See for yourself in the demo. In the demo, double-click on the robot.urdf to display it and then right-click on the robot.urdf and select Open With -> Editor. Once you make your edits, you can save the file and the URDF updates. Super easy!
---
Publication of the Week - The Wheelbot: A Jumping Reaction Wheel Unicycle (2022)
I always appreciate robots with self-balancing capabilities, such as segways, ballbots, and unicycles. This article presents an agile reaction wheel unicycle that can jump and stay stand-up from any initial position. The robot serves as a research platform, and it has two wheels, one for rolling on the ground and the other acting as a reaction wheel. Both wheels are actuated with brushless motors and controlled by a dual channel µDriver that delivers 30A at 44 volts and is smaller than the famous ODrive. The stand-up method occurs in two phases, as shown in this video. This page details the project simulation, videos, hardware, and much more.
---
Business
Ganymed Robotics Brings in More than $21M in Series B Funding
"Ganymed Robotics, a company developing computer vision software and robotics technologies for orthopedic surgeries, announced that it raised more than $21.3 million (€21 million) in an oversubscribed Series B round".
---
Reports: Major Layoffs at Pudu Robotics
"There are reports of major layoffs at Pudu Robotics, a Chinese developer of commercial service robots. Reports from Chinese media outlets about the number of layoffs vary, with some outlets reporting layoffs of up to 1,500 employees since the start of 2022".
Jobs
Below are the latest positions from our job board. If you want to learn more about paid job advertising, please check the board for more details.
---
Co-founder
Tider (Tel Aviv, Israel)
After success in the previous startup looking for an experienced in consumer robotics/electronics, business/operational-oriented co-founder.
---
AI Image of the Week