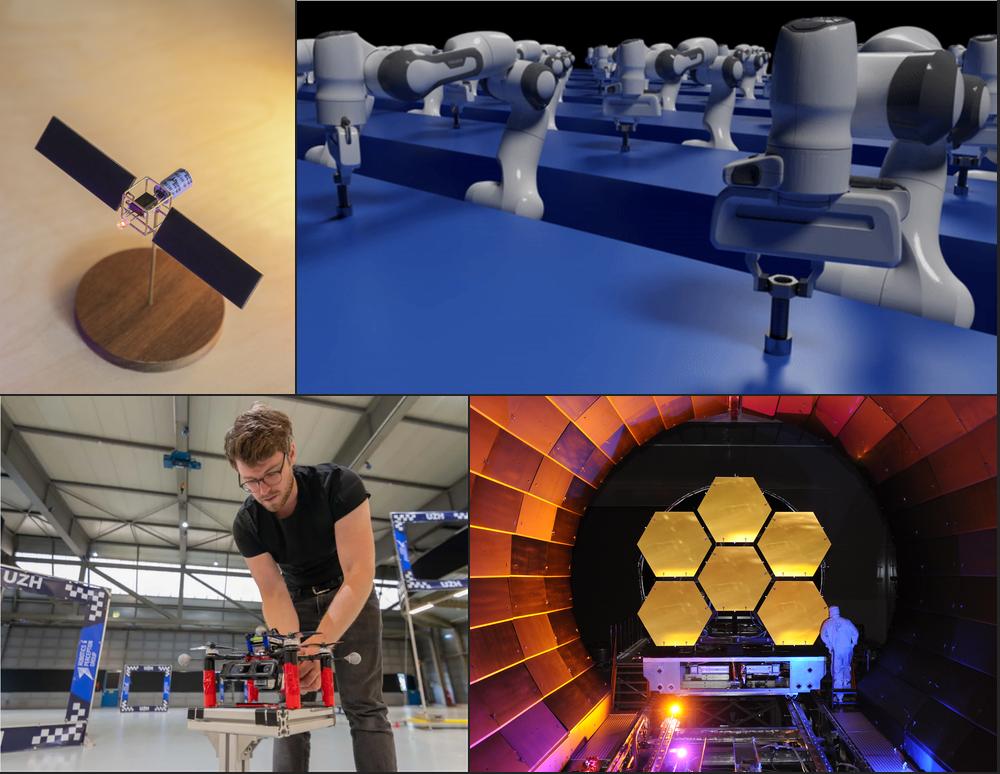 Tomorrow will be hugely exciting! As you will see, I'm eagerly waiting for the first images captured by Webb to be published. Apart from this, I have a solid set of features for you today. Enjoy! As usual, the publication of the week section is manned by Rodrigo. Last week's most clicked link was Element of Robotics open access book, with 15.5% opens.
Sponsored
Weekly Robotics is being developed thanks to the Patreon supporters and the following business sponsors:
---
Make the Most of Your Robotics Data and Scale Your Fleet
Operate and Observe Devices in Formant
Formant is a data and operations platform that helps robotics companies get to market faster, scale successfully, and optimize fleet performance. To get started, request a technical demo or read how we've helped companies like Burro and Canvas make the most of their robotics data.
Join the Virtual Global Social for the Reveal of the James Webb Space Telescope's First Images
A gentle reminder that tomorrow we are starting the new era of space science! I can't wait to see the images from the James Webb Telescope that will be published tomorrow.
---
Autonomous Drones Challenge Human Champions in First "Fair" Race
Since having AI-enabled racing drones going against humans could be considered cheating, the team at the University of Zurich developed a vision-based multirotor and raced it against some top performers in the FPV space. In the latest race, the autonomous multirotor achieved a top speed of 80 km/h and beat the fastest human opponent by half a second. You will find the from the race on YouTube.
---
Sculptures
Recently, I came across this embedded.fm podcast episode that introduced me to the sculptures by Mohit Bhoite. These sculptures are 3D functional circuits, often made of brass that look stunning!
---
ROS-Industrial 10 Year Anniversary Mash Up
ROS-I is ten years old! This video shows some ROS-based solutions created by various organizations over the years.
---
Advancing Robotic Assembly with a Novel Simulation Approach Using NVIDIA Isaac
NVIDIA researchers har recently presented Factory. "Factory (Fast Contact for Robotic Assembly) is a set of physics simulation methods and robot learning tools for achieving real-time and faster simulation of a wide range of contact-rich interactions". I have to say that the various applications presented in the article are excellent. I'm especially intrigued by the presented NIST assembly Task Board, now with declared tolerances.
---
Masking Tape Pen Plotter Gets An Upgrade
This masking tape label printer is hugely satisfying to watch. I would love to have one of these in my workshop.
---
Crazyflie Summer Project with ROS2 and Mapping
Kimberly McGuire, who gave a fascinating talk about Crazyflie in one of our meetups, recently implemented ROS2 and slam_toolbox nodes on one of these multirotors, producing this highly-detailed blog post in the process. I'll be looking forward to seeing where Kimberly goes with these experiments!
---
Publication of the Week - Finding Fallen Objects Via Asynchronous Audio-Visual Integration (2022)
Mastering audio-visual interaction in the future can play a massive role in the world of autonomous robots. Sound is a fantastic way in which we can measure and estimate many things around us, and Zipline even used it as a form for drone avoidance, as you can check in issue #199. This paper presents a robot that identifies and locates fallen objects using a combination of sound and video. The authors used the ThreeDWorld (TDW) simulation platform to create the scenario of the fallen objects, with sound being rendered as the objects interact. Even with state-of-the-art methods implemented, the robot had difficulty locating the fallen objects, as seen in the video.
---
Business
Delivery robot maker Starship Technologies cuts 11% of workforce
"Starship Technologies, one of the earlier companies to enter the outdoor robot delivery market, recently laid off 11% of its global workforce. The company, which has engineering headquarters in Estonia and business headquarters in San Francisco, said it has been negatively impacted by the "dramatic downward shifts" in the global economy and investment market".
---
Robot sales surge in Europe, Asia and the Americas
"Sales of industrial robots have reached a strong recovery: A new record of 486,800 units were shipped globally – an increase of 27% compared to the previous year. Asia/Australia saw the largest growth in demand: installations were up 33% reaching 354,500 units. The Americas increased by 27% with 49,400 units sold. Europe saw double digit growth of 15% with 78,000 units installed. These preliminary results for 2021 have been published by the International Federation of Robotics".