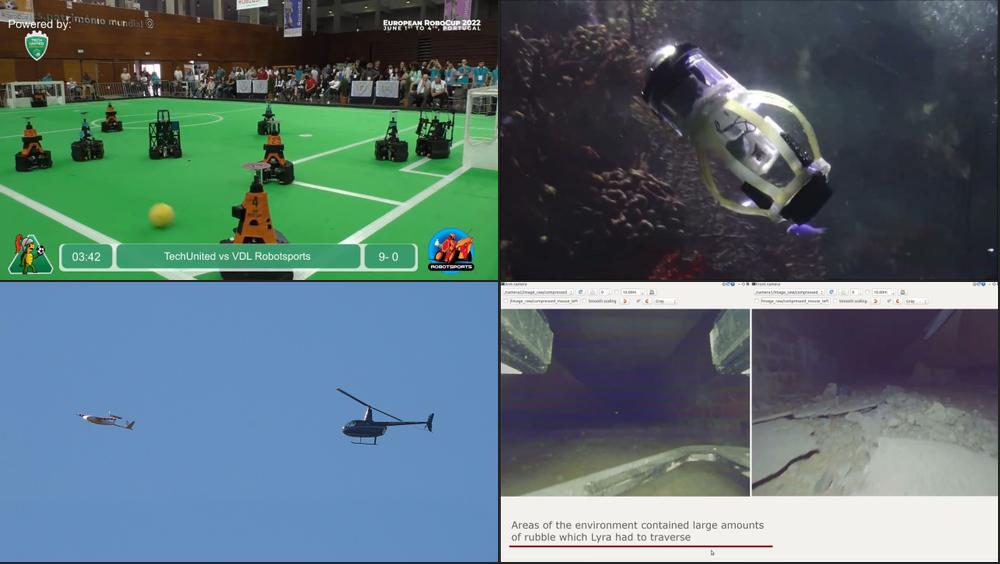 If you are also hoping to attend the ROSCon in Japan this October, this thread on ROS Discourse is a good overview of the current situation with travelling restrictions to Japan. As usual, the publication of the week section is manned by Rodrigo. The most clicked link last week was the ICRA 2022 coverage with 13.7% opens.
Sponsored
Weekly Robotics is being developed thanks to the Patreon supporters and the following business sponsors:
---
Record Your Robotics Data with the MCAP File Format
mcap.dev
Spend less time designing custom file formats and more time solving your most important robotics problems. Record both structured and unstructured pub/sub data (ROS 1, ROS 2, Protobuf, MessagePack, JSON Schema, etc.) in a single MCAP file.
European Robocup Finals 2022 - Tech United vs VDL Robotsports
I have never paid too much attention to soccer robotics but found this summary of the Robocup final to be amusing. If you would like to learn more about Tech United solution then this Team Description from 2019 could be a good start.
---
Using Sound to Unlock Instant Logistics at Scale
There was a lot of chatter in various news outlets about Zipline creating a 360 sensing solution for drone avoidance, however, all of the articles I came across lacked the technical details. Fortunately, this piece by Zipline is a good description of their latest solution and it fantastically describes the problem and the solution in-depth. If you liked this article then the Gavin Ananda talk featured towards the end is a must-see.
---
Valetudo
Valetudo is an "open source cloud replacement for vacuum robots enabling local-only operation". Currently, only Roborock and Viomi vacuums are supported. Thanks, Gareth for the tip!
---
RAIN Hub - Lyra deployment- inspection in ventilation duct at Dounreay
This work explores using a mobile robot for radiation monitoring in a duct using a cute little mobile robot.
---
UCI Researchers: Autonomous Vehicles Can Be Tricked Into Dangerous Driving Behavior
UCI researchers created a PlanFuzz, a system for automatic detection of vulnerabilities in planning modules in Apollo and Autoware open-source stacks. Interestingly, a bicycle or a cardboard box on a side of the road can make these autonomous systems come to a complete stop. I'm wondering if we will ever get to a point where there will be a certification body running similar tests on all autonomous driving systems before they are allowed to be used on public roads.
---
Cephalopod-Inspired Robot Capable of Cyclic Jet Propulsion Through Shape Change
Here is an interesting robot from UC San Diego Bioinspired Robotics and Design Lab. It's a soft robot capable of moving underwater through shape change. Looking at the video, the mechanism allowing for movement is relatively simple. According to the video description, the robot can achieve a peak speed of 32.1 cm/s. Adding a camera to the platform contributes to a curious design enabling underwater monitoring.
---
Publication of the Week - PixSelect: Less but Reliable Pixels for Accurate and Efficient Localization (2022)
Some say that less is more, and in today's article, the author proves it. Robot localization can be calculated from many sensors, but in this paper, a monocular camera is used. For each frame, an algorithm finds features on the image and uses them to match with previous features to compute the robot's pose. The presented method uses a network to filter those features that have less of a chance of being trackable, such as the sky, occlusions, pedestrians, bushes, and many others. By reducing the number of features, there was an increase in efficiency and accuracy since the remaining ones were more relevant for localization.
---
Business
Vayyar Imaging Brings in $108M in Funding
"Vayyar Imaging announced that it brought in $108 million in Series E funding. It plans to use the funding to enhance its machine and deep learning capabilities, accelerate growth across new verticals and extend its reach to additional geographical locations".
---
Teleo Secures $12 Million Series A to Turn Construction and Mining Equipment into Semi-Autonomous Robots
"Teleo is a construction robotics company that retrofits construction and mining heavy equipment to turn them into semi-autonomous robots. Today, they announced they have raised $12M in Series A funding".
---
Jobs
Below are the latest positions from our job board. If you would like to learn more about the paid job advertising, please check the board for more details.
---
Senior Electrical Engineer (Robotics)
ARIX Technologies (HOUSTON, USA)
We're looking for a new partner who is a team player, loves creating things, and is deeply interested in electronics and robotics, to help develop pipe-crawling inspection robots along with big data management and visualization software.
---