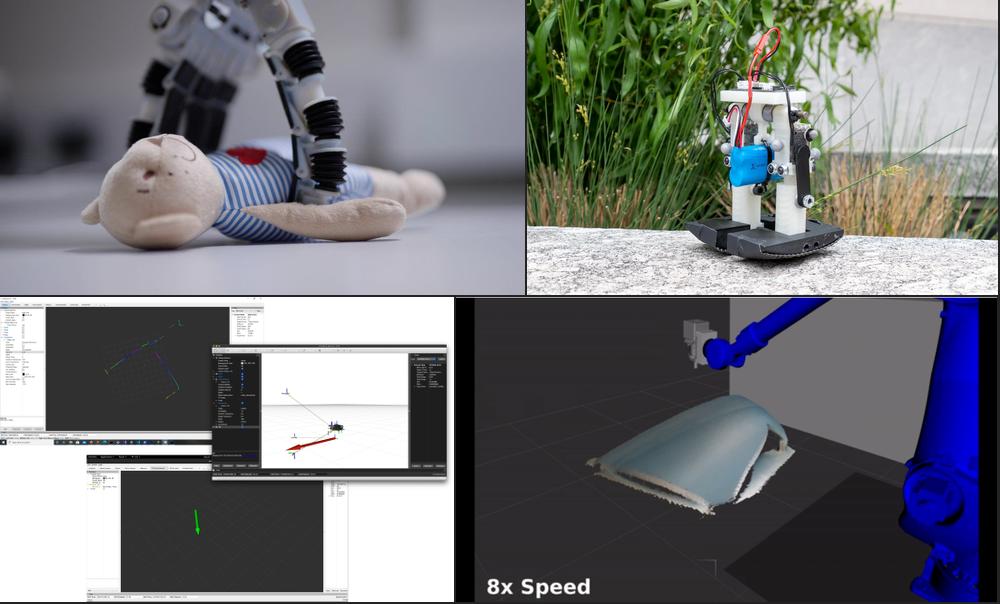 I recently got my SteamDeck that I ordered in July last year that I was planning on making ROS-ready and testing some things, but Lou beat me to the punch, sharing some information about Robostack that we will cover in today's issue. As usual, the publication of the week section is manned by Rodrigo. The most clicked link last week was the delivery robot's field trip into the woods with 11.7% opens.
Sponsored
Weekly Robotics is being developed thanks to the Patreon supporters and the following business sponsors:
---
Build Mobile Robots with ROS2 - Deal of the Day
Manning
My self-paced ROS2 liveProject series is 45% off Today! Moreover the first project in the series is free to follow and if you take on this series I'll be looking forward to being your mentor on the platform!
ICRA 2022 Coverage
David Garzón Ramos did an excellent coverage of ICRA 2022. If you missed the event and are curious about the robots you could find on the conference floor then you will love these videos. Thanks, David!
---
A First Small Step Toward a Lego-Size Humanoid Robot
This 15cm tall walking bipedal robot is quite cool, but the ultimate goal of this research of producing a biped with a 1-centimeter leg or smaller is even cooler. I hope the research gets to this stage!
---
RoboStack
Robostack allows using ROS on Linux, Mac and Windows using Conda package manager with many ROS related plugins and Jupyter notebooks supported. Looking at getting started docs this system should be quite easy to set up but you will probably want to check the compatibility of packages before trying it out.
---
Announcing Industrial Reconstruction Leveraging Open3D
ROS-I Is working on mesh reconstructions using RGB-depth cameras and Open3D with some interesting results.
---
Robots in Healthcare as Envisioned by Care Professionals
I hope you won't mind an overload of pre-prints but I found this one to be very thought-provoking. In this study, the researchers interviewed 32 healthcare professionals about using robots for patient care. One concept that struck me is that many people who need assistance with daily activities may have too impaired cognitive abilities to interact with a robot. Another very important point being made is the limitation is the robot price as most patients likely won't pay $10,000-30,000+ for a robot. If you are even thinking of working on healthcare robots then this study is a must-read!
---
Publication of the Week - TartanDrive: A Large-Scale Dataset for Learning Off-Road Dynamics Models (2022)
Autonomous vehicles present complex dynamic data that is hard to model using traditional methods. This challenge strengthens when you face off-road terrains. This paper presents the largest real-world multi-modal off-road driving dataset and benchmark state-of-the-art methods for model-based reinforcement learning. During the training, the authors state an improvement jump when adding different data modalities, such as top-down maps and time-series data, to better predict the results and lower the error. A video from the CMU Robotics YouTube channel shows the process of data collection.
---
Business
FarmWise Labs Brings in $45M for Robotic Weeding
"FarmWise Labs, a company creating a robotic weeder named Titan powered by artificial intelligence, announced that it brought in $45 million in Series B funding".
---
Dyson Working on Home Robots
Dyson is looking behind vacuum cleaners and will be developing robots to help with household chores. The company is planning to build a robotics centre to support this new branch of business and host 250 robotics engineers.
---
Announcements
Project Advance
"Over the course of 90 days, Project Advance will pair a small number of high-potential women and nonbinary people with mentors who are just a few steps ahead. Mentors and mentees will virtually meet every two weeks to discuss how to meaningfully increase their personal and professional impact".
Jobs
Below are the latest positions from our job board. If you would like to learn more about the paid job advertising, please check the board for more details.
---
Director of AI
Pickle Robot Company (Cambridge, USA)
We are searching for a Director of AI to join the executive team reporting to the CEO, who has been leading technical decision-making in this area and is looking forward to handing it off to someone even more capable.
---
Senior Fullstack Engineer
Pickle Robot Company (Cambridge, USA)
Join Pickle Robot! We're a diverse team of 31 full-time employees teaching off-the-shelf robot arms how to pick. Our goal is to work alongside people in the very messy world of the warehouse & loading dock, reducing the backbreaking human effort that goes into getting e-commerce orders to your door
---