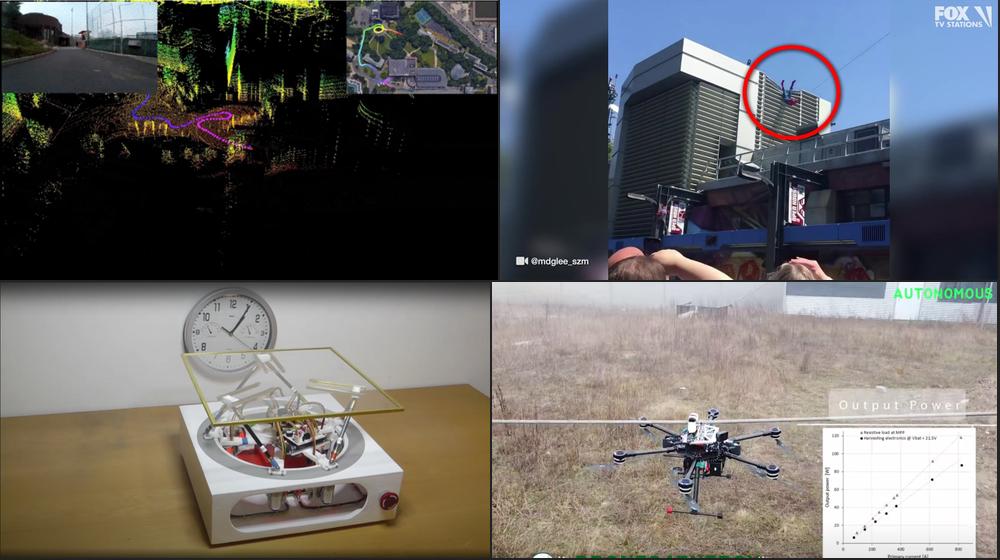 As I was preparing this issue of the newsletter I realized we've hit the 200th issue! I'm still surprised that I didn't miss a single week, rain or shine. Looking at the project that we've been covering over the last 200 issues, it feels like robotics is getting more and more exciting with interesting open-source packages, DIY projects, interesting actuators, sensors and software stacks. Finally, I'm very grateful for everyone taking the time to read my work and motivating me to keep this project alive. As usual, the publication of the week section is manned by Rodrigo. The most clicked link last week was the MCAP project website with 13.3% opens.
Sponsored
Weekly Robotics is being developed thanks to the Patreon supporters and the following business sponsors:
---
Meet Tangram Vision at CVPR
tangramvision.com
Got a tricky sensor or perception challenge? Visit us at CVPR (booth 1421) to problem solve with our expert perception team. We'll also be demoing the Tangram Vision Platform, with multi-sensor calibration and sensor stream stabilization. Not going? Click above to see how you can accelerate your perception stack deployment with Tangram Vision.
Being Glue
The other day I've enjoyed this slide deck by Tanya Reilly about 'glue work' and how sometimes junior engineers take initiative, to bridge engineering with other departments and how sometimes that might be a bad thing for their potential promotions. If you happen to be in a similar position there is some advice in the article on how you could handle such situations.
---
PlotJuggler: The Best Time Series Visualization Tool for ROS
I've been using PlotJuggler since it came out and I still learned something from this tutorial by Lucas. If you are looking into displaying any data with ROS then I can't recommend this tool enough. If you find PlotJuggler useful then please consider supporting Davide's open-source work.
---
Drones Re-Charge on Power Lines in Denmark
The University of Southern Denmark announced that it had developed a drone that can connect directly to a 150kV voltage line to charge. If a solution like this takes off (pun intended) then we could have always-on grid infrastructure monitoring systems. The last time we covered powerline multirotors, we were looking at smaller scale perching drones from the GRVC Robotics Laboratory.
---
Watch Disneyland's Spider-Man Robot Crash during a Stunt
Recently, a Sped-Man stuntronics robot crashed at the Avengers Campus. Since the video embedded in the post does not seem to be working, here it is on YouTube. If you would like a sneak peek into these Disney robots then we found this video that we have featured in February informative.
---
An Interesting Circular Stewart Platform
This article, and more importantly the video, present a circular stewart platform built from six motors operating on the inside of a gear. The range of movement of this device is incredible.
---
LeGO-LOAM
GitHub (RobustFieldAutonomyLab)
"This repository contains code for a lightweight and ground optimized lidar odometry and mapping (LeGO-LOAM) system for ROS compatible UGVs. The system takes in point cloud from a Velodyne VLP-16 Lidar (placed horizontally) and optional IMU data as inputs. It outputs 6D pose estimation in real-time. A demonstration of the system can be found here"
---
Publication of the Week - Toward the smooth mesh climbing of a miniature robot using bioinspired soft and expandable claws (2022)
Throughout the observation of nature, many ideas and disruptions came to develop bio-inspired robots. This article presents a micro-robot inspired by beetles that have an incredible capacity to walk on mesh surfaces and climb steep angles using their claws. The authors recorded a beetle in movement using a motion capture system and electromyography to understand its locomotion. The beetle uses a muscle called tarsus to expand and bend their claws to increase attaching resistance on inclined surfaces. An insect-scale robot was developed with the mechanism to imitate the beetle's ability using soft materials. The robot can climb different surfaces with inclined angles up to 60°.
Jobs
Below are the latest positions from our job board. If you would like to learn more about the paid job advertising, please check the board for more details.
---
Senior Electrical Engineer (Robotics)
ARIX Technologies (HOUSTON, USA)
We're looking for a new partner who is a team player, loves creating things, and is deeply interested in electronics and robotics, to help develop pipe-crawling inspection robots along with big data management and visualization software.
---