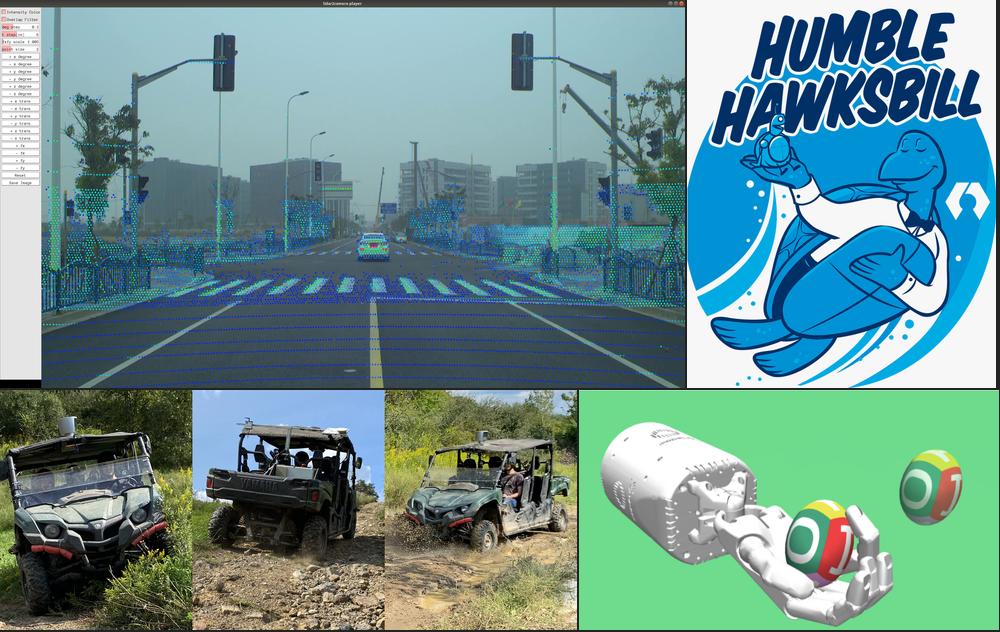 Embedsys Weekly, a newsletter I've been following for quite some time to be up to date on the embedded world has just reached issue 102. Guillaume is doing a great job with his project, I highly recommend checking it out. Today's issue is kicked-off with two news related to robotics cars and then we will see where it will take us. As usual, the publication of the week section is manned by Rodrigo. The most clicked link last week was the Python Robotics Toolbox with 17.6% opens.
Sponsored
Weekly Robotics is being developed thanks to the Patreon supporters and the following business sponsors:
---
Make the Most of Your Robotics Data and Scale Your Fleet
Operate and Observe Devices in Formant
Formant is a data and operations platform that helps robotics companies get to market faster, scale successfully, and optimize fleet performance. To get started, request a technical demo or read how we've helped companies like Burro and Canvas make the most of their robotics data.
OpenCalib SensorsCalibration Toolbox v0.1
This project contains multiple tools for sensor calibration, with code for manual, automatic and factory calibrations, sometimes between multiple sensors. The repository contains documentation that has just enough information to run the scripts. For more information about this work, you might want to check out this paper.
---
Roboticists Go Off Road To Compile Data That Could Train Self-Driving ATVs
Researchers from Carnegie Mellon University have driven an ATV equipped with a range of sensors (stereo camera + IMU, GNSS unit, automotive data logger), capturing a five-hour off-road driving dataset. You will find a video introducing TartanDrive on YouTube, the dataset itself on GitHub and the paper on ArXiv.
---
ROS 2 Humble Hawksbill Release!
ROS 2 Humble is officially out! This release targets Ubuntu 22.04 Jammy Jellyfish and Windows 10 as tier 1 systems. The changelog in the article mentions improvements to ROSBag, enhanced documentation, filtering messages and more. This is a long term support (LTS) release, with the end of life in May 2027. Personal note: I think this will be THE release of ROS2. If anyone held off switching from ROS 1 then they will most likely target this release. Lots of packages are now getting features that will probably cause some FOMO for some integrators further accelerating the transitions. I'll be looking forward to observing the growth of this ecosystem!
---
A Delivery Robot Creates a Poetic Moment in the Woods of England
Recently, a Starship delivery was NOT lost in an English forest. It just took the shortest path to its goal which incidentally went through the forest. I have to say that an image of a cute delivery robot humming to itself as it is taking a slow drive through nature is an interesting image.
---
DeepMind's Open-Source Version of MuJoCo Available on GitHub
They did it! After the announcement last October of MuJoCo being acquired by DeepMind with subsequent plans of making it open-source it finally happened. Thanks, DeepMind!
---
Uber Eats Dabbles With Delivering Food Via Robots
"Uber Eats is now testing autonomous food delivery in the Los Angeles area. According to TechCrunch, Uber is collaborating with two companies to make this rollout happen: Motional, an autonomous vehicle company, and Serve Robotics, an autonomous sidewalk delivery company".
---
Publication of the Week - Translating Images into Maps (2022)
This week ICRA 2022 happened as an in-person event held in Philadelphia, USA. In every edition, they awarded the best papers within different categories. This paper, the winner of the outstanding paper category, presents a transformer network that takes monocular images and videos as inputs and transforms them into a 2D map or bird's-eye-view. The method also has an optional feature that incorporates temporal information from the past to create a spatiotemporal representation. The results were quite exceptional, outperforming state-of-the-art models.
---
Business
California DMV Suspends Another Pony.ai Test Permit
California's DMV suspended Pony.ai's autonomous car testing permit last Tuesday, citing concerns about the company not monitoring the safety drivers' records closely enough.
---
RobotPlusPlus Brings in $15M for Magnetic Crawler Robots
"RobotPlusPlus, a company developing magnetic crawler robots for aerial work, brought in $15 million in Series B funding. Its portfolio of solutions work in a variety of industries, including maritime, ship repair, petrochemicals and power generation".
---
Jobs
Below are the latest positions from our job board. If you would like to learn more about the paid job advertising, please check the board for more details.
---
Director of AI
Pickle Robot Company (Cambridge, USA)
We are searching for a Director of AI to join the executive team reporting to the CEO, who has been leading technical decision-making in this area and is looking forward to handing it off to someone even more capable.
---
Senior Fullstack Engineer
Pickle Robot Company (Cambridge, USA)
Join Pickle Robot! We're a diverse team of 31 full-time employees teaching off-the-shelf robot arms how to pick. Our goal is to work alongside people in the very messy world of the warehouse & loading dock, reducing the backbreaking human effort that goes into getting e-commerce orders to your door
---
Robotics Software Engineer
Ross Robotics (Twyford, United Kingdom)
Ross Robotics is looking for a software engineer for full lifecycle support of modular ground-based UGV robots.
---
Perception Algorithm Engineer
Tangram Vision (Remote, United States)
Tangram Vision is a mission-driven company devoted to empowering all developers to be perception creators. It's a tall order, but our whole team is experienced in computer vision and has learned what works (and what doesn't) in the real world.
---
Telerobotics Engineer / Pilot
Sanctuary AI (Vancouver, Canada)
Sanctuary is seeking a Telerobotics Engineer to join our team. You'll be responsible for developing, using, and testing the necessary (SW/HW/FW) subsystems and components which allow teleoperation of our humanoid robot.
---