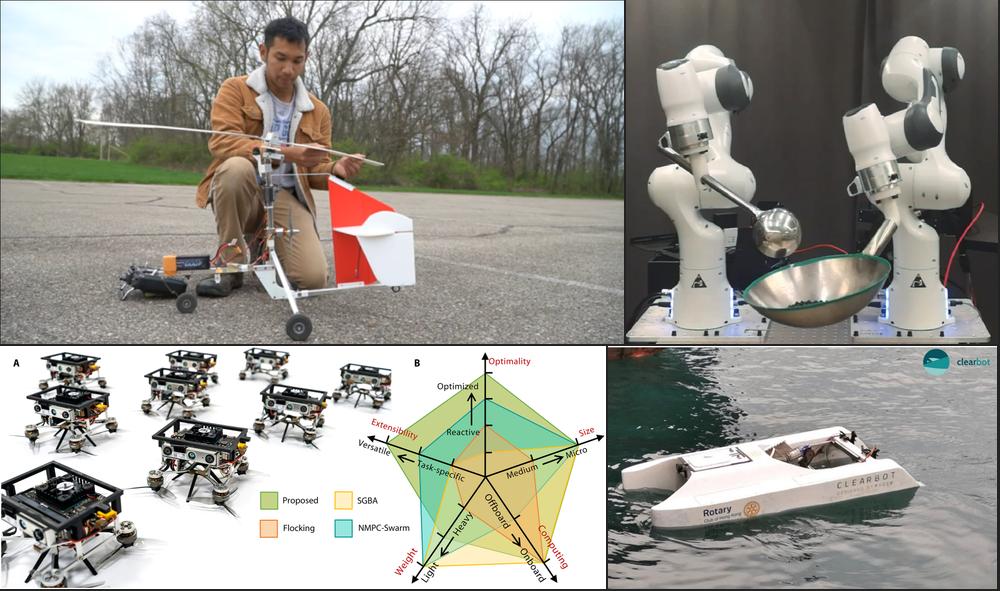 I don't really have any thoughts to share in the intro apart from the fact that I find this ABB robot painting on a car mesmerizing. As usual, the publication of the week section is manned by Rodrigo. The most clicked link last week was the sponsored post with my ROS2 course with 20.6% opens.
Autogyro Models Are Hard — Even For [Peter Sripol]
One thing I've learned from back in the day when I was working with some people passionate about aviation is that autogyros want to kill you (not really, but they can be very difficult to control). The video featured in this article is a great show of engineering skills in trying to make a model of such an aircraft fly. Peter Sripol took the challenge of making his build mechanically stable instead of opting for using an autopilot. If you like iterative processes and crashing aircraft then you will love the featured video, it's filled with these to the brim.
---
When Sticks Fly
Since we are covering weird flying machines, here is a flying stick (a bicopter). This aircraft by Paweł Spychalski is using two motors, where each of the motors is gimbaled by one servo. One of these servos controls pitch and the other one controls roll. The yaw movement is obtained by varying the speed of the motors themselves (just as you would expect from a classic multirotor build).
---
Clearbot Neo Autonomously Clears Plastic from Harbors
I found this update on Clearbot interesting. This cleaner boat can be used to autonomously clean trash from the water surfaces. The current iteration of the device, Clearbot Neo, is three meters long, powered by a solar-powered electric motor and can collect up to a metric ton of trash a day. I love this idea and I hope it catches on and delivers on all the promises!
---
Robot Operating System 2: Design, Architecture, and Uses in the Wild
Here is a neat, recently published article showing how ROS2 was created, what it is and showcasing five examples of projects using this framework in production. Moving on, this will be my go-to reference if I need to point anyone to high-level information on ROS2.
---
Swarm of Micro Flying Robots in the Wild
Since we are reading Science now, it's worth taking a look at this research from Huzhou Institute of Zhejiang University Researchers. These multirotors, created to work as distributed systems, can follow a target through a dense forest (even in formation!) while avoiding obstacles, and building a map of the environment post-flight. If this blob sparks your interest, then make sure to check out the video featured on the page. It's really some next-level work.
---
C++ & Rust: Generics and Specialization
Our friends at Tangram Vision had created a nice comparison of generics in C++ and Rust.
---
Publication of the Week - Robot Cooking with Stir-fry: Bimanual Non-prehensile Manipulation of Semi-fluid Objects (2022)
The art of Stir-frying originated in China and has spread all over the world. It requires a set of movements using both hands that take practice to master. This paper presents a robot cooking Stir-fry using a bimanual set of articulated arms. The major challenge is to achieve an adjustable object manipulation with a mixture of liquid and solid parts called semi-fluid contents. Each arm of the robot was decoupled with a different role, one being the wok and the other the spatula. Also, visual feedback with a camera on the top is used to get a relative displacement of the semi-fluid on the wok. The authors validated this system based on simulation and a real robot platform.
---
Business
Hyundai New Horizons Studio to Design and Build Ultimate Mobility Vehicles in Bozeman, Montana
Hyundai is planning to invest $20M over the next five years to level up "vehicular mobility with robotics and wheeled locomotion technology". "At NHS Bozeman, the team will initially focus on refining the development, testing and deployment of two UMV models. The first is an uncrewed transforming intelligent ground excursion robot (similar to what was revealed at CES in 2021) designed to carry various types of payloads while travelling over treacherous terrain. The second, inspired by Elevate, is a larger (size of a two-person ATV) vehicle with robotic legs that can address challenging driving situations and potentially save lives as the first responder in natural disasters".
---
Eureka Robotics brings in $4.5M in pre-Series A funding
"Eureka Robotics, a company founded by the team behind the IkeaBot, announced that it brought in $4.25 million in pre-Series A funding. The company's flagship product is its Eureka Controller, which allows factories to employ HAHA tasks in System Integrators and factories. The controller is equipped with its high-accuracy calibration and Force Control, which gives it the ability to perform tight assembly and insertion, with clearance down to 50 micron".