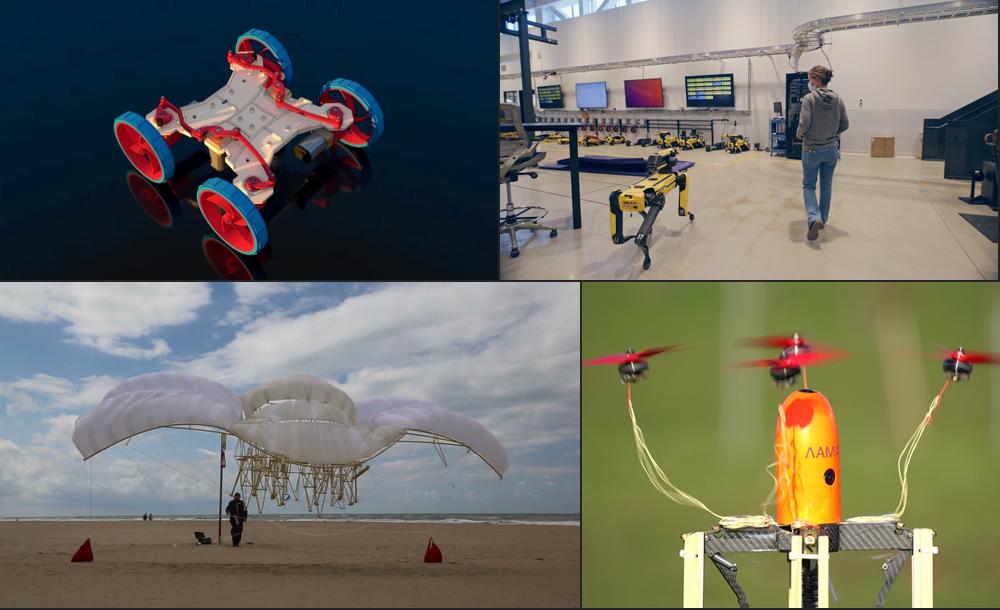 Have you seen a Tesla crashing into a parked jet yet? It certainly looks like a user error, given that it must have been in a valet mode but it still hurts to watch. For the next issue, I continue to collect interesting materials from the readers, so feel free to share any interesting stuff that you come across and I'll be more than happy to credit you in the next issue. As usual, the publication of the week section is manned by Rodrigo. The most clicked link last week was the discussion on map->base->odom transform on ROS Discourse with 13.2% opens.
Sponsored
Weekly Robotics is being developed thanks to the Patreon supporters and the following business sponsors:
---
Calibration Desk Reference for Robotic Sensors
tangramvision.com
The Tangram Vision perception and calibration engineering teams have put together over 80 pages of tutorials, techniques, resources, and guides covering all aspects of calibration from mathematics to system design. Free instant download, with no forms to fill out.
Strandbeest Evolution 2021
You might have seen some of the kinetic art powered by wind by Theo Jansen already but this video shows multiple designs at work. I don't know why but to me these designs have a Hayao Miyazaki feel to them.
---
NASA's Self-Driving Perseverance Mars Rover Is Breaking Records
A nice look behind the work of Mars rover drivers and how Perseverance is doing some of the path planning autonomously these days.
---
Charge Robotics Launch - a HN Thread
In March, Charge Robotics made this launch post that features details on the company and some interesting discussions. The company is working on automating the labor-intensive parts of solar construction. Thanks Anthony for sharing this with me!
---
Ask A Roboticist: Meet Cassie | Boston Dynamics
A wholesome interview with Cassie Moreira, an electrical engineer at Boston Dynamics. In the video, she answers questions from kids, students and lifelong learners. I found the video to be motivational. Big thanks to Roland for linking this in our Slack.
---
Drone Interceptor with a Net Gun
An interesting drone interceptor design built using racing drone components. The motors are mounted at an outwards angle with a net attached to them. To intercept the drone the motors are released from the body of the multirotor causing them to fly towards the target, extending the net and (hopefully) entangling the target drone.
---
Omnibot Shows Off Over A Decade Of CNC Prowess
Here is an Omnibot v3 with some satisfying shots of CNC milling and raising casting. The end product is a mobile robot with interesting linkages that allow the wheels to rotate up to 90 degrees.
---
Publication of the Week - Vision System of Curling Robots: Thrower and Skip (2022)
If you enjoy watching the Olympics, then you probably have watched a curling game before. It's one of the most ancient ice games where teams slide stones toward a concentric circle target. This paper presents a thrower and skip robots that play curling and can communicate to maximize the game score. Both robots are equipped with 3 RGB monocular cameras and a foldable arm to oversee the track. The skip robot stays at the end, closer to the circular track. It observes and estimates robot and stone positions to create a strategy for the thrower robot. Currently, the robot team has only two robots, as you can see in this video, but the authors intend to build sweeping robots.
---
Business
Introducing the $1 billion Amazon Industrial Innovation Fund
"Amazon is creating a $1 billion venture investment program called the Amazon Industrial Innovation Fund (AIIF) to spur and support innovation in customer fulfilment, logistics, and the supply chain".
---
Rapyuta Robotics Brings in $51M for Pick Assist Robots
"Rapyuta Robotics, a company that offers collaborative pick assist robots for use in warehouses, announced that it raised $51 million in Series C funding. Goldman Sachs led the funding round".
---
2022 RBR50 Robotics Innovation Award Honorees
"For over a decade, Robotics Business Review's RBR50 Robotics Innovation Awards have highlighted the most creative and influential innovations from around the world that have advanced the state of robotics. Widely recognized throughout the world as a leading indicator of robotics innovation leadership, the RBR50 Robotics Innovation Awards are also a critical measure of robotics sector growth".