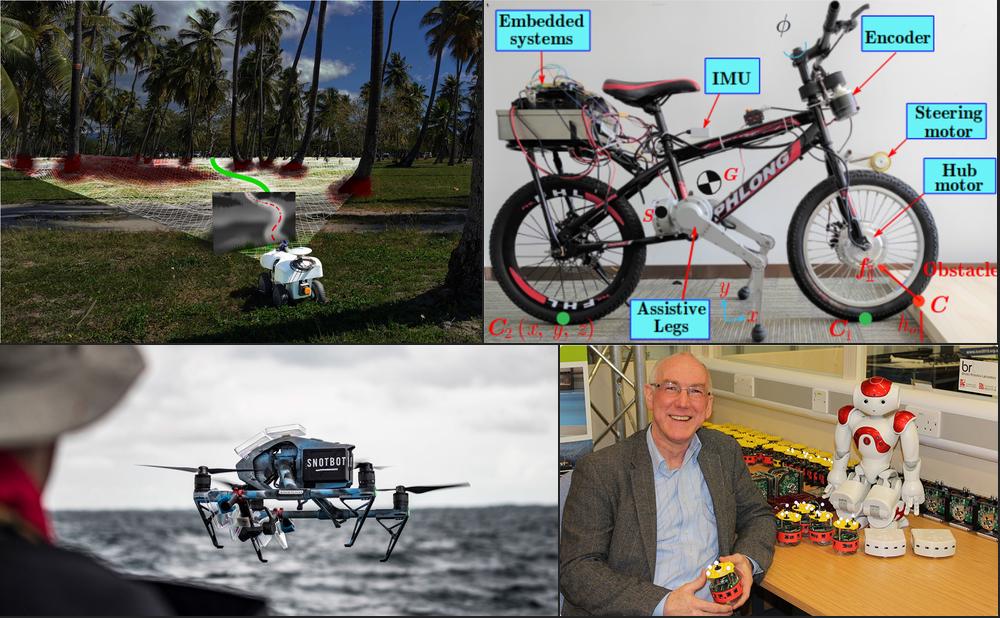 While working on Today's issue I came across a range of very interesting papers (is there some major robotics event happening these days?). Hopefully, most of them will be covered in the robotics news websites but if not I will try to schedule some time to describe them in the future newsletter issues. As usual, the publication of the week section is manned by Rodrigo. The most clicked link last week was the ROS discourse discussion on PTP with 10.9% opens.
Sponsored
Weekly Robotics is being developed thanks to the Patreon supporters and the following business sponsors:
---
Deployment-Ready Perception
tangramvision.com
The Tangram Vision Platform lets robotics and AV teams rapidly deploy performant, ready-to-scale perception infrastructure. It includes tools to fuse, calibrate, and stabilize multi-sensor arrays, coupled with a sensor-optimized data backend. Weekly Robotics readers get early access to Private Betas!
These Flying Robots Protect Endangered Wildlife
This article presents some of the use cases for using drones for conservation work. The article features an interesting example showing how easy it is to spot monkeys in treetops from a multirotor using an IR camera. My only concern about these kinds of projects is the noise from the drones disturbing the animals when it gets too close but I'm sure wildlife researchers know what they are doing. This article had reminded me of this thread about using drones for anti-poaching efforts, where a user reported that his team managed to spot less than eight poachers in two years of operation.
---
A Decade of Open Robotics
Happy Birthday! This article is an overview of what happened with ROS since the Open Source Robotics Foundation kicked off. This IEEE Spectrum interview with Brian Gerkey, Ryan Gariepy and Nate Koenig is a good follow up read.
---
ElectronBot: A Sweet Mini Desktop Robot That Ticks All The Boxes
Zhihui made another robot! His previous arm build was a great show of a combination of mechanical, electrical and programming skills and so is this small desktop robot. In Hackaday comments one of the users says that Zhihui is a hardware version of a full-stack developer and I cannot agree more.
---
WayFAST
WayFAST (Waypoint Free Autonomous System for Traversability prediction) is a self-supervised approach for learning to predict traversable paths for wheeled mobile robots that require good traction to navigate. The algorithm uses RGB and depth data, together with navigation experience, to autonomously generate traversable paths in outdoor environments. On the above page, you will find links to a publication and the project's repository.
---
Robots Show Us Who We Are
A very good piece and an interview with Alan Winfield about ethics and stories engine for robotics and using machines to answer questions about "intelligence, evolutions, life and culture". If you liked the article, then you should have a look at Winfield's talk from the 2016 World Economic Forum.
---
Publication of the Week - Autonomous Bikebot Control for Crossing Obstacles with Assistive Leg Impulsive Actuation (2022)
When we take the first steps to learn how to ride a bike, a little help is always needed. With this idea in mind, this paper presents an autonomous bicycle that uses an assistive leg to generate impulses and keep control. Some previously built bike-like robots use reactions wheels, gyroscopes, and many others that are workable for flat surfaces without steps and irregularities as we have in urban environments. Bikebot is equipped with DC motors for trust and steering and uses two 3-DOF assistive legs that give it the ability to cross obstacles with heights of over one-third of the wheel radius. You can find the demonstration of this research on YouTube.
---
Business
100,000+ Mobile Robots Shipped in 2021
According to the Interact Analysis report, over 100k mobile robots shipped globally in 2021, a 70% increase compared with 2020. The biggest market for mobile robots was China with 40% of shipments, followed by the US with over 25% shipments.
---
Skyline Robotics Cleans up $6.5M in Pre-Series A Funding
Skyline Robotics, a company working on robot arms for high-rise building window cleaning, secured a $6.5M in pre-series A funding round, as the company is preparing for the first commercial deployment.