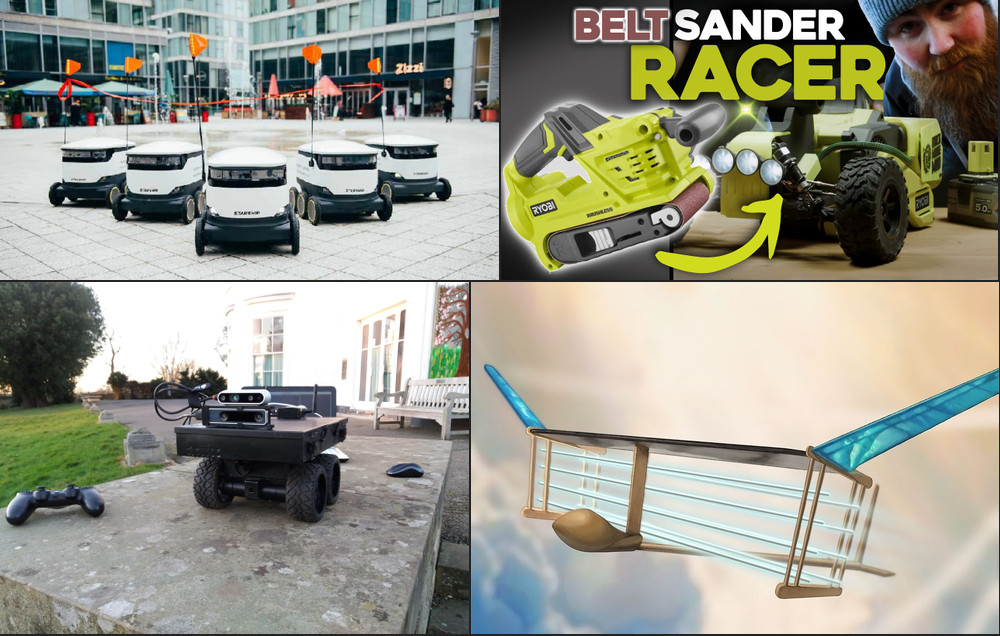 Today's issue is rather minimal, as I'm recovering from COVID. Hopefully, I'll be fully back in action for the next issue. If you find joy in thinking over some ways of thinking over how you would fix a certain issue I invite you to think about how to prevent delivery robots from getting smashed by trains, as featured in this video I have shared on LinkedIn. As usual, the publication of the week section is manned by Rodrigo. The most clicked link last week was the amazing DIY robot arm by Zhihui Jun with 13.2% opens.
Sponsored
Weekly Robotics is being developed thanks to the Patreon supporters and the following business sponsors:
---
Deployment-Ready Perception
tangramvision.com
The Tangram Vision Platform lets robotics and AV teams rapidly deploy performant, ready-to-scale perception infrastructure. It includes tools to fuse, calibrate, and stabilize multi-sensor arrays, coupled with a sensor-optimized data backend. Weekly Robotics readers get early access to Private Betas!
The 2030 Self-Driving Car Bet
Jeff Atwood and John Carmack made a $10k bet on self-driving cars: "By January 1st, 2030, completely autonomous self-driving cars meeting SAE J3016 level 5 will be commercially available for passenger use in major cities". Here is a poll for the readers: FOR vs. AGAINST. To vote you can just click the link and I'll share the results in the next issue.
---
Nemesis
Antoan Bekele is fitting ROS1 on an off-the-shelf robot platform. The article mentions software architecture and a demonstration with mapping using rtabmap.
---
Ion Engines Could Work on Earth too, to Make Silent, Solid-State Aircraft
If you've been following this newsletter for some time and have a really good memory then this research has been featured in issue #15. Now, Professor Barrett is looking into applying this technology to a VTOL platform.
---
Can you turn a belt sander into an RC car?
"In David Windestal's debut episode he tries to fulfil his childhood dream of turning a belt sander into a radio control car! Even if you aren't interested in turning your power tools into toys, you'll be interested in David's tips and tricks for sure!"
---
IMUs and LiDARs - Not Uncommon Pitfalls
Selfish plug: I've recently written a blog post with some of the issues in IMUs and LiDARs I came across in my career. I thought some of you might find it useful.
---
Publication of the Week - RI Seminar: Matthew Johnson-Roberson: Lessons from the Field (2022)
Robotics and fieldwork share a lot in common. In this RI seminar, professor/director Matthew Johnson-Roberson share some of his extensive research in the field. The professor shows his attempt to reverse engineer the GTA-V engine to train machine learning algorithms for the assessment of risk in self-driving vehicles. Then he explains how he uses a generative adversarial network (GAN) to generate a realistic underwater dataset with images above the surface to later use with a restoration network with underwater images and other fascinating projects.
---
Business
Starship Technologies raises another $42M to fuel the growth of its fleet of self-driving delivery robots
"The company, founded and developed in Estonia but headquartered in San Francisco, has picked up $42 million in equity, bringing the total raised to over $100 million in the last month after announcing at the end of January that the European Investment Bank would be putting €50 million ($57 million) into the company".
---
Tortoise pivots away from robotic delivery toward mobile stores
"Tortoise, a startup that began in 2019 with a mission to rebalance scooters for shared operators like Spin and shifted last year to robotic last-mile sidewalk delivery, is pivoting yet again in a new direction: mobile smart stores".
---
Announcements
Announcing the 1st BehaviorTree workshop: call for participation
On the 31st of March, Davide Faconti is organizing a workshop on BehaviorTree.CPP. See you there!
---
Jobs
The job board is in beta until the 31st of March. Until then, every bit of feedback is highly appreciated both from companies and applicants.
---
Robotics Software Engineer
Kingdom Technologies (Glasgow, Scotland)
Kingdom Technologies is hiring a Robotics Software Engineer to come and work on coverage path planning and cloud infrastructure for the future of commercial scale lawn care.
---
Software Engineer
Avy (Amsterdam, The Netherlands)
At Avy, we're looking for a Software Engineer to be part of our software and controls department to help develop our latest and greatest technology.
---
Sr. Robotics & Controls Engineer
aescape (Brooklyn, United States)
Aescape is a cutting-edge robotics company making robotics that help people to live better, longer. We are looking for an outstanding robotics software engineer to join our team in New York City and help make robots that closely interact with people!
---