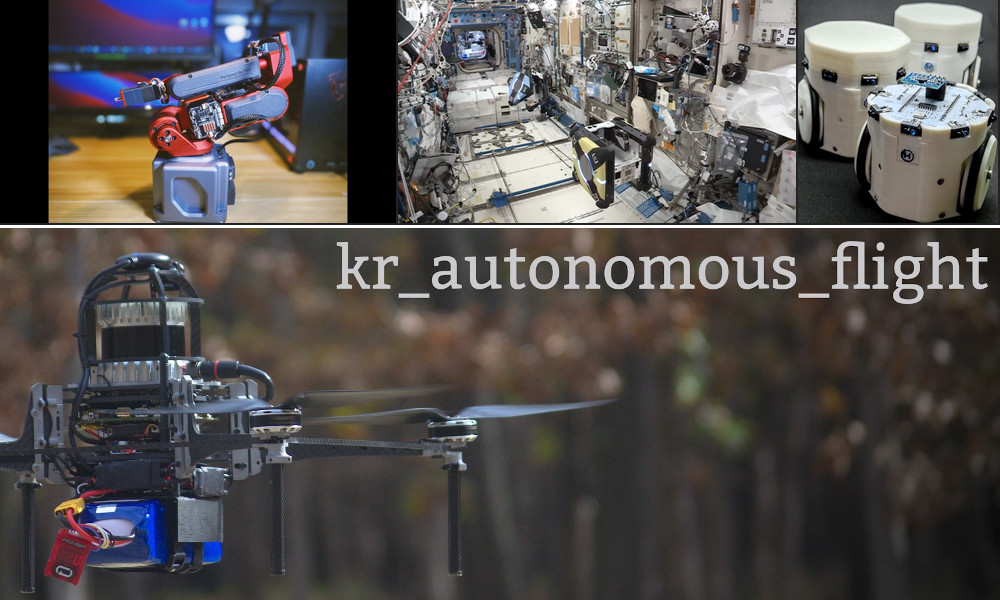 It feels like the world has changed completely since the last issue. The conflict in Ukraine has been on my mind since it started. If you would be looking to help refugees then Polish Humanitarian Action is raising funds to help them and they are a legit organization. As usual, the publication of the week section is manned by Rodrigo. The most clicked link last week was an introduction to A* with 12.9% opens.
Sponsored
Weekly Robotics is being developed thanks to the Patreon supporters and the following business sponsors:
---
Deployment-Ready Perception
tangramvision.com
The Tangram Vision Platform lets robotics and AV teams rapidly deploy performant, ready-to-scale perception infrastructure. It includes tools to fuse, calibrate, and stabilize multi-sensor arrays, coupled with a sensor-optimized data backend. Weekly Robotics readers get early access to Private Betas!
KumarRobotics Autonomy Stack Is Now Open Source!
KumarRobotics had open-sourced their autonomy stack for quadrotors. The software stack allows for fully autonomous flight in GPS-denied conditions. The software has been released with a licence permitting use only for academic research
---
Dummy The Robot Arm Is Not So Dumb
WOW! This small robot arm by Zhihui Jun is incredible, with lots of quality engineering involved. The author had developed circuit boards and created a closed-loop driver for the servomotors, multiple ways of interacting with the robot (computer software, teaching, AR on phone, a dedicated BLE screen module and even an AHRS pen-like device with force feedback). After watching this video I'm pretty sure Zhihui Jun is an actual Iron Man, scholar and a wizard.
---
Flowcopter – hydraulic propulsion
This one is interesting. Flowcopter is a heavy-lift multirotor, where propellers are actuated by a fluid transmission. The early results shown in this video look quite interesting.
---
HeRo 2.0: A Low-Cost Robot for Swarm Robotics Research
A research team from Brazilian Universidade Federal de Minas Gerais are working on HeRo v2, a small, differential-drive mobile robot for swarm robotic research. The device is fully open-source and costs $18 in components to make. The device comes with ROS integration and the possibility to simulate the robot swarms in Gazebo. For more information about the project check out the project website
---
How to Reach a Tumbling Target in Space
MIT and DLR completed a series of experiments using Astrobees on catching up to an uncooperative, tumbling object in space. These learnings could help in future satellite de-orbiting missions. The video featured in the article nicely shows the target alignment.
---
Publication of the Week - Open5x: Accessible 5-axis 3D printing and conformal slicing (2022)
The freedom provided by multi-axis in additive manufacturing can generate exceptional designs with stronger structures. This paper presents a cheap and accessible project to upgrade the common layer-by-layer 3-axis 3D printer to a 5-axis. More axis can provide little or no support material, smoother surface finishes, and the flexibility to print stronger structures. The authors make use of both 3D parts and off-the-shelf items to build the 4th and 5th axis. They've also made the slicer available as a plugin of the famous CAD Rhino with a GUI to make it easy to use.
---
Business
Flying-Taxi Startup Joby Slumps After Test-Flight Accident
On February 16th a remotely piloted Joby prototype had crashed during a test flight receiving substantial damage. According to this article the enthusiast that have tracked the flight saw it flying at up to 240 knots, which is way more than 175 knots declared as the aircraft's top speed. After the announcement, Joby's share price fell 6%.
---
RightHand Robotics Raises $66 Million in Series C Funding
"RightHand Robotics, a startup developing autonomous robotic picking solutions for order fulfilment, has secured $66 million in a Series C financing".
---
Jobs
The job board is in beta until the 31st of March. Until then, every bit of feedback is highly appreciated both from companies and applicants.
---
Industrial PhD Student: Learn to Localize
Scania Autonomous Transport Solutions (Södertälje, Sweden)
Scania Autonomous Transport Solutions is looking for an Industrial Phd student that will explore learning based methods for state estimation in the localization domain. The project will focus on sensor fusion and task-based representation learning.
---
SLAM / Computer Vision Jedi
EEVE (Waregem, Belgium)
Participate in design, development, and testing of our mapping and localization technology. The opportunity to drive innovation in the field of robotics and to make life easier for millions of people (read our masterplan for more information).
---
Senior autonomous driving software engineer
Starship Technologies (Tallinn, Estonia)
Starship Technologies is looking for software engineers to revolutionise last mile delivery with autonomous sidewalk robots.
---