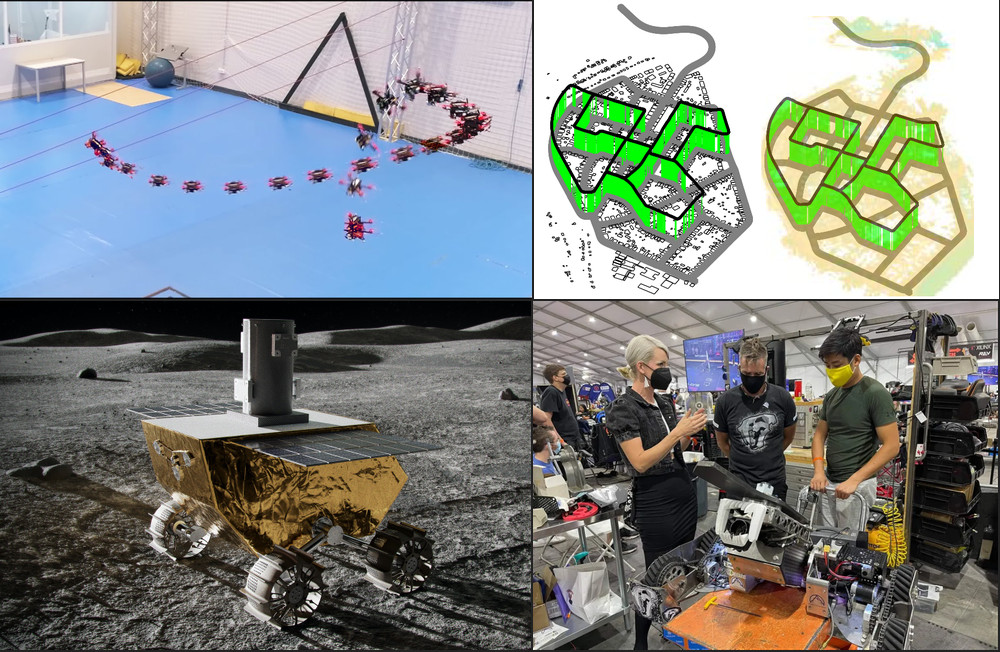 The job_board beta is now live! I've already received some valuable feedback from some of the advertisers and I'll be looking forward to seeing how much interest there is. Regardless of what comes after beta, working on this was a cool learning experience. As usual, the publication of the week section is manned by Rodrigo. The most clicked link last week was the article about Tesla crash investigations with 12.8% opens.
Sponsored
Weekly Robotics is being developed thanks to the Patreon supporters and the following business sponsors:
---
Deployment-Ready Perception
tangramvision.com
The Tangram Vision Platform lets robotics and AV teams rapidly deploy performant, ready-to-scale perception infrastructure. It includes tools to fuse, calibrate, and stabilize multi-sensor arrays, coupled with a sensor-optimized data backend. Weekly Robotics readers get early access to Private Betas!
Perception-Aware Perching on Powerlines with Multirotors
YouTube (GRVC Robotics Laboratory)
Researchers at GRVC are developing algorithms that will allow multirotors to perch on powerlines (even upside-down!) to recharge, taking into account the position and configuration of powerlines. This research could lead to very interesting applications, where a multirotor can be constantly recharged and thanks to that, perform continuous monitoring of electricity transfer infrastructure. You will find more details about the project in the following repository.
---
The Bevy of Rovers Heading for the Moon
Last week I got really excited about the near future of space exploration and then I came across this article by Jatan Mehta, who is showcasing multiple rovers that are scheduled to explore the Moon in the next five years.
---
Introduction to the A* Algorithm
Last week I came across this introduction to A* and thought it was really cool with all the interactive visualization and sample Python code.
---
Computer Science Courses with Video Lectures
Here is an awesome list of free CS video courses with over 40 courses in the robotics category.
---
BattleBots: Coping With Carnage
I like Battlebots and I think they serve a great way to promote engineering and robotics, especially to the younger audience. This post by Anouk Wipprecht, is a behind the scenes look at the last Ghost Raptor fight against Glitch. At the bottom of this post, you will find a picture gallery with some more behind-the-scenes pictures, just click on the arrows for the next picture.
---
Their Bionic Eyes Are Now Obsolete and Unsupported
I know this is not very much robotics oriented (unless we are talking cyborgs), but this article presents the issue of life-changing medical hardware becoming obsolete. This article presents the problem 350 trial participants found themselves in after using Second Sight implants for many years and having non-functional hardware in their bodies.
---
Publication of the Week - OpenStreetMap-based LiDAR Global Localization in Urban Environment without a Prior LiDAR Map (2022)
LiDAR is probably one of the most used sensors in autonomous vehicles for localization research, offering precise data at high ranges. The key problem for LiDAR localization is that a prior LiDAR map must be created and updated to match both readings. This paper presents a method that extracts 1D LiDAR descriptors from the building's information on the public OpenStreetMap. These descriptors are then compared with real LiDAR readings to estimate the actual position of the vehicle. The method is invariant to rotation and performs comparably with other LiDAR-based maps algorithms.
---
Business
White Castle installing Flippy 2 frying robots at 100 locations
White Castle is going to install 100 Miso Robotics Flippy 2 robot manipulators. According to the article, each of these robots can handle 60 frying baskets per hour.
---
Jobs
The job board is in beta until the 31st of March. Until then, every bit of feedback is highly appreciated both from companies and applicants.
---
Senior Robotics Scientist - Autonomy
Alarm.com (McLean, United States)
Alarm.com is the leading developer of intelligent platforms for connected home and businesses. We are looking for a Senior Robotics Scientist with a background in Autonomy as we continue to innovate in the robotics space.
---
Medical Robotics Developer
Libang Surgical Technologies (Vancouver, Canada)
LST is a medical device startup in Vancouver, Canada. Join us to have real impact in a great applying robotics to clinical applications outside of the OR. We are developing 2nd generation autonomous image-guided robotics with a talented and growing team.
---
Senior Mechanical Engineer (Automation)
Secret Robot Company (Boston, United States)
We're a Robotics company in Boston looking to go to market soon. Come work on computer vision, machine learning, & control systems problems on large, one-of-a-kind robots!
---
Product Specialist OEM GNSS/INS
Septentrio NV (Shanghai, China)
Septentrio is a leading supplier of highly accurate GPS/GNSS receivers for demanding applications, requiring accuracies, headquartered in Belgium and is seeking to hire a highly motivated professional for the following function: Product Specialist OEM GNSS/INS
---
Technical Product Manager
Formant (Remote, Remote)
Formant is looking for a Technical Product Manager to help define the future of operations and data infrastructure for fleets of autonomous robots.
---
Robotics Software Engineer (Arm planner)
Enchanted Tools (Paris, France)
Enchanted Tools proposes the first robot to combine robust interaction, grasping and navigation capabilities to move objects around automatically, opening up an entirely new design space for objects. You participate in the design and prototyping of the platform, to be delivered in 12 months 😱
---
Senior/Principal Robotics Software Engineer
Animal Dynamics (Oxford, United Kingdom)
As a Senior/ Principal Robotics Software Engineer you will lead the design and implementation of our autonomy architecture and middleware, working to deliver the software platform to implement our perception, control, planning and other autonomy algorithms.
---