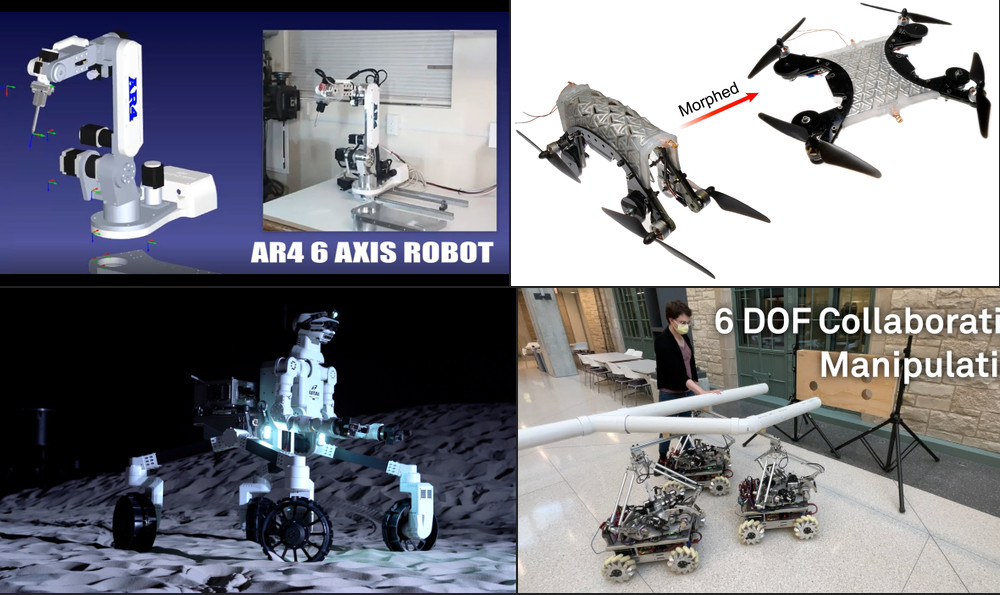 If you are reading this and your company is hiring roboticists, then feel free to get in touch to participate in our beta job board. Other than that, I've just realized how excited I am about space lately. As you will see in this issue some companies are sending centaurs to moon this decade, other companies plan to build outpost in L1 in the next 2 years, James Webb telescope will be operational in the next couple of months, we have reusable rockets going into space. There is this quote cycling the web "We are the middle children of history. Born too late to explore earth, born too early to explore space". Well, we will see about that. The most clicked link last week was the video about Avengers Campus with lots of 'stuntronics' with 10.9% opens. As usual, the publication of the week section is manned by Rodrigo.
Sponsored
Weekly Robotics is being developed thanks to the Patreon supporters and the following business sponsors:
---
Deployment-Ready Perception
tangramvision.com
The Tangram Vision Platform lets robotics and AV teams rapidly deploy performant, ready-to-scale perception infrastructure. It includes tools to fuse, calibrate, and stabilize multi-sensor arrays, coupled with a sensor-optimized data backend. Weekly Robotics readers get early access to Private Betas!
AR4 Small Robot Arm for Education and Automation
Chris Annin had build a 6-axis robot arm AR4 that has some open-source parts. This version of the robot is controlled by a teensy and it seems to be able to smoothly execute trajectories. You will find more information, including the manuals on the project website. If you are like me and one of the first thing you thought when you saw this project is "but does it work with ROS?" then the answer is YES. Or at least Dexter Ong had created this repo that works with AR3 (video).
---
Crashes Caused by Tesla Autopilot Are Piling up, and There Are Consequences
In this article, Trisha Mittal provides a really good overview of recent Tesla crashes with parked emergency vehicles. Perhaps using LiDARs/radars are not such a bad idea after all?
---
GITAI Develops Lunar Robotic Rover R1 and Conducts Successful Demonstration at JAXA's Mock Lunar Surface Environment
GITAI had demonstrated their R1 rover, that consists of a four-wheel base platform, with each wheel steered independently and a dual-arm robotic torso. According to the article, the system will be demonstrated on the MOON(!) in the mid-2020s. One thing I'm curious about is whether the system will be able to use off-the shelf D435i depth cameras, or if some space-grade hardware will need to be used. Is GITAI becoming THE space robotics company? I certainly enjoy their latest demonstrators (1, 2)
---
New Startup Quantum Space is Planning to Build a Robotic Outpost Near the Moon
Since we are hyping the new age of space exploration, let's continue with Quantum Space, a startup that is planning to launch a robotic outpost to L1 between Earth and Moon in 2024. This video linked in the article seems super relevant if you want to look deeper into colonizing space.
---
Shape-shifting Robots Adapt With Cleverly Designed Bodies, Grippers
This IEEE Spectrum article describes two recent publications related to shape-shifting robots. The first "Shape Morphing Mechanical Metamaterials Through Reversible Plasticity" from researchers at Virginia Tech uses a metal alloy that melts at 62°C, allowing it to stay in desired shape after the metal cools down. The second publication "Shake and Take: Fast Transformation of an Origami Gripper" from the team at Northeastern University, showcases an origami-like gripper fingers that can be shaken, causing the origami to fold, producing one of three grasping styles.
---
Omnid Collaborative Series-Elastic Mobile Manipulators
YouTube (Northwestern Robotics)
The Omnid mobile manipulators are an experimental platform for testing control architectures for (1) autonomous multirobot cooperative manipulation and (2) human-collaborative manipulation. This video demonstrates human-collaborative manipulation. Three Omnids bear the weight of a large, awkward, 10+ kg pipe assembly, and they create a "float" behavior, so the load can be positioned and oriented in six dimensions (x, y, z, roll, pitch, yaw) intuitively and with little effort by the human operator. Really cool!
---
Publication of the Week - Indy Autonomous Challenge – Autonomous Race Cars at the Handling Limits (2022)
This year at CES, we had the first high-speed, head-to-head autonomous racecar competition in the Las Vegas Motor Speedway. This paper presents a review from the TUM Autonomous Motorsports team on key factors to build a winning racecar. Each team had a Dallara AV-21 adapted to have four RADAR sensors, six cameras, three LIDAR sensors, and many other sensors/actuators. The team also evaluated and simulated the challenging task of evasion maneuver at 300kph that can happen when you are racing other cars head-to-head.
---
Business
Automotive Simulation Platform MORAI Secures $20.8m Series B to Expand Its Global Footprint
"MORAI, which provides autonomous vehicle developers with automotive simulation tools to verify the safety and reliability of self-driving systems, announced today it has raised $20.8 million (25 billion KRW) in a Series B funding round as it wants to increase its global presence, specifically into the U.S., Germany, Japan and Singapore".
---
Kinova Raises $60 Million in New Financing: The Company's Expansion into the Industrial Automation Market Continues
Kinova, a Canadian manufacturer of cobot arms announced a CAD $60M in new financing (USD $48M).