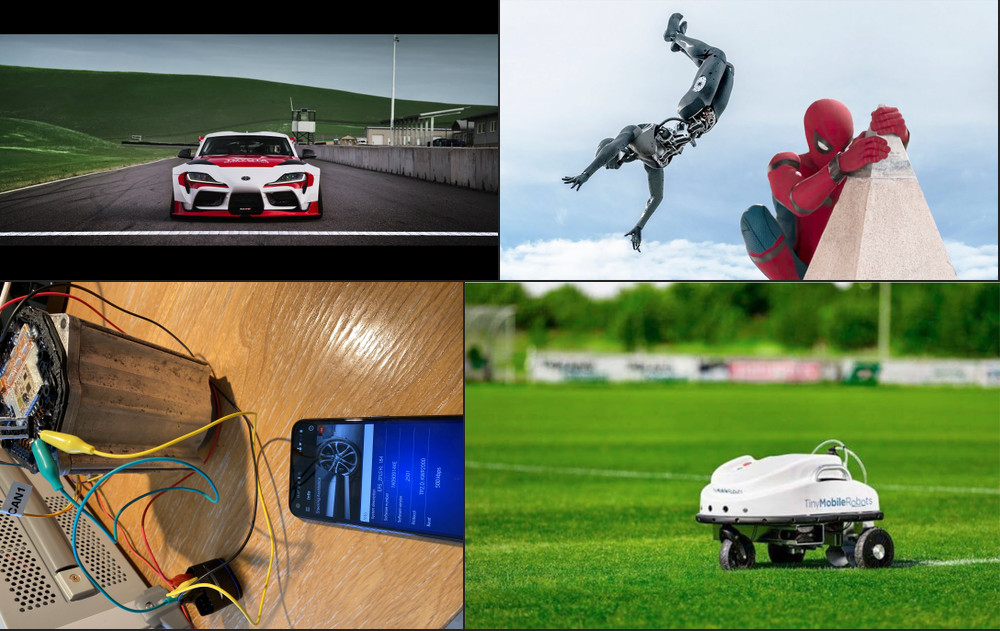 Do you know this feeling that after, what feels like months, of being overloaded with tasks and scraping by to complete them, your inbox has close to no e-mails in it and you finally see the end for something you've worked close to half a year on? My running theory is that this feeling comes either from completed tasks or from the incoming Spring. Anyways, let's jump into some robotics projects, but first, let me show you what I've spent my weekend on. The most clicked link last week was Robotics 501: Mathematics for Robotics course with 10.9% opens. As usual, the publication of the week section is manned by Rodrigo.
Sponsored
Weekly Robotics is being developed thanks to the Patreon supporters and the following business sponsors:
---
Weekly Robotics Shop
shop.weeklyrobotics.com
The store is live! Currently I only featured the "I make robots" high quality 100% organic cotton T-Shirt line in Unisex, Women, and Child variants. To celebrate the launch, feel free to use the code LOVEROBOTS10 for a 10% discount.
Pushing Vehicle Capabilities To Advance Active Safety
YouTube (Toyota Research Institute)
Engineers at TRI programmed a Toyota Supra to autonomously drift around obstacles. I enjoy the dynamic shots in the video, that were quite likely captured using a racing drone. For more details about this project, you might want to check out this writeup which has much more technical details. In the development TRI's Non-Linear Model Predictive Controller was used, together with an RTK-enabled INS system with a 250Hz update rate.
---
Hacking a VW Golf Power Steering ECU - Part 1
After watching the drifting car, you realize you would like to try something like that yourself in your Golf (you probably should not), then Willem Melching has a series of blog posts that show the process of overriding the ECU steering.
---
Async Rust vs RTOS showdown!
In this blog post, Dion is looking at Async Rust vs RTOS comparison (boosting my Rust FOMO in the process). If we have any embedded engineers on board I would love to hear if this is an apples-to-apples comparison, as to me it doesn't seem like it, but on the other hand the last time I haven't done anything embedded for the last 7 years or so.
---
What We Learned About Autonomous Commercial Mowing in 2021
In this blog post, Derek Haynes lists the key lessons learned for Greenzie in 2021. The most interesting point for me is not relying too much on simulation, as the fields will hold lots of surprises that you won't be able to represent in simulation.
---
Avengers Campus: How they built the flying Spider-Man robot
Here is a short documentary showcasing the career and work of Morgan Pope, who is working as a research scientist at Disney Imagineering and focusing on stunt robots.
---
2021 ROS Metrics Report
ROS Metrics for 2021 are out! It looks like the project and the community is growing fast!
---
Publication of the Week - Novel Egocentric Robot Teleoperation Interfaces for Search and Rescue (2021)
Semi-autonomous teleoperated robots play a huge role in most robotics applications, from instrument monitoring to rescue missions. This research by the Human-Robot Interaction Lab (HRI) serves as a guide for building operational effectiveness and efficiency teleoperation designs. The method merges multiple camera feeds into one using a detail-in-context view that reduces operators' cognitive load and increases awareness. They've also used widgets smartly to represent the state in multi-robot teleoperation.
---
Business
STIHL acquires 24% of TinyMobileRobots
"German industrial group STIHL has made a significant investment into Danish robotics company TinyMobileRobots. STIHL's robotic lawnmowers share a strong technical kinship with the fully autonomous line-marking robots produced by TinyMobileRobots, which are intended for use in sports fields, road construction, agriculture and more".
---
2021 sets robot sales record for North America
Association for Advancing Automation reports that the business is booming, with close to 40k industrial robot units sold in North America in 2021. The 28% year-to-year increase in sales brings the estimated total value of all sales to $2 billion.