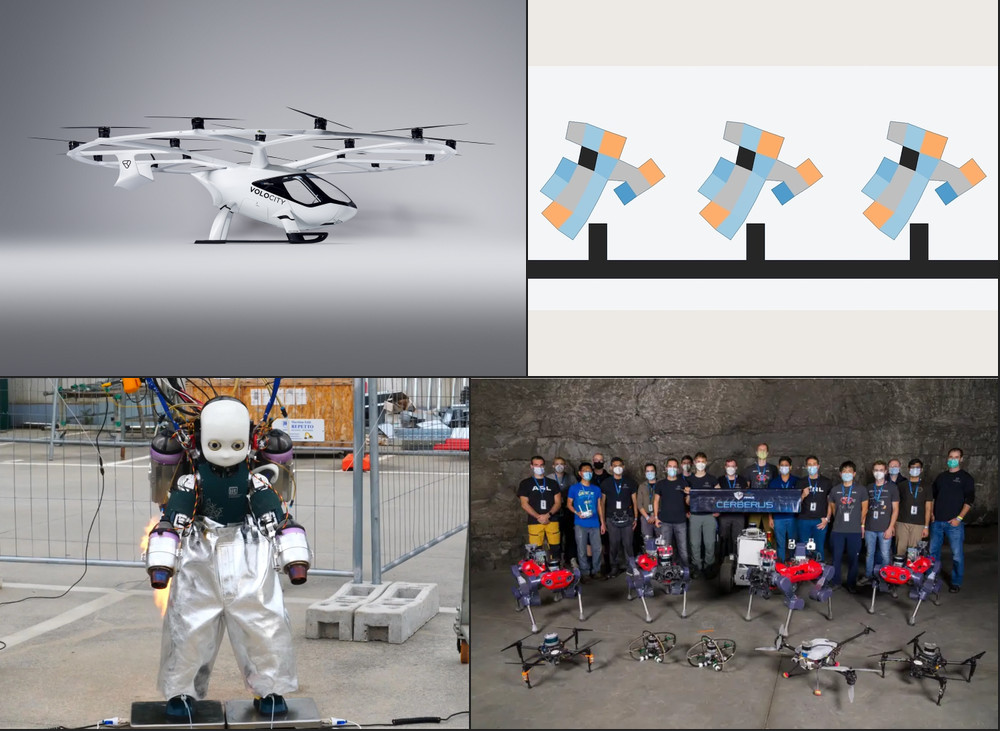 As you will see in the first entry, in the last Weekly Robotics meetup with Tangram Vision we've started discussing Rust on Robotics and we are considering doing an online panel on the topic. If you are using Rust for some robotics-related applications then I would love to hear from you and get you on board. As usual, the publication of the week section is manned by Rodrigo. The most clicked link last week was the Ascento Pro announcement video with 11.1% opens.
---
Sponsored
Robot Data and Operations Platform
formant.io
Formant helps robotics companies like Burro ($12 million funding) and Canvas ($43 million funding) successfully scale their robot deployments. Our cloud-based platform enables teams to observe, operate, and analyze robot fleets remotely, with industry-leading teleoperation and a simple developer toolkit.
---
Weekly Robotics Meetup #15 - Multi-Sensor Calibration: The Now & The Next with Tangram Vision
The recording of our last meetup with Brandon from Tangram Vision is now up. In the meetup, Brandon went through the process of how multi-sensor calibration looks like now on an example of an autonomous car with a LiDAR, camera and IMU and how errors add up and how Tangram Vision wants to consider calibration of all sensors at the same time, implement photogrammetry methods and more. The Q&A was very lively (starting at 26:40) and at 58:17 we've started talking about RUST, inspiring a potential topic for a future meetup.
---
Toronto considers banning sidewalk robots
In 2 days the city of Toronto will vote on banning any sidewalk robots. A move that would certainly hurt robotic delivery companies working in the city. I did not find any hard data on accidents involving these kinds of robots in public spaces and according to this paper by EPFL Researchers, we need more rigorous testing and review approaches for navigating robots in crowded environments. I hope that the organizations working on delivery robots will be able to work out the infrastructure and/or standards that will make their products work in all cities. Coincidentally, Waymo had recently announced that the curbside delivery is in the works for them.
---
Team CERBERUS: DARPA Subterranean Challenge Technical Approach and Lessons Learned
Team CERBERUS that took part in the DARPA Sub-T challenge had recently published this presentation full of technical information on their winning approach to this competition. I found the Anymal deploying mesh network nodes kinda cute.
---
Mercedes Beats Tesla to Hands-Free Driving on the Autobahn
Mercedes had won regulatory approval for level 3 autonomy on stretches of autobahn at speeds of up to 60 km/h (37 mph). I will be looking forward to seeing first customers reports on this, however, I realise how difficult it might be to find a clogged up motorway just to test a feature.
---
A system for designing and training intelligent soft robots
"'Evolution Gym' is a large-scale benchmark for co-optimizing the design and control of soft robots that takes inspiration from nature and evolutionary processes"
---
Jet-Powered Robot Prepares for Liftoff
Researchers at IIT are developing an EKF for thrust estimation to deploy it on iCub (now iRonCub), a bipedal robot with a size of a 3.5-year-old child. You might have seen the early stages of this project about a year ago, all done in a simulation. Can't wait for the first lift-off!
---
The Antique Toaster that's Better than Yours
YouTube (Technology Connections)
When I started this newsletter I never imagined I would end up featuring a video of a toaster, but here we are. I found this design mind-blowing, with no levers and a big part of the actuation done through thermal expansion. On top of that, the content delivery by Technology Connections is engaging. If you have 20 minutes to spare I highly recommend checking out this video.
---
Publication of the Week - Self-Supervised Camera Self-Calibration from Video (2021)
Cameras are a fundamental element for most robotics applications ranging from autonomous cars to robot arms picking objects. To get the best out of the images, a good and laborious calibration is required for each configuration. This paper proposes a self-calibration method for a wide variety of camera models with different geometries including perspective, fisheye, and catadioptric. The solution is efficient enough to be used on-the-fly with unstructured environments, enhancing applications that require frequent changes in the camera settings.
---
Business
Air taxi developer Volocopter said to cancel SPAC plans
Volocopter had cancelled its SPAC plans, disgruntling some 750 Seedmatch investors, who will likely be entitled to repayment of their original loan plus 1% of interest rate.
---
Robotic Research raises $228M Series A to build out commercial autonomous offerings
Robotic Research, a company developing vehicle-agnostic autonomy kits just had a successful series A raise led by SoftBank Vision Fund 2 and Enlightenment Capital.