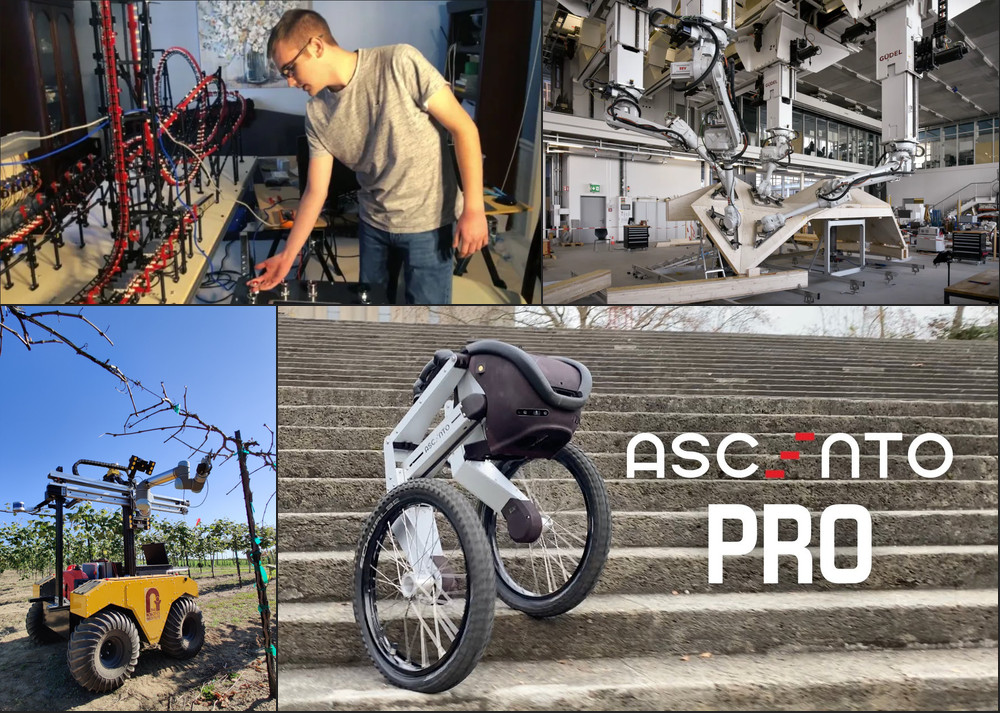 Recently, I've started watching the new series of Battlebots on Netflix. I'm only a couple of episodes into the second season (that I'm just now realizing was filmed in 2016). It was interesting to see that quite a few multirotors were being used as support robots but from what I've seen so far they did not seem to aid the fight much. Another interesting thing I've seen was the Obwalden Overlord - apparently the first humanoid to take part in the competition. Another interesting thing I've noticed was some robots with autonomous capabilities. I wish the show was slightly more technical, but I also realize that they possibly would not reach the target audience that way and all things considered I think it's a good way to promote robotics. As usual, the publication of the week section is manned by Rodrigo. The most clicked link last week was the Advent of Code with 11.8% opens.
---
Sponsored
Robot Data and Operations Platform
formant.io
Formant helps robotics companies like Burro ($12 million funding) and Canvas ($43 million funding) successfully scale their robot deployments. Our cloud-based platform enables teams to observe, operate, and analyze robot fleets remotely, with industry-leading teleoperation and a simple developer toolkit.
---
News from Amazon re:Invent
Amazon re:Invent took place between the 29th of November and the 3rd of December. There were quite many announcements during the conference, lots of them related to robotics in one way or the other. The most resources I've seen citing were talking about AWS Robotrunner for deploying code to fleets of robots and the AWS Robotics Startup Accelerator. On the artificial intelligence side Amazon had launched AI & ML Scholarship Programm and had many announcements on SageMaker. What I think many companies could find interesting is the preview of AWS Private 5G.
---
This is Ascento Pro
Back in March, Victor Klemm did a presentation on Ascento in one of the WR meetups and I believe I promised we would cover it in the newsletter. The teaser shows that the platform has grown considerably, and should be able to carry quite some payload. An 8-hour battery life sounds quite promising for a balancing robot. Looking forward to seeing the first commercial applications of this robot!
---
The Safest Model Roller Coaster
I know, I know, technically not a robot, but you can appreciate how well Jared describes his build and I can only imagine how much time such a complex project must have taken. There is a follow up video where Jared explains how everything works in detail (the video is 1 hour 40 minutes long). Well done!
---
Nav2: Groot - Interacting with Behavior Trees
Nav2 project had released a tutorial on how to use Groot with Nav2 Behavior Trees. If you would like to learn about BTs in detail then check out the book Behavior Trees in Robotics and AI: An Introduction.
---
The Future of Robotic Mobility
Researchers at RSL continue developing wheeled quadrupeds so that they can function as mobile robots or even bipeds. I don't think I would go as far as the claim in the video that calls a biped standing upright a humanoid. Nevertheless, good work and solid progress!
---
ETH Zurich unveils robotically-assembled sculpture inspired by the Hanging Gardens of Babylon
I like the combination of robots and architecture. In this research from ETH four ABB robotic arms are used to join together wooden elements to form a pot. While the robots hold the elements in place humans are joining them using resin. The moment in the video when all elements come together at the same time is something I find really satisfying.
---
Publication of the Week - Bumblebee: A Path Towards Fully Autonomous Robotic Vine Pruning (2021)
Grapevine pruning might be one of the hardest tasks that have an increasing need for automation. It requires seasonal skilled workers to regulate both crop-load and vine balance. This paper presents and describes in detail an autonomous robot for end-to-end pruning of grapevines. The used mobile platform is a Clearpath Robotics Warthog with a rail system mounted on top. The rail contains a robot arm from Universal Robots equipped with a custom end-effector that incorporates a pruning tool. The method makes use of stereo cameras to detect and label each cane.