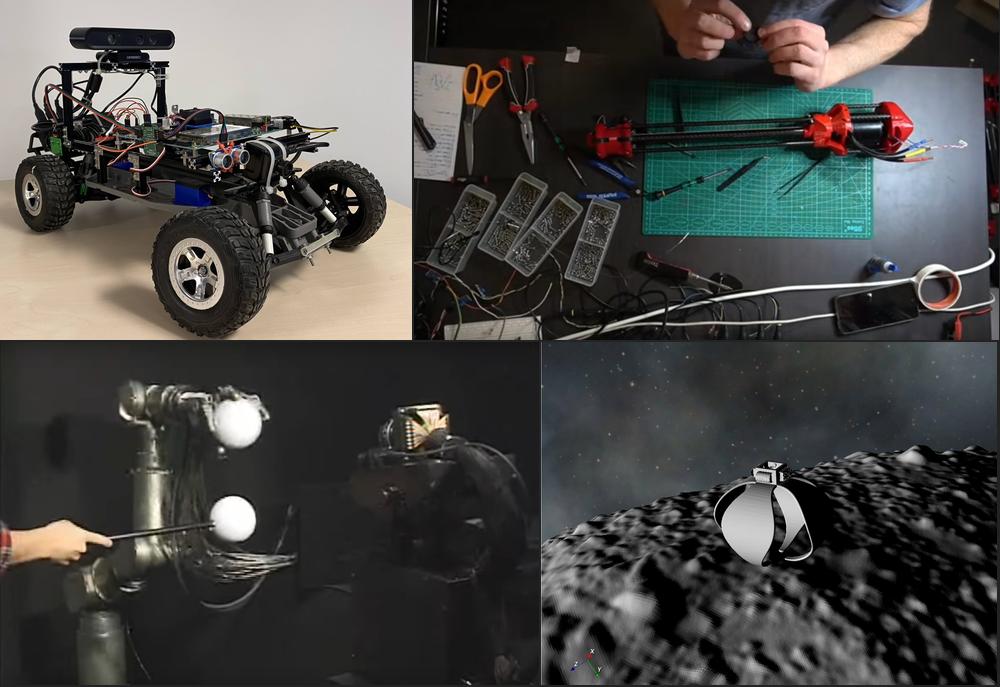 Huge thanks to everyone who provided feedback on the new e-mail format. I still need to spend time on layout, but we are heading in a good direction. As I mentioned in the previous issue, we will send the newsletter on Tuesdays now, hopefully with more predictable send times. As usual, the publication of the week section is manned by Rodrigo.
Sponsored
Weekly Robotics is being developed thanks to the Patreon supporters and the following business sponsors:
---
High-Speed Grasping (1998-2002)
How good were the robots at high-speed grasping 20 years ago? As it turns out, they were surprisingly good, and this video from Chiba University is here to prove it.
---
Future of ROS 2 GPS Support - ROS Discourse
In the ROS world, there is a discussion on replacing the robot localization package with Fuse for robot state estimation. A decision has to be made to go forward about replacing NavSat Transform so that GPS users can transition.
---
Asteroid Landings Call for Robots With a Soft Touch
How do you land on an asteroid and stay in place? When gravity is tiny, much smaller forces can come to the rescue; hence, researchers from the University of Colorado Boulder suggest a soft robot with a large contact area that resembles a water lily.
---
My New Linear Actuators are SO MUCH BETTER!
Harrison Low is developing a juggling robot (based on a Stewart platform) that requires fast linear actuators. In this video, Harrison talks about his old design and how the new iteration of actuators performs. If you like technical analysis, finding and fixing problems, and watching engineers build things, then you will enjoy this video.
---
SIGGRAPH 2023 Technical Papers Trailer
I missed SIGGRAPH trailers again! Unfortunately, this edition's technical trailer does not include any robotics projects. I will never forget the Hot-wire cutting robot.
---
Tesla coil 3D printed Pikachu
Roland, a member of our WR Slack, had recently created this sparking 3D-printed Pikachu. It's a very cool side project!
---
Publication of the Week - AutonomROS: A ReconROS-based Autonomonous Driving Unit
This paper introduces AutonomROS, a ReconROS-based FPGA framework for autonomous vehicles that utilizes software and hardware acceleration in ROS 2. Besides point cloud generation and lane detection, the authors developed a new communication middleware for shared memory. With accelerated hardware, the results showed a 12.5× CPU reduction for some of the ROS 2 nodes. I didn't find a page for AutonomROS yet, but I recommend checking the ReconROS repository.
---
Business
What will we do with an additional $22M? | Arduino Blog
Arduino raised an additional $22M funding round, taking their series B funding to $54M.
---
Clearpath Robotics Acquired by Rockwell Automation
Clearpath Robotics, a maker of iconic mobile robots, is being acquired by Rockwell Automation, a company known for providing industrial automation solutions.
---
Space Robotics Startup GITAI Raises an Additional US$15 Million in Funding
"GITAI USA Inc. and GITAI Japan Inc. (GITAI), the world's leading space robotics startup company, has raised an additional US$15 million for the Series B Extension round. Combined with the US$30 million funding announced in May of this year, the total amount of the Series B Extension round is now US$45 million".