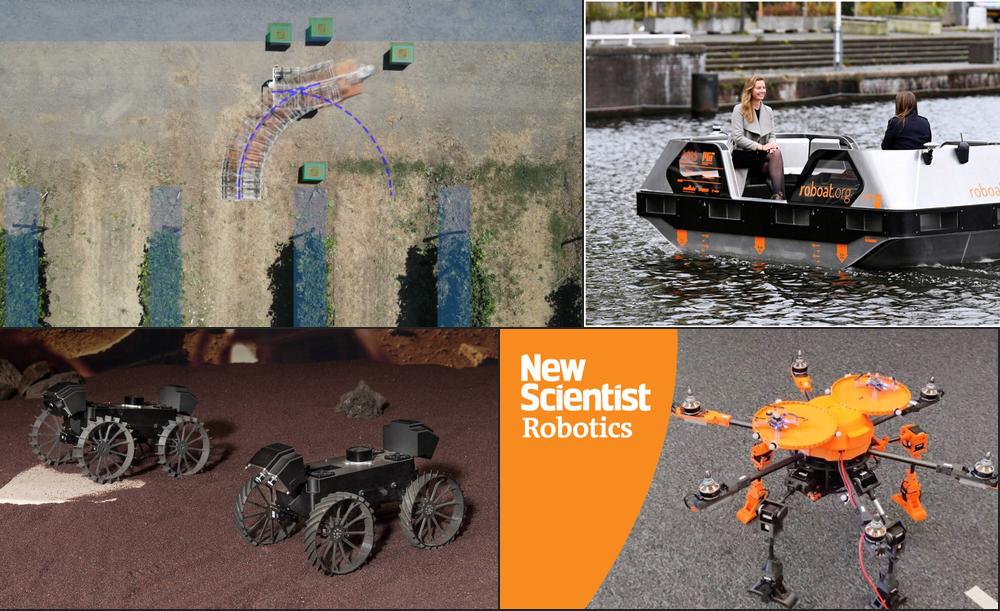 I have been following the LK-99 developments with colossal excitement, hoping that, indeed, the researchers found room temperature superconductor but this post mentions research that supposedly debunked material's superconducting capabilities. Let's wait and see if this is verified anytime soon because I have the EmDrive flashbacks. As usual, the publication of the week section is manned by Rodrigo. Last week's most clicked link was the article about tightening feedback loops, with 11.6% opens.
Sponsored
Weekly Robotics is being developed thanks to the Patreon supporters and the following business sponsors:
---
Remote Robotics Consulting - A Five-Year Retrospective
Yesterday, I published an article about the blood, sweat, and tears (of happiness) of being a robotics consultant that I filled to the brim with advice. I hope you find it useful!
---
Roboat III: An autonomous surface vessel for urban transportation
This paper describes the third iteration of Roboat, an autonomous boat for passenger transport that is being tested in Amsterdam. We first covered roboats in the issue #54. At the time, they were tiny prototypes! Then, almost a year later, the Roboats were already larger and tested in canals. Last time, when we described this project in November 2021, the team was about to test a prototype that could carry humans. As I said, that's quite a journey, and I'm super happy I could witness it.
---
A non-mathematical introduction to Kalman Filters for programmers - Pravesh Koirala
A great write-up with simple code samples from Pravesh Koirala!
---
A New Educational Robotics Platform
This article presents a simple rover built around Raspberry Pi Pico that can be a great introductory platform for learning robotics.
---
Ask Hackaday: What's The Deal With Humanoid Robots?
This piece by Lewin Day looks into the recent craze in humanoid general robots that we can see lately and how it compares to highly specialized robots performing a single task.
---
Investigation into alternative middleware solutions - General - ROS Discourse
Here is a relatively big announcement from the OSRC team at Intrinsic. They announced an investigation into alternative middleware solutions that will not be based on DDS and should be way more friendlier for beginners.
---
NASA's Trio of Mini Rovers Will Team up to Explore the Moon | NASA
"NASA is sending a trio of miniature rovers to the Moon to see how well they can cooperate with one another without direct input from mission controllers back on Earth. A teamwork-minded experiment to demonstrate new technology, the CADRE (Cooperative Autonomous Distributed Robotic Exploration) project marks another step the agency is taking toward developing robots that, by operating autonomously, can boost the efficiency of future missions. And, by taking simultaneous measurements from multiple locations, the rovers are meant to show how multirobot missions could potentially enable new science or support astronauts".
---
Drone mother ship can release mini-drone swarms for use in search and rescue
"The MorphoLander is a hybrid drone that can fly over, land on and walk across rough terrain before launching tiny drones from its back could be useful for search-and-rescue operations". Thanks Kimberly for posting about this project on the WR Slack!
---
Publication of the Week - Optimization-Based Motion Planning for Autonomous Agricultural Vehicles Turning in Constrained Headlands (2023)
Autonomous agricultural vehicles often struggle with limited space and obstacles in the field. This paper presents an optimization-based motion planner for turning in narrow places. Turning might sound like a simple task, but when you deal with non-holonomic (can't turn in place) vehicles, there are a series of dynamic constraints. The authors showed the improvements of their solution over classic methods. You can check the video of the system in action and the open-source code on GitHub.
---
Business
Robots cause company profits to fall—at least at first
"The researchers, from the University of Cambridge, studied industry data from the UK and 24 other European countries between 1995 and 2017, and found that at low levels of adoption, robots have a negative effect on profit margins. But at higher levels of adoption, robots can help increase profits.".
---
Shopify suffers huge loss on 6 River Systems sale - The Robot Report
"When Shopify sold 6 River Systems, many assumed Ocado paid pennies on the dollar to acquire the autonomous mobile robot (AMR) maker. Now we know exactly how good of a deal Ocado got.
In its 2023 mid-year financial report, Ocado said it paid just $12.7 million to acquire 6 River Systems. For comparison, Shopify paid $450 million to acquire 6 River Systems in September 2019. Ocado paid roughly 2.8% of what Shopify paid for 6 River".
---