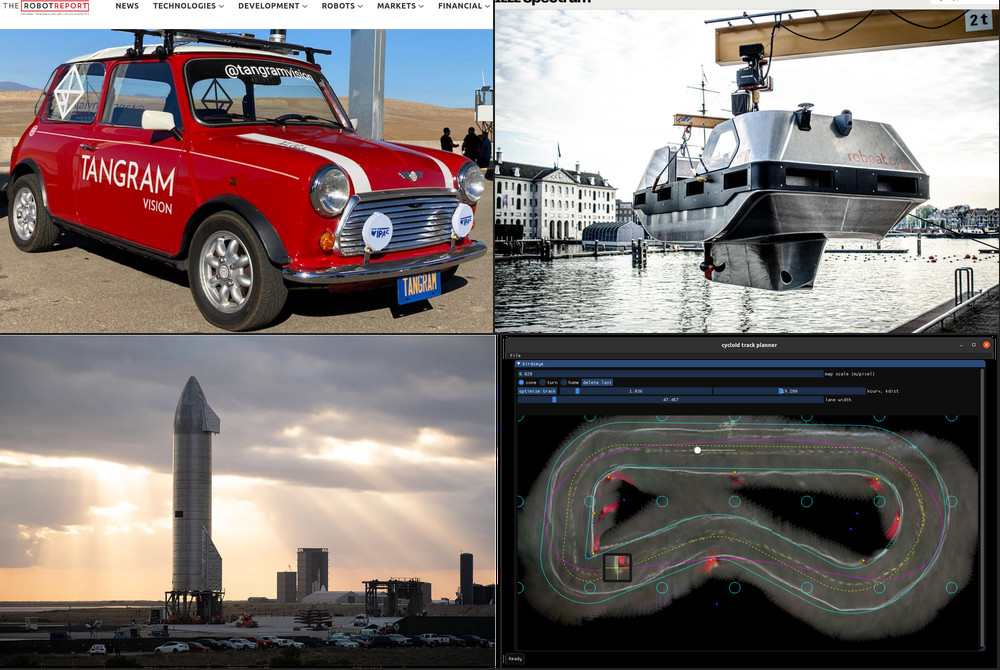 November is here! And with it your weekly dose of robotics-related news and projects. As you will see below (especially in the events section), I'm ticking off some TODO items and making space for more robotics activities. As usual, the publication of the week section is manned by Rodrigo. The most clicked link last week was the video of pneumatic artificial muscle with 10.4% opens.
---
Sponsored
Huge thanks to all of the Weekly Robotics supporters helping this project through Patreon
---
Remote Robotics Consulting - 3.5 Years In
msadowski.github.io
It's official: I've been a robotics consultant for half of my career. It's been a mix of luck, persistence with a touch of hair pulling every now and then. In this blog post I describe my thoughts in the past 1.5 years since the last update.
---
Humble Book Bundles
msadowski.github.io
Humble Bundle has two book bundles that I think you might find interesting. The first one Raspberry Pi uncut features some books on programming, UI interfaces with Pi and multiple project books. Coding & Hardware Book Bundle features multiple project books by Make. As always with Humble Bundle links - if you decide to purchase any of the bundles you can decide to support this newsletter, which will be highly appreciated!
---
Retrofitting a Classic Mini with an autonomy stack
In this article, Adam Rodnitzky from Tangram Vision describes how they added sensors to a classic Mini. I recommend this high quality write up full of technical information. I will be looking forward to seeing this project evolve!
---
Autonomous Boats Seem More Solvable Than Autonomous Cars
Roboats (WR #54) keep on progressing. Looking at the images and the videos it's hard to believe that just two years ago these boats were only built as scaled prototypes. Having these boats battery-powered and built for different functions (transporting thrash, building modular bridges, transporting passengers etc.) sounds like the idea was well thought of.
---
The Robot and the Baby
Here is a short 2004 thought-provoking science-fiction story by John McCarthy. The story describes how household robots could look like in the future, and how different weights applied to various behaviour rules could play out in case they are conflicting.
---
Fast indoor 2D localization using ceiling lights
These are some seriously good results for vision-based localization for an indoor racetrack, all running on a Raspberry Pi 3 with a fisheye lens camera at 640x480 resolution. Interestingly, the author says that the localization update for this setup is 1ms. All the work done by Andy Sloane here is available in this repository.
---
Starship is Still Not Understood
A very nice write up showcasing the current state of SpaceX Starship, and how this design can allow us to think bigger about space transport.
---
Publication of the Week - A Robust Illumination-Invariant Camera System for Agricultural Applications (2021)
Agriculture is a challenging problem for robotics because of its unstructured environments with many changing conditions. This paper proposes a camera system with a high-power set of flashes that create images invariant to all lighting conditions with no motion blur. This process generates consistent quality images that enable the use of neural networks with considerably fewer data (4 times less according to the authors) and comparable results with larger datasets using regular images.
---
Announcements
Wevolver Announcements
Wevolver is currently holding multiple events you might be interested in. The Knowles AISonic Hardware Grant will give away 5 voice and machine learning development kits. The high-temperature carbon-fiber 3D printing challenge is looking for designs to make use of newly-developed carbon-fiber filament.
---
WR Community Meeting #14 - Aerial Robotics With the Crazyflie (18th Nov)
The Crazyflie is an open source lightweight quadcopter developed by Bitcraze located in Sweden. This year is Bitcraze's 10th anniversary and in those years the platform has evolved from a hobbyist-only platform to being used by universities and research departments all over the world. In this talk Kimberly McGuire will present the Bitcraze ecosystem and go over multirotor fundamentals, positioning with Lighthouse and existing ROS integrations.
---
Previous Meeting #13 - ROS2 Control with Bence Magyar and Denis Stogl
The video from the last meetup on ROS2 Control is now up! I have a feeling I will be coming back to this talk multiple times when I will start exploring ros2_control in detail. Huge thanks to Bence and Denis for a great talk!