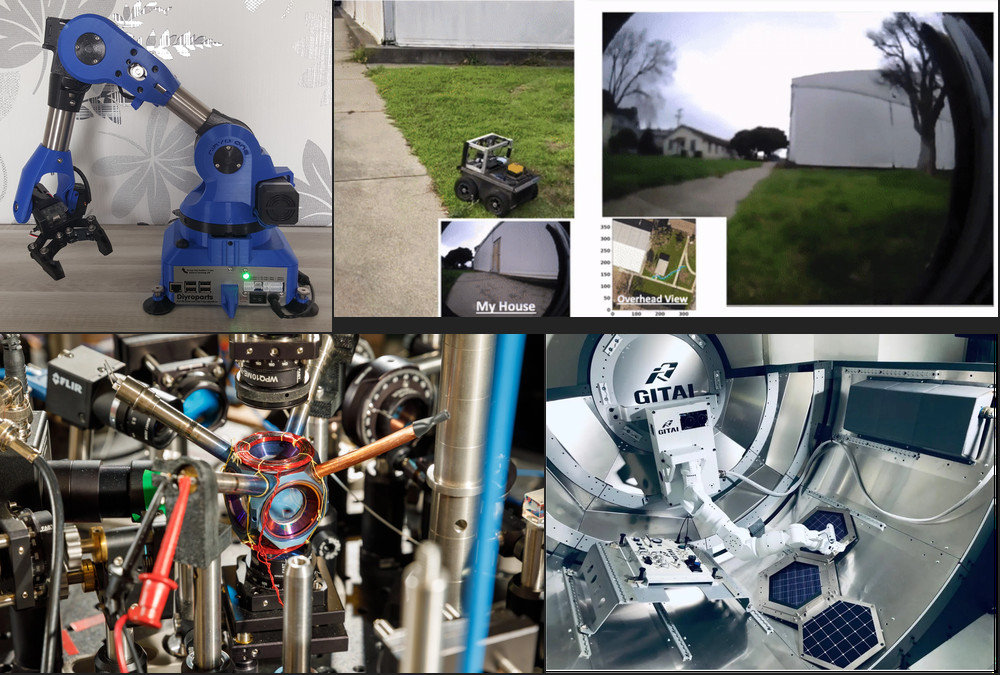 As you will soon see, I've officially started shitposting about robotics on social media. I hope you can take it, but if not, I will see how you can join my multiverse (I will need to host Gazebo on some server for it) and throw my avatar (simulated Turtlebot will do well here) off a cliff. As usual, the publication of the week section is manned by Rodrigo. The most clicked link last week was Bartosz Ciechanowski's article on curves and surfaces with 15.7% opens.
Metaverse and Robotics?
Thanks to my friend Artur and his write up on the metaverse, I feel like I know the fundamental ideas behind this project. What it could mean for robotics though? As we've seen in the previous issue Meta is working on tactile sensors and it makes sense if you want to bridge the virtual and real worlds with some haptic interfaces. If we are thinking VR, we should expect better headsets, with more sensor and localization technologies getting better and better. Hopefully, some of these algorithms will make it into the robotics space too.
Now to some healthy critique: it seems that the term metaverse has caught on pretty quickly, with VentureBeat reporting that Unity will move robotics design and training to metaverse with the launch of Unity Simulation Pro. Reading on the article it sounds to me that the product is actually a simulator and I don't see any features that would hint at an actual metaverse use. My prediction is that a lot of companies will start using the metaverse term as a blanket for a simulation. To counter the hype a bit in WeeklyRobotics I will stick with the term 'simulation' until I'm proven that a product is more than that.
On a lighter note, we might be the first robotic newsletter that actually made it to metaverse. Thanks everyone for the support!
---
Sandia Labs shows GPS-free quantum-based wayfinding device
Sandia Labs had produced a prototype vacuum chamber made of titanium and sapphire that can be used for quantum sensing. These hyper accurate devices could provide inertial sensing of acceleration and rotation rates that should allow for long-term precise tracking. The current implementation of the chamber held vacuum for one year, with plans to keep the current prototype operational for five more years to prove the design.
---
GITAI's Autonomous Robot Arm Finds Success on ISS
S1 robotic arm by GITAI has been tested on ISS lately, showing autonomous assembly capabilities. As far as I can tell from the visualizations that can be found in the video this system might be using ROS.
---
RECON: Learning to Explore the Real World with a Ground Robot
Researchers at BAIR created a system for autonomous exploration that works by imaging potential goals and attempting to reach them. This video nicely sums up the work performed and the performance of this system. Here is the project page in case you are after more details.
---
Building the Open source Niryo One robot
Jeffrey posted a project on Hackaday where he engineered a control board for the open-source Niryo One 6-axis robot arm.
---
"This project will only take 2 hours"
A short but thought-provoking write up how we can underestimate projects, especially if they are new to us (or we are lacking experience).
---
Publication of the Week - RI Seminar: Matthew T. Mason: Robotics and Warehouse Automation at Berkshire Grey (2021)
A fresh RI seminar from Carnegie Mellon Robotics, presented by professor Mat Mason, a long-term roboticist responsible for many research and papers devoted to control and manipulation. In this talk, professor Mason presents about warehouse automation within Berkshire Grey (BG), a recent IPO-listed robotics company that provides robotics solutions for companies as FedEx. From minute 30:22, he digs down into how manipulation can get hard when picking/putting objects and shows cool examples of solutions by BG to address this challenge.
---
WR Community Meeting #14 - Aerial Robotics With the Crazyflie (18th Nov)
Our meetup about Crazyflie with Kimberly McGuire is this week! If you are joining - looking forward to see you there!