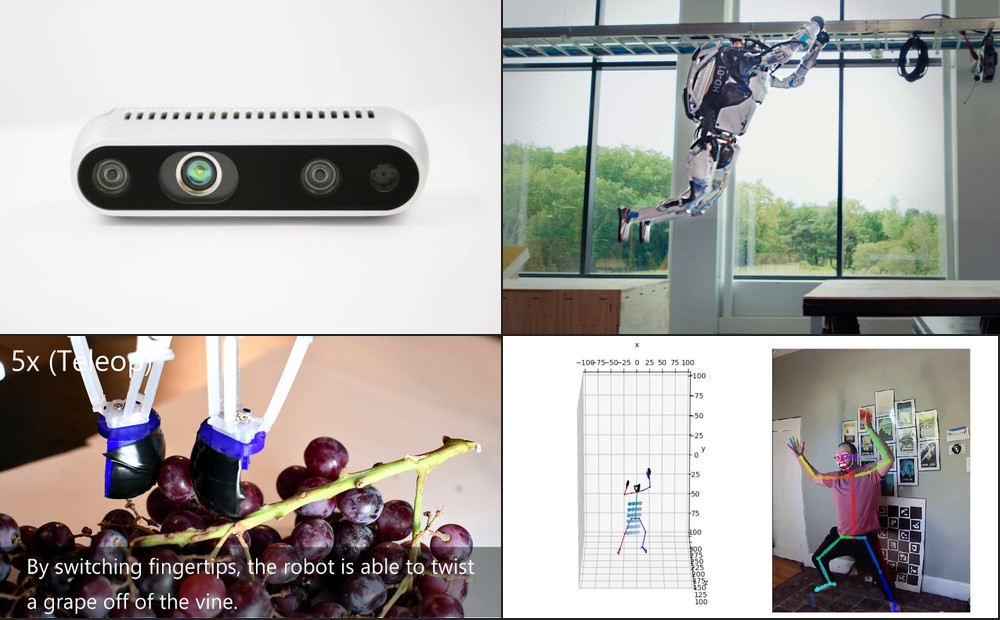 Today's issue is going to be shorter than usual on the account of me being on holiday. Next week we will restart as normal! There is a reason you will not find any information on Tesla Bot in today's issue: too much hype and too little technical details, but once some working prototypes or technical information is released we will start covering this project. As usual in the past couple of weeks, the publication of the week section is manned by Rodrigo. The most clicked link last week was the introduction to Facebook's Droidlet with 16.6% opens.
Intel Will Keep Selling RealSense Stereo Cameras
According to a press release, Intel will be winding down its RealSense business. The decision makes sense for Intel, as a chip-making company but I know many robotics companies were designing their products with these sensors in mind. According to this GitHub issue the LiDAR, tracking and facial authentication cameras will only be shut down, but the stereo cameras will still be developed. As the IEEE Spectrum article mentions - the official communication is not very clear, so if you depend on these cameras in your solutions it might be a good time to benchmark competing products and make sure your algorithms are hardware independent.
---
Inside the lab: How does Atlas work?
Have you seen the new video showing Atlas doing new Parkour moves? You will find snippets of it sprinkled around the above video that also looks behind the scenes on how the team works together on these robots. I like how the video also shows the robot failing at times, which is an important part of the process. If you would like to learn more about this topic, you might want to check out this IEEE Spectrum interview with Scott Kuindersma and Ben Stephens.
---
The FreeMoCap Project
"The Free Motion Capture (FreeMoCap) system leverages bleeding-edge markerless motion capture software (e.g. OpenPose, DeepLabCut, etc) to create a streamlined 'one-click' pipeline for 3D kinematic reconstruction. This system works with arbitrary camera hardware and provides methods for synchronous recording of wired cameras (e.g. USB webcams) as well as the post-hoc synchronization of independent cameras (e.g. GoPros)". You will find the project repository on GitHub.
---
How I Designed My Robot To Be Fast! Engineering Speed at a Lower Cost
We've featured Jeremy's robot back in the issue 138. In this video, Jeremy goes over some design decisions about his build - mostly related to motor placement and sizing but also showcases some manufacturing footage.
---
Publication of the Week - A Low-Cost Compliant Gripper Using Cooperative Mini-Delta Robots for Dexterous Manipulation (2021)
Robot grippers can be a challenging piece of engineering, cheap ones offer a limited range of movements, while expensive ones can get you more flexibility. This article proposes a low-cost gripper driven by mini delta mechanisms. Each fingertip has a 3-DOF which makes them dexterous enough for a wide range of tasks, from grasping delicate grapes to manipulating a flat piece of dough to transform it into a spiral. Here you can check the video.
---
Robots Work
Sheet Metal Stamping Press Shop - Using Robot Arms
This video from Harden Industries shows some SCARA arms used in a sheet metal stamping process with multiple presses.