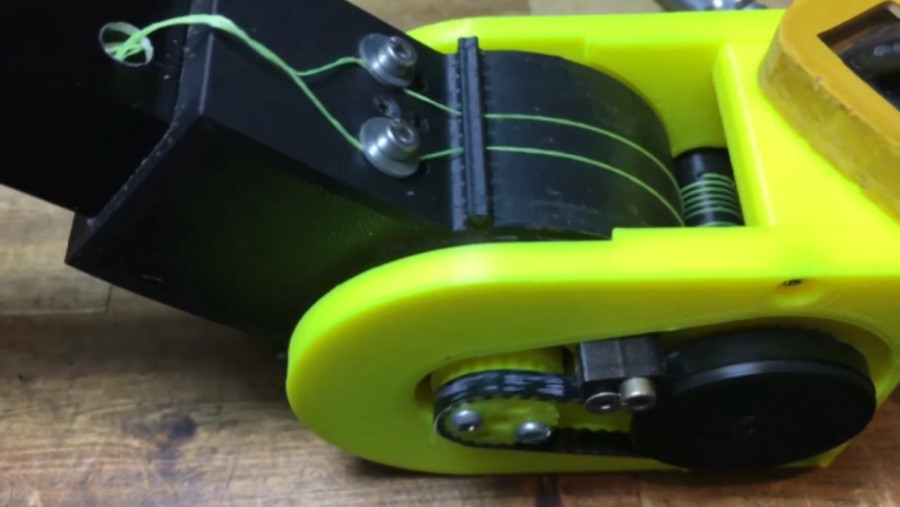 Image Credit: Hackaday
If you can't have enough of Holiday robot videos then Robohub has you covered. Since I have your attention now, I would like to use this opportunity to wish you Happy New Year! May it be at least slightly better than the last one. The most clicked link last week was the repository with GeRoNa, a modular robot navigation framework, with 13.1% opens.
Ten Robot Mechanisms For Your Design Toolbox
Paul Gould has been experimenting with some interesting mechanical designs for robotics and is planning to open source at least a couple of them. In the attached video you will find some capstan drives, actuators for quadrupeds, GUS Simpson Drive, cycloidal gearboxes, a claw arcade robot. Very cool!
---
Robot Fails From an Escalator
I could not find any more information on this event except from the video which shows a robot driving onto an escalator and subsequently falling and hitting two people. I couldn't find any more information about this accident but given that someone was filming it (and possibly obstructing the path of the robot) I expect that there might have been some level of malice involved. Still, this kind of robot should need some safety features that would prevent an accident like this happening.
---
What you Should Know Before Buying a Custom Robotics Platform
A very good article from Clearpath on the right questions to ask before deciding on a custom robotics platform.
---
Robotics Knowledgebase
I've come across this project on ROS-Agriculture Slack channel. It's a wiki covering a wide range of topics related to Robotics. The project repository seems to be very active.
---
DIY Hobby Servos Quadruped Robot
CHOP is an interesting quadruped robot project that's supposedly < $400 in parts to make. The video at the top of the page is super funny and shows some of the capabilities of the robot such as firefighting and pulling a cart with bananas.
---
Publication of the Week - LAURON V: A Versatile Six-Legged Walking Robot with Advanced Maneuverability (2014)
Last week I've promised I would do some research on the multilegged robot featured in the FZI Christmas Video. Apparently, it's called Lauron V (thanks Atul!). The 6-legged robot weights 42 kg and has a footprint of 0.9 x 0.8m. Apparently having 6 legs can be useful as you can attach a gripper to one of the joint and teach the robot to pick objects and store it on its back. Wikipedia has a neat history of the platform, with the first iteration of the robot dating back to 1994.
---
Weekly Robotics 2 Years Ago
Right around this time 2 years ago Webots simulator went open source. From what I've heard Webots has a pretty good ROS2 Interface nowadays.
The next interesting project featured in the newsletter back then is HAMR-E, a tiny legged robot using electro-adhesion to climb surfaces. A new version of the robot from HAMR family was announced earlier this year and is called HAMR-JR (WR #94), which is a scaled-down version of HAMR, but without electro-adhesion pads.
We've also learned about a new instance of robots being used for good: a robot delivering baby corals to the Great Barrier Reef. Even though the linked article mentions plans to scale up the project further in 2019 I could not find any other information on the project besides 2018 reports and a donation page.
Finally, we were looking at the foldable drone from the Researchers from UZH and EPFL. A neat example of how changing the shape of a drone affects the flight characteristics.