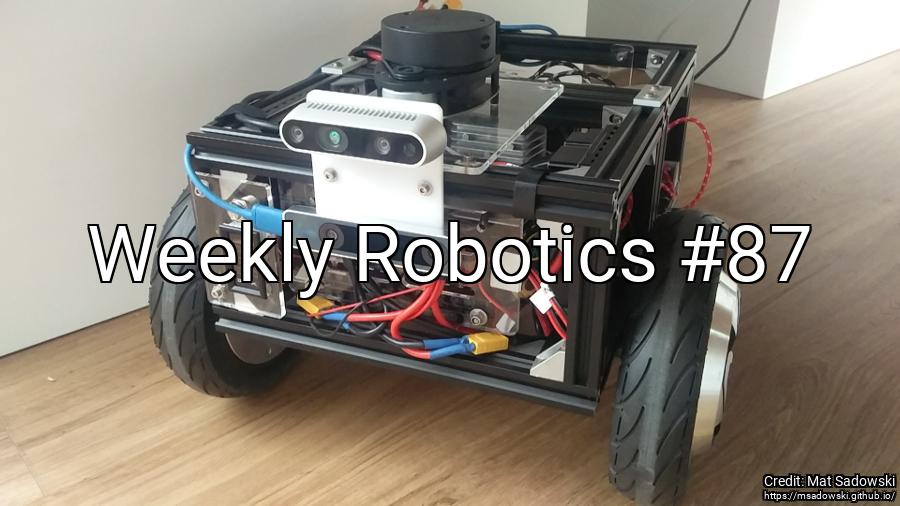 The most clicked last week was the Soft Bank's robot simulator with 14.5% opens.
1) Virtual DonkeyCar (and Other Cars, Too) Race.
Meetup
INFO: Folks at DonkeyCar are hosting a virtual deep-learning fueled competition this week. If you look at the Meetup page you will find a link to a YouTube video showing the simulator in action.
2) Hello (Subterranean) World!
GitHub
INFO: Michael from Open Robotics had shared a tutorial how to get started with SubT virtual challenge. Time for some cave exploration!
3) SubT Challenge Urban Circuit Overview.
ROS Discourse
INFO: While we are on the topic of SubT challenge and Open Robotics: this post by Katherine Scott is the best write up on the teams and robots taking part in the challenge I've seen to date. I like how Katherine provides lots of background information and covers the highlights of each of the presented platforms.
4) iRobot Education Launches to Train Future Roboticists.
The Robot Report
INFO: "iRobot has created a new division, iRobot Education, to house all of its education products and services under one roof. iRobot Education includes the Root coding robot, Create 2, a new iRobot Coding platform, and the company's STEM outreach program."
5) Debugging a Live Saturn V.
zamiang.com
INFO: Not very much robotics related but this might spark your imagination: imagine approaching a 6.5M pounds (2,950,000 kg) steel barrel carrying 203,400 gallons (770,000 liters) of explosives that is ready to be launched into space just to replace one component. I can see why safety helmets wouldn't feel like they improve your safety in any way.
6) How Boston Dynamics' Spot Robot Works!
YouTube (Adam Savage's Tested)
INFO: In this episode of Tested Adam Savage goes over some of the functions of the Boston Dynamic's Spot quadruped robots. What I like about videos like this is seeing the system's from the user's perspective and finding out about all the features the robots are shipped with.
7) Access High-Resolution Ocean Data Sets.
Saildrone
INFO: Yet another example of using robots for good. At data.saildrone.com you will find datasets captured by these unmanned surface vehicles. Information about Saildrone was previously shared in this newsletter in the issue #63 and #28.
Sponsored
1) Humble Book Bundle: Artificial Intelligence & Machine Learning by Morgan & Claypool.
HumbleBundle
INFO: "We've teamed up with Morgan & Claypool for our newest bundle! Get ebooks like Essentials of Game Theory, Natural Language Processing for Social Media, Creating Autonomous Vehicle Systems, and more" - as always with these book bundles if you decide to purchase it then you can choose to support this newsletter and make it better.
Job Seekers / Careers
In the issue #83 I've started this section to try to help out those looking for work in the times of pandemic. If you are currently looking for work then feel free to send me. Similarly if your company is hiring Roboticists feel free to let me know and I will publish your open positions.