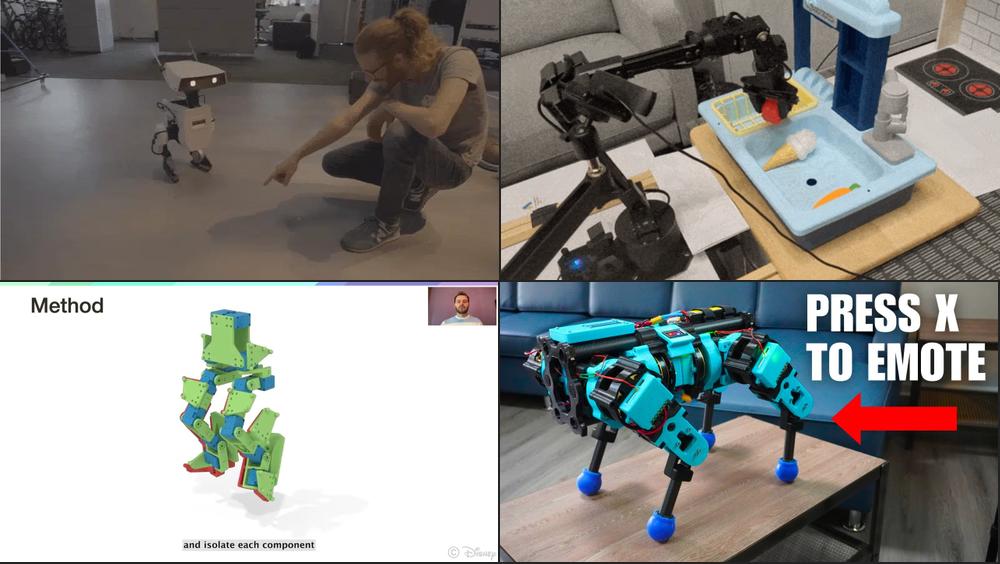 Today, I'm excited to announce that Weekly Robotics is becoming a media sponsor of Cracow Robotics & AI Club. I attended their event last summer and enjoyed the lively discussions, exciting presentations, and beer. Talking about robotics events and enthusiasts, you can't imagine how I can't wait for ROSCon. Looking forward to meeting many of you there! As usual, the publication of the week section is manned by Rodrigo.
Sponsored
Weekly Robotics is being developed thanks to the Patreon supporters and the following business sponsors:
---
Xometry: Manufacturing on Demand
Need custom parts for robotics & automation? Xometry is your one-stop shop for manufacturing on demand. Get instant online quotes on CNC machining, laser cutting, 3D printing, urethane casting, and more.
---
Scaling up learning across many different robot types
"Today, we are launching a new set of resources for general-purpose robotics learning across different robot types, or embodiments. Together with partners from 33 academic labs we have pooled data from 22 different robot types to create the Open X-Embodiment dataset. We also release RT-1-X, a robotics transformer (RT) model derived from RT-1 and trained on our dataset, that shows skills transfer across many robot embodiments".
---
Transformer-based Neural Augmentation of Robot Simulation Representations
Researchers at Disney Research and ETH Zurich are filling a gap between simulation and hardware representation by using a neural network for each robot component in a modular fashion that can be reused between various robot types utilizing the same hardware. The result is a simulation of a multi-DoF robot that is much closer to the physical system.
---
Cloud Gripper - An Open Cloud-Robotics Platform
"CloudGripper is an open source cloud robotics testbed for remote robotic manipulation research, benchmarking and data collection at scale with a current deployment of 32 robot arm cells at KTH Royal Institute of Technology, Stockholm, Sweden. The aim of the project is to create a global community of contributors and remote users of this testbed that will leverage CloudGripper for research, benchmarking and data collection". For more details about this project check out this paper.
---
I Built a Robot Dog and Made it Dance
A DIY quadruped robot that walks! Sign me up! I enjoyed the process shown in this video by Aaed. It looks like a fun little project that's mostly 3D-printed with custom ODrive-based actuators. The project is open-source and can be found on GitHub.
---
How Disney Packed Big Emotion Into a Little Robot
Disney did it again and did it well. It's the third impressive robot Disney folks have presented after the project Kiwi, and Judy, a roller-skating robot. I like the direction the team is taking for these robots, and I'm looking forward to seeing more platforms capable of showing emotions.
---
A Raspberry Pi 5 Is Better Than Two Pi 4s
Will RPi 5 become a goto platform for at least hobby-grade robotics? I think it might based on the specs. I liked how this article showcases that many things about the fifth iteration of this SBC are two times better than the predecessor.
---
Publication of the Week - Swashplateless-elevon Actuation for a Dual-rotor Tail-sitter VTOL UAV (2023)
When building a VTOL, you have many configurations to choose from. However, the tail-sitter with two motors is one of the most challenging in terms of control. This paper, one of iROS23 best papers awards, presents a VTOL with this configuration using a swashplateless-elevon actuation (SEA). This unique passive mechanism converts rotational movement to translational. In this video, you'll see how SEA improves the accuracy of position and pitch errors, primarily during take-off.
---
Business
Machina Labs brings in $32M for robotic sheet metal forming - The Robot Report
"Machina Labs, a company that combines AI and robotics to rapidly manufacture advanced composite and metal products, brought in $32 million in Series B funding. This brings the company's total funding to date to $45 million".
---
Vayu Robotics emerges from stealth with $12.7M - The Robot Report
"Vayu Robotics, an AI company that aims to provide high-quality, low-cost robotic systems, has emerged from stealth with $12.7 million in seed funding. The company plans to use the funding to scale product development for AI robotics across different markets, including last-mile delivery, factory automation, and automotive".
---
Announcements
Cracow Robotics & AI Meetup #6
On the 23rd of October, the Cracow Robotics & AI Meetup will take place in Krakow, Poland. This time, the featured speakers will discuss AI in industrial robots and lifecycle management in ROS 2. The event will be packed with robotics enthusiasts, so please feel free to join.