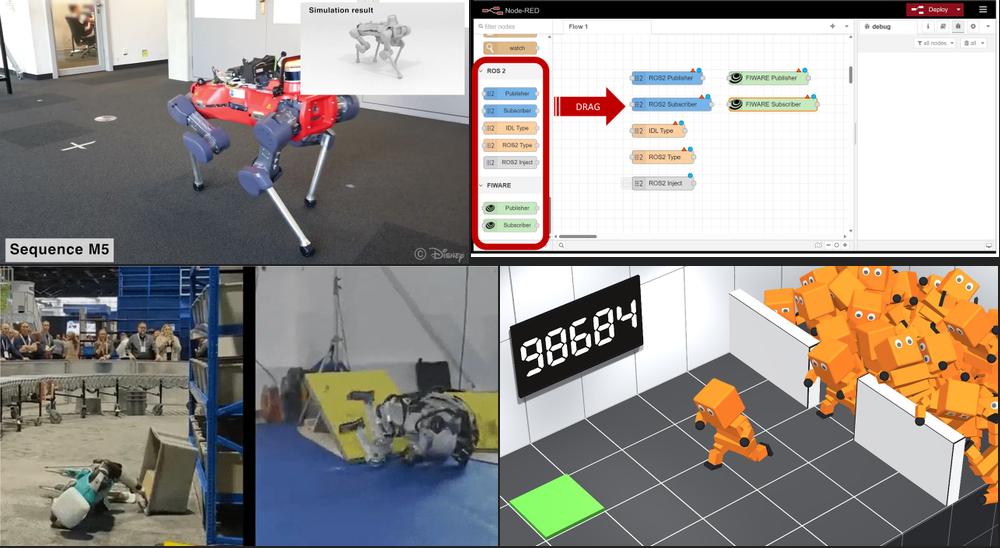 Public Service Announcement: double check the axis direction of your 3D printer. Otherwise, when your print fails, and you want to move the head up, you might instead drive it into the piece, ruining your hotend, and since your 3D printer might be 7+ years old, you might now need to wait 3+ weeks for a new part. As usual, the publication of the week section is manned by Rodrigo. Last week's most clicked link was Facebook research home robot, with 15.7% opens.
Sponsored
Weekly Robotics is being developed thanks to the Patreon supporters and the following business sponsors:
---
Intel and ASUS Agree to Term Sheet to Take Intel NUC Systems Product Line Forward
Last week, I reported on Intel stopping investment into the NUC line. Now, the company is looking at ASUS continuing to deliver these small computers and supporting NUC customers under a non-exclusive licence.
---
Visual-ROS: Simplifying ROS 2 Development with a Graphical Interface
As part of an EU-funded DIH2 project, eProsima created a no-code editor for ROS 2. The program is based upon Node-RED. In the video demonstrator, you can see the tool used in a simple case of driving a simulated Husarion robot.
---
AI Learns to Walk (deep reinforcement learning)
In this video, you'll meet Albert, a simulated biped learning to walk. The final results look promising!
---
It's Totally Fine for Humanoid Robots to Fall Down
Since we are on the topic of walking agents, here is an exciting piece by Evan Ackerman, who is interviewing Aaron Saunders from Boston Dynamics and Jonathan Hurst and Bambi Brewer from Agility Robotics on how people perceive failing robots, what's the current state of the development for these companies and how it impacts safety.
---
RobôCIn Small Size League Extended Team Description Paper for RoboCup 2023
I'm yet to find a summary of RoboCup 2023. In the meantime, here is a paper from the RobôCIn, a team that participated in the Small Size League and won a world title in 2022. In the report, the authors describe the updates to their platform to try and maintain their title in this year's competition.
---
DOC: Differentiable Optimal Control for Retargeting Motions onto Legged Robots
Here is a cool work from Disney Research and ETH Zurich: They retarget control from animation onto simulated quadruped robots of various shapes and sizes. Finally, the researchers used the ANYmal as a physical demonstrator for this work, and you can see that towards the end of the video.
---
Publication of the Week - Kick Back & Relax: Learning to Reconstruct the World by Watching SlowTV (2023)
Monocular depth estimation (MDE) has gained importance over the last few years because it can generate valuable estimates using relatively inexpensive sensors. This paper presents a novel dataset called SlowTV, which contains 1.7M diverse images from YouTube instead of current sets more focused on automotive domains. The authors leverage semantic information from the objects in the input image and can understand their relationships. The results were competitive with current methods. Check the code and more details in their GitHub repo.
---
Business
Ati Motors Secures US$10.85 Million in Series A Funding
"Ati Motors, maker of autonomous mobile robots, announced the close of its Series A funding round of $10.85M. The investment, occurring alongside the company's product launch event, will further accelerate the development and deployment of Ati Motors' robotics technology for automating work in industrial environments and warehouses".
---
ForwardX Robotics closes $61 Million in Round C funding
"ForwardX Robotics, a global leader in vision-based AMR technology, is thrilled to announce the successful completion of its latest funding round, positioning the company as a dominant player in the global market and an orchestration engine for end-to-end automation".