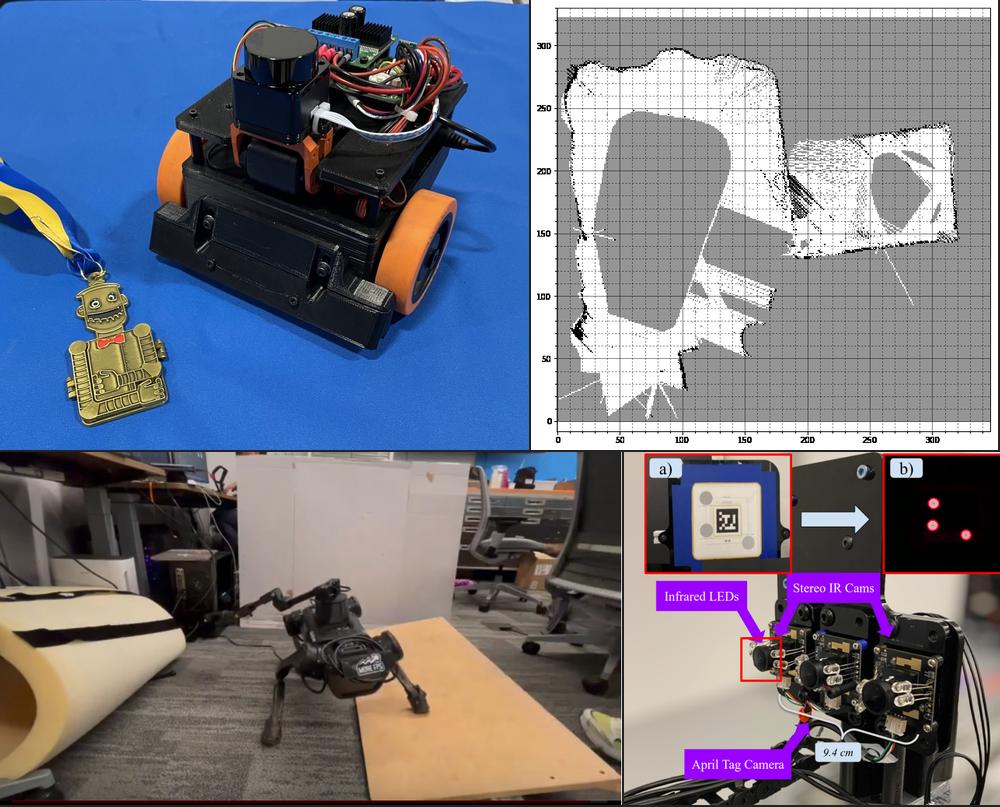 We have a new Weekly Robotics article in our new section that launched this year. Exciting times! As usual, the publication of the week section is manned by Rodrigo. Last week's most clicked link was the auto-taping machine, with 15.6% opens.
Sponsored
Weekly Robotics is being developed thanks to the Patreon supporters and the following business sponsors:
---
SYCL for GPU-Based Perception Libraries
In this highly technical article, Ben Dart describes SYCL as an alternative to libraries like CUDA or OpenCL. He provides an occupancy grid as a concept that can be easily parallelized and implemented using SYCL (code receipts provided).
---
Building a Tablebot
Michael Ferguson, who wrote an excellent series of posts on restoring a UBR-1 robot, participated in a tablebot competition. In the linked post, Michael describes his winning build that used an LD-06 LiDAR made tiltable by mounting it on a Dynamixel AX-12 servo, Sharp IR sensors for cliff detection, and an STM32 used for the brains of the robot.
---
High Speed Printed Circuit Board (PCB) Design Guidelines
This article is a good resource for developing know-how in building circuit boards utilizing high-speed interfaces (e.g., HDMI, Ethernet, SATA).
---
mobile_mocap
This ROS2 library can serve as an alternative to fiducial tracking. The method utilizes three cameras and expects that the tracked object has a retroreflector to extract its pose in 6 DoF. For more information about this work, check out this paper.
---
Tech Debt
Benjie Holson created a new blog post in his General Robots series, focusing on Tech Debt. As always, I highly recommend the read!
---
Publication of the Week - More Than an Arm: Using a Manipulator as a Tail for Enhanced Stability in Legged Locomotion (2023)
We've seen and shown a few quadruped robots using a robot arm on top of them for manipulation tasks. This paper presents a similar concept, but instead of manipulation tasks, the arm acts as a tail to enhance stability. Their solution uses a 5 DOF WidowX 200 arm on top of a Unitree A1 robot dog. The authors used Isaac Gym to simulate and learn the synergies between the legs and the "tail" arm. In the article results page, videos compare the robot's balance with and without the tail actuating. In future work, the authors also plan to use the arm for manipulation.
---
Business
Neato Robotics is being shut down after 18 years
Vorwerk, a company that owned Neat since 2017, had decided to close down Neato. The cited reason is that Neato did not achieve self-defined economic goals for several years. About 100 employees are affected by this news.
---
Keybotic raises a €3M investment round
"Barcelona-based startup Keyper has developed an autonomous robot dog that can carry out industrial maintenance and inspection checks. Keybotic has just secured €3 million to step up commercialisation efforts in a round led by key family offices in Spain's industrial and tech sectors".
---
Ocado acquiring 6 River Systems from Shopify
"Ocado Group is acquiring autonomous mobile robot maker 6 River Systems from Shopify. Financial details of the deal were not disclosed".